Clever storage solutions are everything in a small home, like a condo. It's especially important in the bedroom, where a nice, relaxing rest depends on cleanliness and organization. The reality is that sleeping areas are notorious for being clutter repositories.
In the hurry and flurry of morning preparations, the mess can easily build up, as you rummage through clothes and postpone putting things away when you retire at night. Good cabinet design, one that makes keeping things easy and doesn't hog the limited floor area, is the ideal kind of storage.
In this regard, when looking for design ideas and shopping for condo furniture essentials, ask two important questions: (1) What dimensions can your space accommodate? and; (2) Is it going to be a permanent fixture or a movable cabinet?
These questions can ensure that you're settling on something that would be functional for your unique space and lifestyle. Moreover, these can easily narrow down your cabinet design options outlined below:
1. Under-bed closet.
The space under the bed is largely underutilized in many condos. When maximized, it can actually give you more storage area than you can expect. It can also be an aesthetic detail that can elevate the style of the entire room. While you can buy bed frames that already have drawers at the base of the fixture, you can also go for loft beds or "container beds" with additional space or storage underneath them.
A modular design has a short flight of stairs on the side and a small door at the foot of the bed that gives access to the closet itself. Pull up the bed and you can "go inside" your wardrobe. Container beds offer the perfect cabinet design for small spaces.
2. Overhead cabinet.
After looking under the bed, you can also find storage spaces above it. Usually, people would put artwork in this area. But if you're trying to maximize all corners in your room, you can use this space to hang your cabinets. If you add a pop of color to it or use a striking material such as glass or wood, this kind of cabinet design for a small room can become an excellent focal point in the bedroom that can draw people's eyes.
The fixture design can combine different storage styles. Some portions can be closed, featuring different racks and drawers, while some sections can be open, especially if you want to display a few items – say, books or plants. If you choose to have the latter, you would have to declutter your condo unit every now and then, to keep the eyesores away.
3. Cabinet headboard.
Speaking of space above the bed, the headboards themselves can serve as storage areas, too. You can achieve this while the bed is set against the wall (the cabinets built up) or placed in the middle of the room.
In the latter, the main storage area will be behind your bed. In a way, this would create a separate dressing zone in the room.
If possible, add a desk so you can also have a mini-office. Space instantly serves multiple purposes with just a few smart additions to the cabinet design.
4. Vertical-space-maximizing cabinet.
When you have limited space around the room, the key is to maximize its height. Make the most of that vertical space, especially if your condo unit has high ceilings. This includes areas above the doors and windows. The area above the existing cabinets should be maximized, too.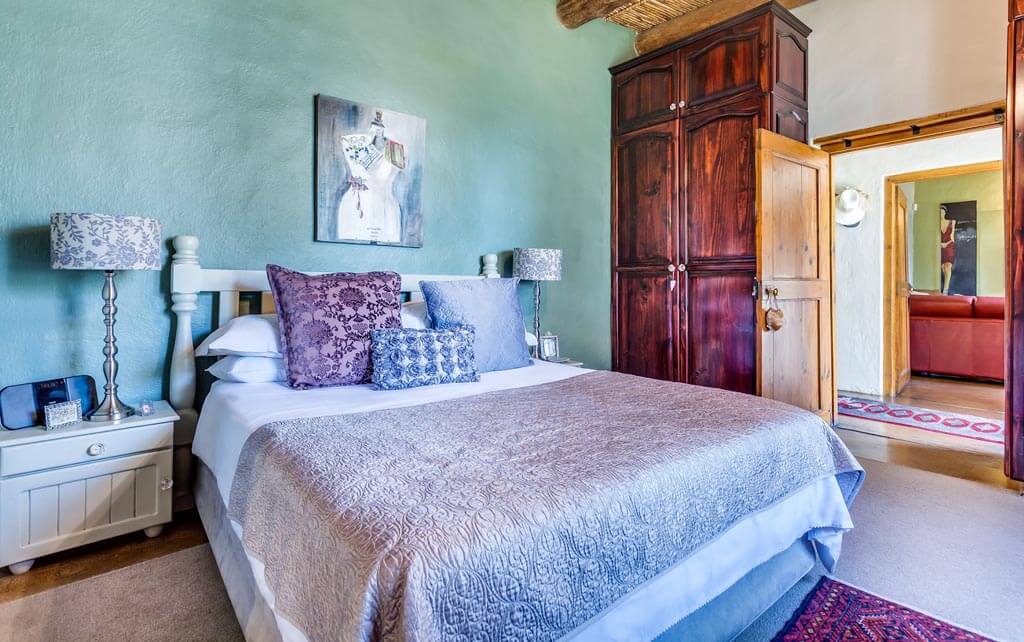 Photo courtesy of Jean van der Meulen via Pexels
Tall cabinets are especially handy in awkward, little corners of the room. As they go all the way up to the ceiling, you can keep more things. Store everything you don't need at the topmost area, including bed sheets, blankets, towels, luggage, and more. Done right, this room cabinet design for a small space can further define the height of your room, which will give it the illusion of more space.
5. Mirrored cabinet.
Mirrors are condo dwellers' best fixtures. They "double" the image of the space, adding depth and making the room look bigger. Plus, they reflect both natural and artificial light, which then brightens up the room and adds to the illusion. This is what makes mirrored storage fixtures a practical cabinet design for a small bedroom.
If you're planning to have this, it's best to give your walls a white color scheme to keep things bright and big. Play with different textures to avoid a monotonous look with the palette. Use wood, metal, and textiles in your wall treatments and accessories.
6. Portable wardrobe.
While typically the most affordable of all options, these solutions usually come with every storage style you need: hanging rods, drawers, and shelves. Some even come with dedicated spaces for shoes and accessories. This means you can house all your things and keep them tidy without necessarily breaking the bank.
This is also a good solution if you're the type of person who needs a bedroom spruce-up every now and then. Since you can move it around, you can reconfigure the area easily. It's also the best option for those who are still exploring condo layout options and bedroom cabinet design ideas for small spaces.
7. Cabidoor.
Once again, when you're decorating a small space, every corner counts — yes, even that area behind your door. Hang a slim "cabidoor" there, and store small items such as hats and caps, shoes, belts, even skincare and body care products.
Find a cabinet design with different size provisions for shelves; so it can accommodate all kinds of things. It's also best to get one with a mirror for a door. This way, it will again add to the illusion of space in the room; and, at the same time, give you one final look at your outfit before heading out.
8. Window nook cabinet.
Most condo units feature floor-to-ceiling glass windows. Homeowners who want to appreciate the stunning views better usually create a window nook. If you're planning to have one in your bedroom yourself, the seating area can be a storage space itself. Think of it as a cabinet on the floor.
Place foam on top of the storage bench. Add satin covers, throw pillows, and a blanket to complete the look of the cozy space. Instantly, this cabinet design for a small room becomes eye candy.
9. Pull-down ceiling cabinet.
Aside from walls, doors, and windows, the ceilings can have storage solutions, as well. A pull-down ceiling cabinet is exactly what it sounds like: you pull down the cabinet from a portion of the ceiling. What's good about this type of cabinet design is that it doesn't take up space in the room. It's tucked away; so it doesn't obstruct your floor area.
10. Staircase cabinet.
You're probably considering a loft type of layout for your bedroom to make more room. One of the perks you can maximize in this type of layout is creating storage areas in the stairs of the loft. The stairs can serve as the cabinets themselves, the steps opening up as drawers. Or, you can also have the main closet under the stairs. Similar to the pull-down cabinet, this cabinet design won't be intrusive, in terms of occupying space.
A small bedroom shouldn't be a problem, as long as you have the right storage solutions. Maximize the floor area of your condo, as you get creative in keeping the clutter away. With this, you can surely live large in a small home.