Temperatures in the metro are hitting a record high. How do you plan to beat the summer heat? Every summer, millions of people travel to Baguio City where temperatures are at least 8 degrees lower. The mountain city, however, offers more than just a cool weather. There's a long list of tourist spots to visit from botanical gardens to vegetarian restaurants. When planning your Baguio itinerary, make sure to explore places that locals frequent. How else can you enjoy an authentic Baguio experience?
Where to stay during your short vacation in Baguio? Book a 4-day, 3-night stay in Outlook Ridge Residences. The newest DMCI Communities project in the Cordilleras offers resort-style living on top of majestic mountains. It features a fireplace, roof garden, sauna, fitness gym, and other top-notch lifestyle amenities that you will definitely enjoy.
Check out this suggested Baguio itinerary for your next visit to the mountain city.
24/7 Waffles and Coffee
Baguio is a highly industrialized city. There's a lot of establishments that operate 24/7 including fastfood restaurants and computer shops. You don't have to worry about grabbing food at whatever hour you arrive in the city. You can skip the fastfood chains and convenience stores, though. Have waffles and refillable brewed coffee at Pizza Volante along Session Road. For Php100.00 to Php120.00, you can have a heavy rice meal or a pizza-pasta combo. After decades, Pizza Volante still exudes western 1950s vibe with its large windows, dim lighting, and the smell of coffee in the air.
Vegetable shopping, Baguio-style
After enjoying a hearty meal, take a rest for a couple of hours in Outlook Ridge Residences. Snuggle in the cozy living room or simply have quiet time on the roof deck. Condo stay is an increasingly popular accommodation in Baguio. You'll notice the rising number of condos that primarily accommodate college students attending universities in the city. Condos are also leased to vacationers who want more flexibility in their accommodation. Cook your dinner in your condo kitchen using fresh highland vegetables. Where can you get the best produce? Once you arrive in the market, walk straight ahead to the hangar past the rice stores and coffee beans shops. Don't mind the signs, they're inconsistent anyway. You can get lettuce at Parley Alley, and onions and potatoes at Carrot Alley.
Philippine garden plants in the Orchidarium
Baguio City can get too crowded during peak seasons. Just imagine: on lean seasons, there are only around 350,000 people in the city, but during peak seasons, this number skyrockets to nearly 2 million. Traffic can eat up your time that should be spent visiting new places. You can choose places less frequented by tourists, and visit spots that are within walking distance. From Session Road, the iconic Burnham Park is a 15-minute walk away. Walk a little farther to the police station, past the bicycle lane, you can find the Orchidarium where you can buy the best Philippine plants for your vertical garden. You can buy herbs like rosemary and basil, without a pot, for Php30 to Php50. Orchids for your condo garden range from Php50 to Php100.
An eccentric resto at the Town
For locals, Session Road is referred to as "the Town." The Town is the center of commerce and tourism. It is surrounded by banks, schools, malls, and several bakeries and restaurants. During Panagbenga or Flower Festival, Session Road is closed for a week-long bazaar where the best of Luzon's products are showcased. There's one restaurant/bar that you can't afford to miss when in Town: Oh My Gulay at La Azotea Building. It's an art space-cum-restaurant run by the family of renowned filmmaker Kidlat Tahimik. Oh My Gulay offers a menu of affordable salads, sandwiches, and pasta. The eccentric interior of the restaurant, in itself, is worth checking out.
Have a picnic with Baguio's fave gastronomic delights
Locals are fond of picnics. Some of the favorite picnic spots are in Burnham Park and Camp John Hay. Keep in mind that you can't just set up a grill anywhere. You wouldn't want to get apprehended by the police! There are barbeque grills in some parts of Camp John Hay, so you better ask before starting a fire. You can order sweet and spicy chicken from Good Taste and cakes from Tea House, and buy fruits from the market. Always clean before you go. There are trash bins everywhere, so use them accordingly.
Enjoy a traditional spa retreat
Your short vacation in Baguio won't be complete without experiencing indigenous massage. From the Town, walk straight towards SM Baguio, but cross the street to Casa Vallejo. Casa Vallejo, Baguio's oldest hotel, features a restaurant/café, Filipiniana bookstore, cinema for art films, and a spa. Feel refreshed with gis-is-to, a traditional head massage of the Mountain Province, or tal-talad-tad, a Cordilleran body massage. There other premier spas in Quezon Hill, a reclusive yet immensely charming barangay. Top your getaway with a chocolate cake in Casa Vallejo or a buffet meal at Kamayan sa Baguio in Quezon Hill.
Bring home the divine Cordillera coffee
National Artist for Literature F. Sionil Jose praised Cordillera's homegrown coffee as the best in the country. Take the mountain brew to your Manila condo by buying enough stock of coffee beans. Kape Umali has started operating in 1948, and continues to be one of the preferred coffee stores in the city. You can buy coffee beans from Benguet, Sagada, and Kalinga for Php50 to Php70 (for one-fourth kilo). A heavy coffee drinker can consume this much coffee in a month. You can buy in beans or have these grinded for you without extra fee. You can choose between medium and dark roast, and flavored variants such as Butterscotch, Hazel Nut and French Toast.
Climb Mount Sto. Tomas
Every Holy Week, families and friends would wake up at 3 AM and greet the sunrise from Mount Sto. Tomas. The mountain is a 2- to 3-hour walk. The trail is cemented, making it easy even for non-mountain climbers to reach the top. On the top of the mountain are Stations of the Cross where Catholics pray (and take selfies). Be mesmerized by the majestic view and breathe in the fresh, cool air. It's also a joy to see how locals go about their daily lives in this part of the city. You can bring your food or visit Café in the Sky for a heartwarming pastry-coffee combo.
Sumptuous Spanish Cuisine at Cafe Adriana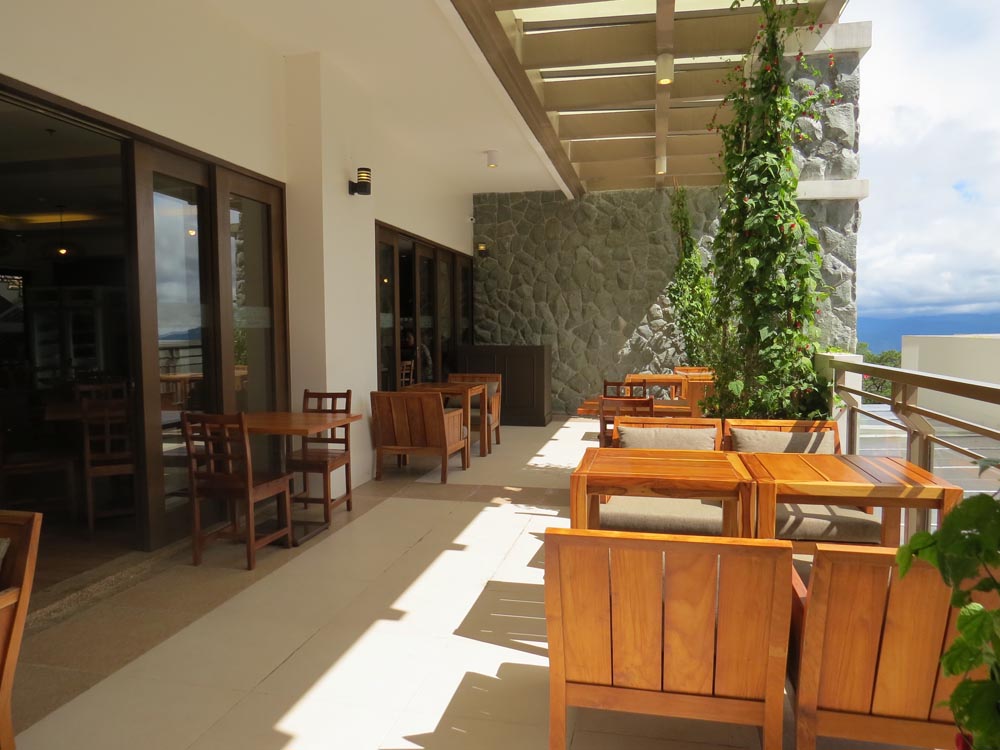 Photo from Cafe Adriana by Hill Station
You don't even have to travel far! Café Adriana by Hill Station offers delectable Spanish fare, and it's right on the deck of Outlook Ridge Residences. Enjoy fine Spanish dining while enjoying a majestic view of the Cordillera mountains.