Don't you just love cozying up indoors during the rainy season? Log into your Netflix account and browse for a new engrossing show. You can also finish the latest Murakami book in your shelf or check out the hottest tracks on Spotify. How about inviting some friends over and play board games? There're so many fun home activities during the rainy season that you can do with your friends and family or just being alone. Whether you're going for a Netflix binge or an afternoon of Scrabble, you need comfort food to warm you. Cook congee, spicy soup or creamy pasta. Choose your comfort food for the rainy days.
1. Poached Egg Congee
Arroz Caldo is a favorite Pinoy comfort food. But do you know that you can cook different versions of this well-loved congee? Make yourself a heartwarming poached egg congee with these simple steps.
Ingredients:
1 cup rice
6-7 cups chicken stock
Poached eggs
Soy sauce
Sliced green onion
Salt and pepper to taste
Optional garnish:
Sriracha
Kimchi
Sauteed spinach
Cook the rice in a large pot with the chicken stock for about 45 to 60 minutes. Stir the congee regularly until the texture is thick. Serve in a bowl and add the poached eggs and sliced green onion. Add soy sauce, salt, and pepper to taste.
To poach eggs:
Boil 3 inches of water in a shallow pan. Add 1 tablespoon vinegar to the water. Crack the eggs into a small bowl and slowly lower them into the water. Cook until the whites are set and the middle still runny.
2. Ginger and Chicken Brown Rice Congee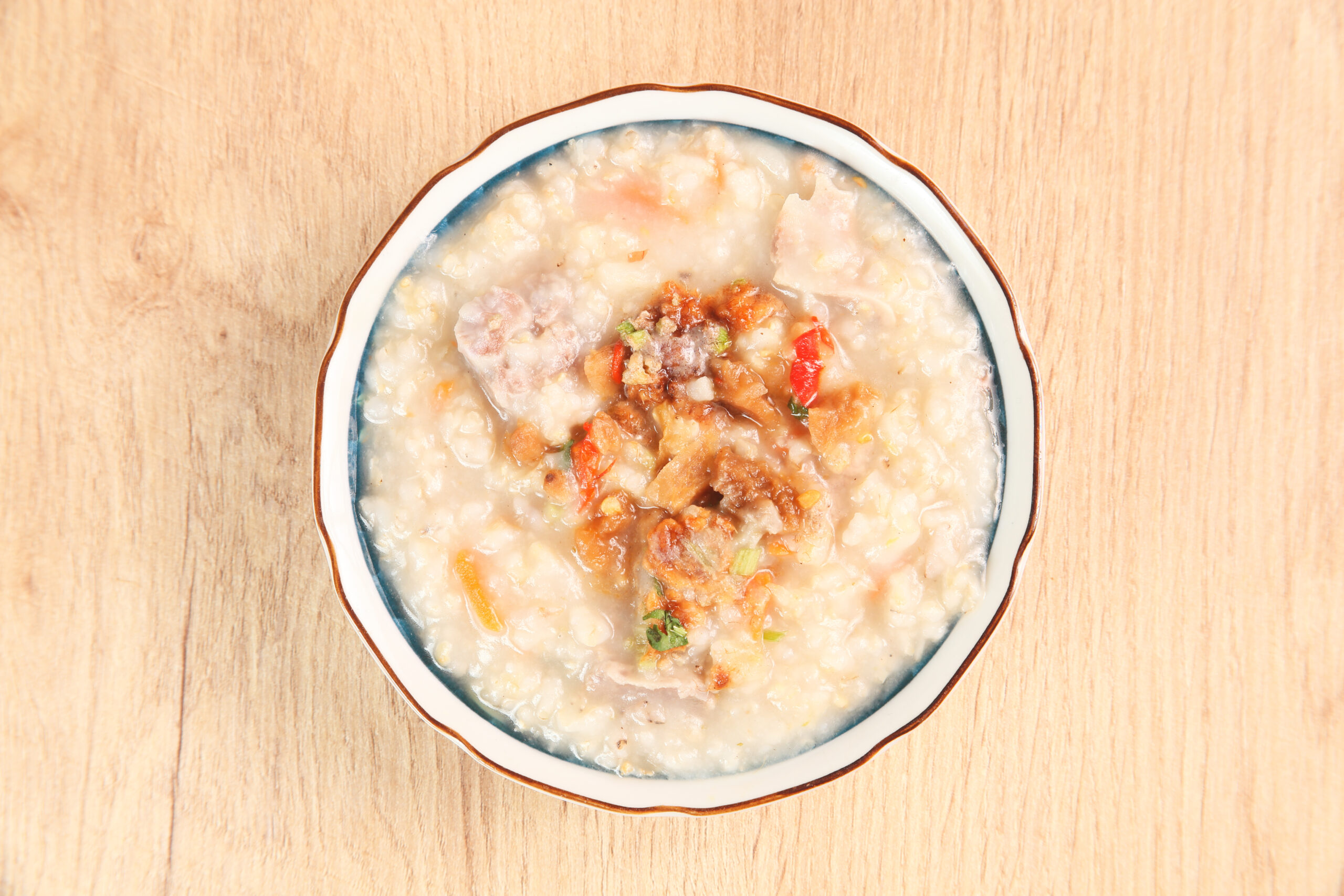 Relax in your DMCI Homes condo on a rainy Saturday afternoon. Have a healthy congee to warm your heart:
Ingredients:
1 1/4 cup brown rice
4 cups chicken broth
2-inch piece ginger, cut 4 slices
1 pound boneless skinless chicken thighs
Soy sauce
2 teaspoons salt
Recommended garnish:
Sauteed bok choy
Sesame seeds
Scallions
Shredded ginger
Chili oil, sriracha, or sesame oil
Cook the rice, ginger, chicken, chicken broth, salt, and soy sauce in a slow cooker for 5 to 6 hours on the high heat setting. Remove the chicken about halfway through and set aside. Once the texture is smooth, add soy sauce and salt to taste. Serve the congee in a bowl and top with shredded chicken and other garnishes.
3. Spicy Spaghetti with Garlic and Olive Oil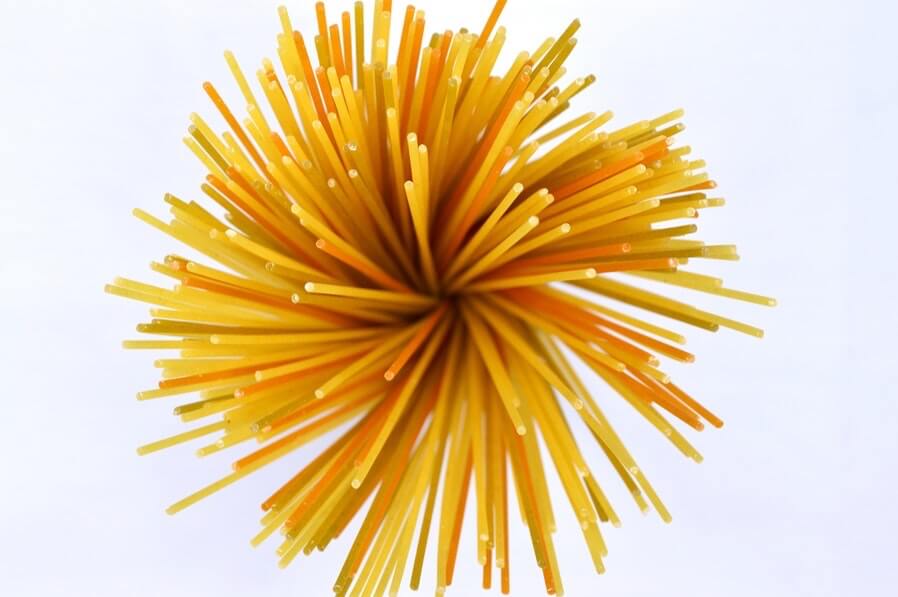 Spicy foods can help keep you warm on cool rainy evenings. Treat yourself with a sumptuous pasta dish:
Ingredients:
Spaghetti (450 grams)
1/3 cup extra-virgin olive oil
½ cup bread crumbs
2-3 cloves of garlic, peeled and finely minced
½ teaspoon dried red chili pepper flakes
¼ cup parsley leaves, chopped
Cook the spaghetti according to the packaging instructions. In a skillet, heat the olive oil and bread crumbs and toast the crumbs for about 3 minutes. Add the minced garlic until the garlic is lightly colored. Add the red pepper and chopped parsley and cook for about 30 seconds. Drain the pasta and toss it to the skillet until evenly coated. Add a bit of cooking water as needed. Serve immediately.
4. Macaroni and Cheese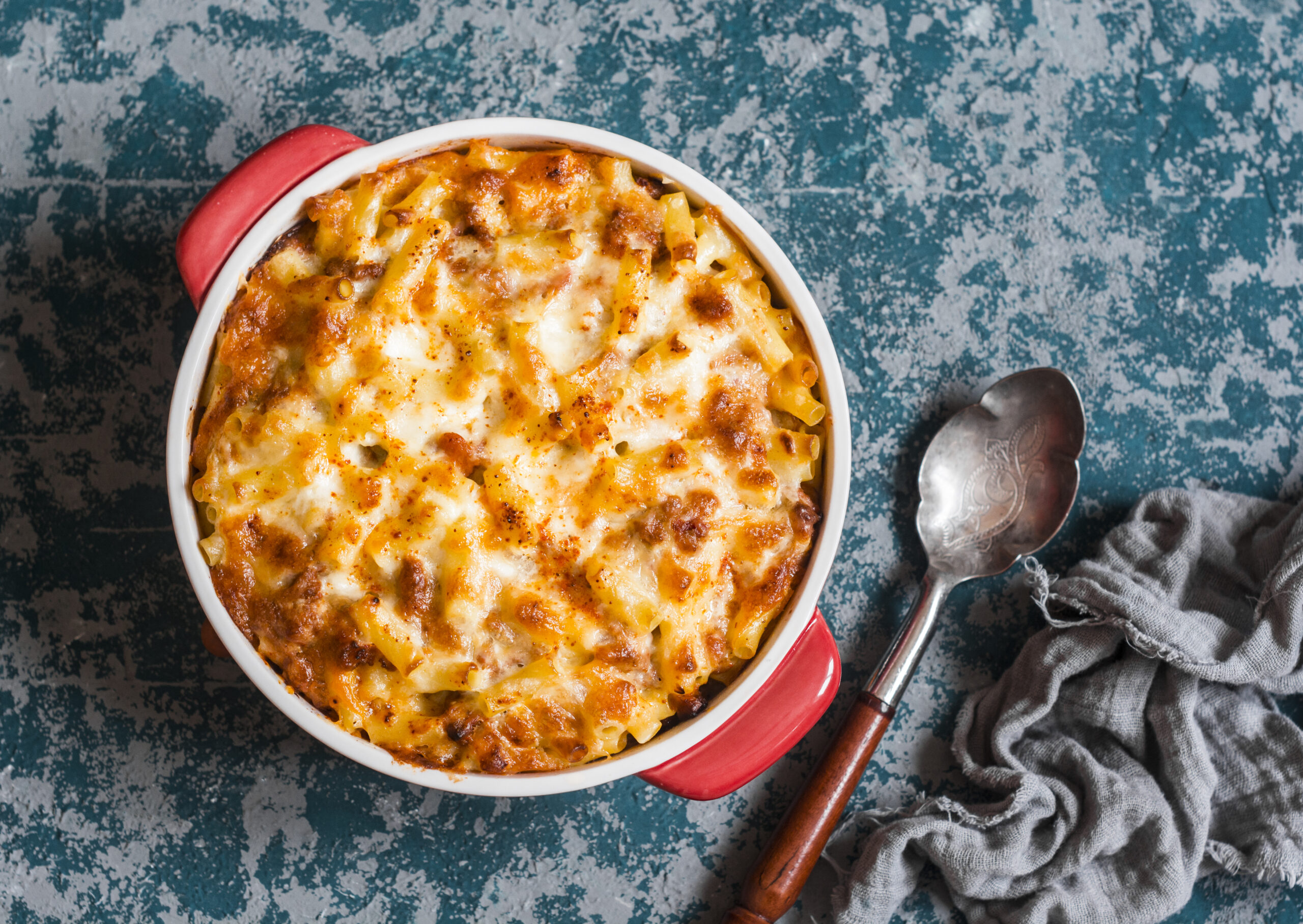 Mac & Cheese is the ultimate comfort food regardless of the season. Here's an easy recipe for you:
Ingredients:
4 cups of macaroni noodles
1 whole egg
4 tablespoon butter
¼ cup all-purpose flour
2 ½ cups whole milk
2 teaspoons dry mustard
1 pound cheddar, grated
Salt and pepper to taste
Cook the macaroni according to the packaging instructions. Beat the egg in a small bowl. Melt the butter and sprinkle in the flour in a large pot. Cook for a couple of minutes. Pour in the milk and add the mustard. Whisk until smooth and cook about 5 minutes.
Take 1/4 cup of the sauce and pour it into the beaten egg, whisking constantly until smooth. Pour the egg into the sauce, whisking until smooth. Add the cheese and stir to melt. Add salt and the pepper to taste. Add the drained macaroni and stir to combine.
Serve immediately or pour into a buttered baking dish, then top with extra cheese and bake for 20 to 25 minutes.
5. Monggo Curry Guisado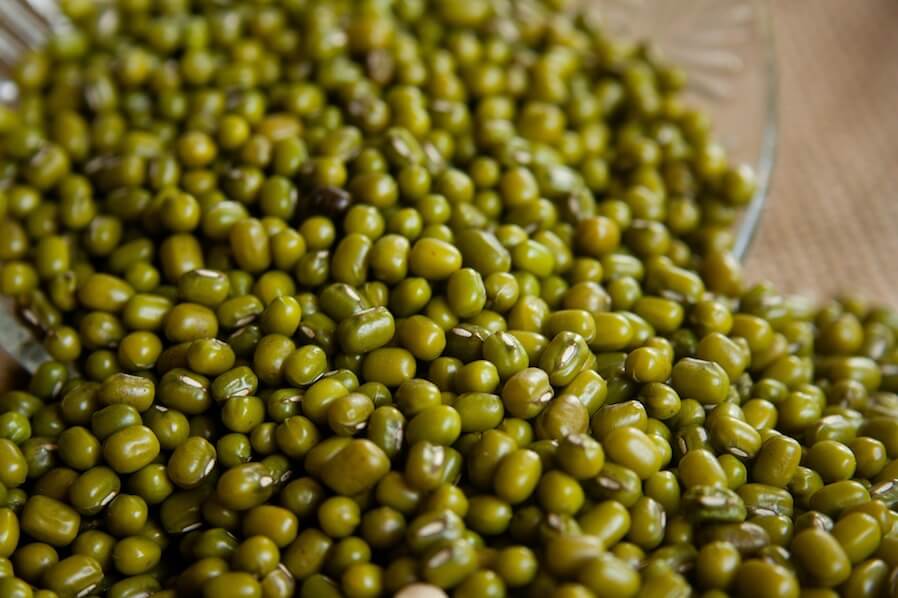 It's sinigang and bulalo season again! What else should you be enjoying on a drizzly evening but all-time Pinoy dishes. Try this monggo recipe with a twist:
Ingredients:
Monggo (mung) beans (250 grams)
1 cup baby spinach
¼ cup tofu, cubes
1 cup coconut milk
1 onion, chopped
1 tablespoon garlic, minced
1 ½ teaspoon curry powder
1 tablespoon olive oil
Salt and pepper to taste
Cook the monggo beans for about 30 minutes in a pot of water. Add water as necessary to prevent drying out. In a pan, saute the garlic and onions with olive oil. Stir-fry the tofu and set aside. Add the softened monggo beans and add the curry. Pour the coconut milk and half cup of water. Stir in spinach. Add salt and pepper to taste. Top with fried tofu and serve. Best enjoyed with hot rice.
6. Tuna-Potato Salad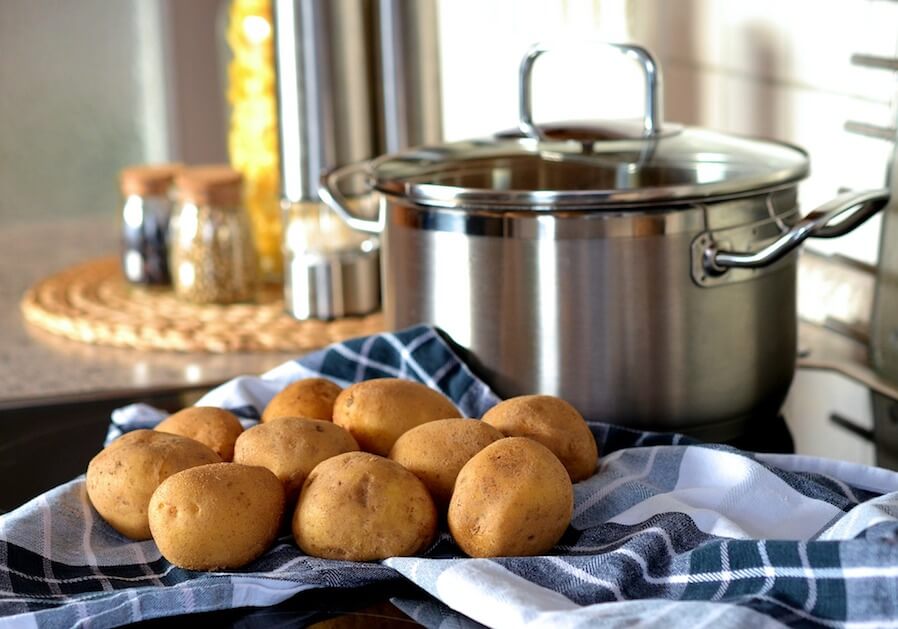 Ditch the salty potato chips and greasy burgers for a healthy comfort food:
Ingredients:
Potatoes, peeled and shredded
1 cup tuna flakes, drained and shredded
½ cup cheddar cheese, grated
1 teaspoon cornstarch
1 tablespoon onion, chopped
1 cup raisins
½ cup mayonnaise
Salt and pepper to taste
Fresh parsley
Mix the shredded potatoes and cornstarch in a bowl. Scoop a tablespoon of the mixture in a oiled aluminum strainer. Place a second strainer on top and press down to create baskets. Deep fry the potato baskets until golden brown.
In a bowl, combine the shredded tuna, mayonnaise, cheese, onions, and raisins. Add salt and pepper to taste. Top the mixture on the potato baskets.
7. Spicy Tomato Soup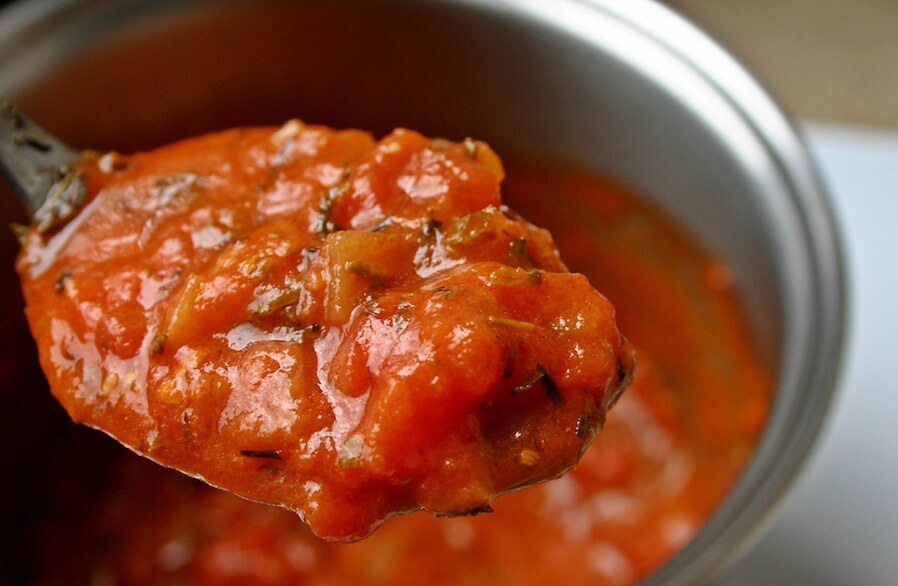 Tomatoes contain powerful antioxidants. They're also perfect ingredients for a rainy day comfort food:
Ingredients:
Marinara sauce (26 ounces)
2 cups chicken broth
1 cup cannellini beans, drained
½ cup pasta, any kind of your choice
3 tablespoons olive oil
2 carrots, peeled and chopped
1 onion, chopped
1 clove garlic, minced
½ teaspoon red pepper flakes
Salt and pepper to taste
In a large pot, saute the garlic, onion, and carrots in olive oil for about 2 minutes. Add the marinara sauce, chicken broth, beans, pasta, and red pepper flakes. Season with salt and pepper and simmer for 10 minutes. Serve hot.
8. Chicken Carbonara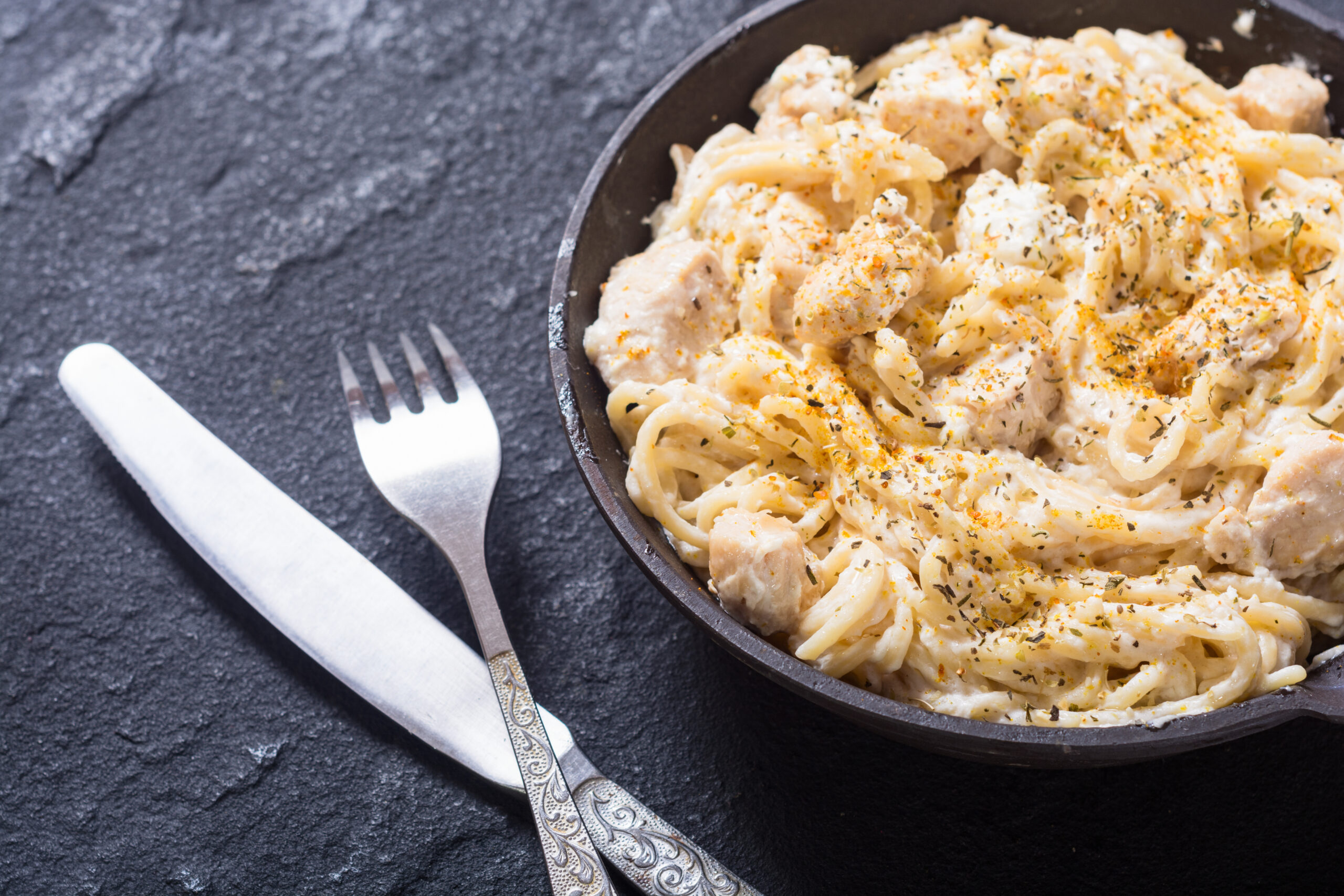 You don't have to settle for instant cup noodles on rainy days. Cook mouth-watering chicken carbonara in less than 30 minutes:
Ingredients:
Spaghetti pasta (450 grams)
4 cups chicken, shredded
¾ cup bacon, chopped
8 large egg yolks
2 teaspoons olive oil
2 teaspoons garlic, minced
2 ½ cups whipped cream
1 cup parmesan cheese, grated
¼ cup fresh basil leaves, chopped
¼ cup fresh parsley leaves, chopped
½ cup walnuts, toasted and chopped
1 tablespoon lemon peel, grated
Salt and pepper to taste
Cook the spaghetti according to the packaging instructions. Saute the garlic and bacon in olive oil for about 8 minutes in a large pan. Add the chicken and stir. In a bowl, whisk the cream, cheese, egg yolks, basil, and parsley. Add the spaghetti and the cream mixture into the pan. Cook on medium-low heat for about 4 minutes. Season with salt and pepper. Sprinkle walnuts and lemon zest. Serve hot.
9. Bacon, Egg, and Shrimp Fried Rice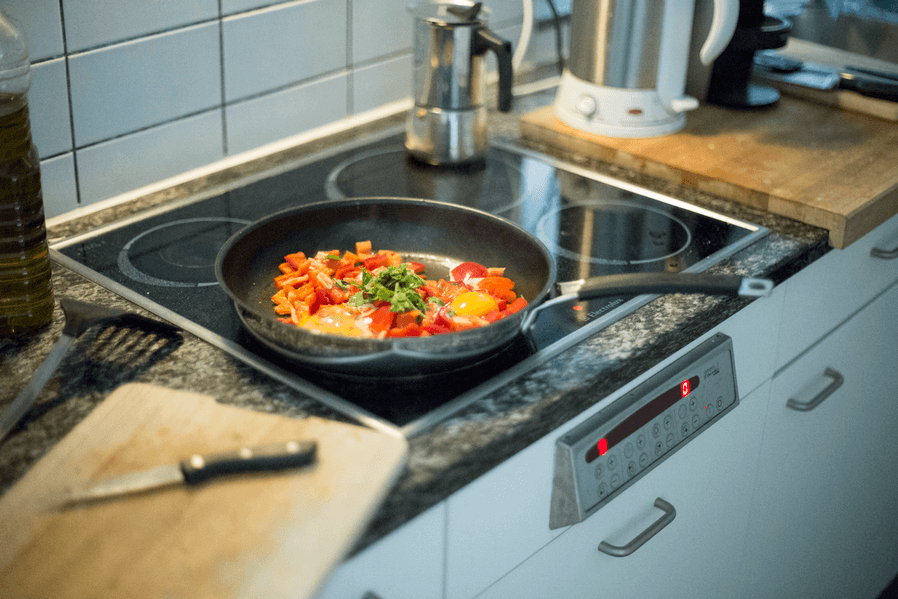 Craving for a satisfying meal of carbs? What about a fried rice topping recipe?
Ingredients:
2 cups cooked rice
¾ cup bacon, diced
3 eggs, lightly beaten
¾ cup shrimp
1 clove garlic, minced
1 teaspoon fresh ginger, peeled and grated
2 scallions, chopped
¾ cup fresh peas
1 ½ tablespoons vegetable oil
1 teaspoon toasted sesame oil
Soy sauce
Salt and pepper to taste
In a large pan or wok, stir-fry the eggs with 1 tablespoon vegetable oil for about 2 minutes. Remove and set aside. Reheat the pan, add ½ tablespoon vegetable oil then add the bacon, garlic, and ginger. Stir for about 2 minutes. Add the shrimp and peas and stir-fry for about 2 minutes more. Add the cooked rice and stir well. Add the eggs. Season with soy, sesame oil, salt, and pepper. Top with chopped scallions. Serve hot.
Condo living in the Philippines offers a relief to urbanites during the rainy season. You're safe and dry in a residential community equipped to withstand natural occurrences such as flooding. Everything is within your reach whether it's grocery or laundry service. Make the most of condo living by cozying up in your weatherproof condo home. Warm your soul with easy-to-prepare comfort foods.