Household chores, kids, and fun do not seem to get along. You can't normally use these words in one sentence and not see just how incompatible they are. Incompatible and an unlikely combination? Maybe. But, impossible? Not really.
During the rainy days, there's not much that kids can do. They can't go outside to play, bike around the community, or swim and enjoy the many benefits of condo living. So, they'll probably just be in bed all day and watch movies and videos all day long. But, is that what parents want? Keeping kids active and productive is a constant challenge, but there's nothing that can't be solved with a tiny ounce of creativity and imagination. This season, make cleaning with kids in the condo a part of the routine. Doing household chores with kids will not only keep them moving, but will also make the job easier.
There are many ways to make household chores fun so that kids can get into it, while also teaching them valuable life lessons.
Clean up with toys
Children love creating make-believe situations. They like to pretend that their Barbie is dressing up to go to school, or that a superhero is saving the day. In your child's head, the toys can do anything. But in able to train them to be responsible this early. Device some smart ways to get rid toys clutters made by your little ones.   Use the toys to endear your kids to do some chores, without them even noticing. The toy truck can lift those blocks and put them in the storage. The Barbie can be in charge of the cookware set and put them in the drawer. This way, they are helping sort and store their toys while still playing make-believe.
Five stars for you
In pre-school, teachers usually use "stars" to keep children's fears at bay, and to get them excited for the activities ahead. These serve as encouragement, as well as assurance that no matter what, they are doing a good job.
In doing household chores with kids, use the star system too. In a white or chalk board, list down age-appropriate tasks that kids can do over the weekend. Every task completed merits a star. You may also up the ante by assigning different numbers of stars for every activity such as one star for clearing the toys, and two stars for dusting off. End the weekend on a fun note by having an awards ceremony. The kid with the most stars gets an award, but make sure to also have special awards for effort.
Timing is everything
Children love to compete, so you can count on the timer to make your life easier when it comes to household chores. Make a list of chores for kids by age and tell your kids to do them one by one. Level 1 is segregate or sort the toys and level 2 is to put them where they belong. Another chore could be setting up the table or vacuuming the floor. Set the timer: ready, set, go!
10-Minute Tidy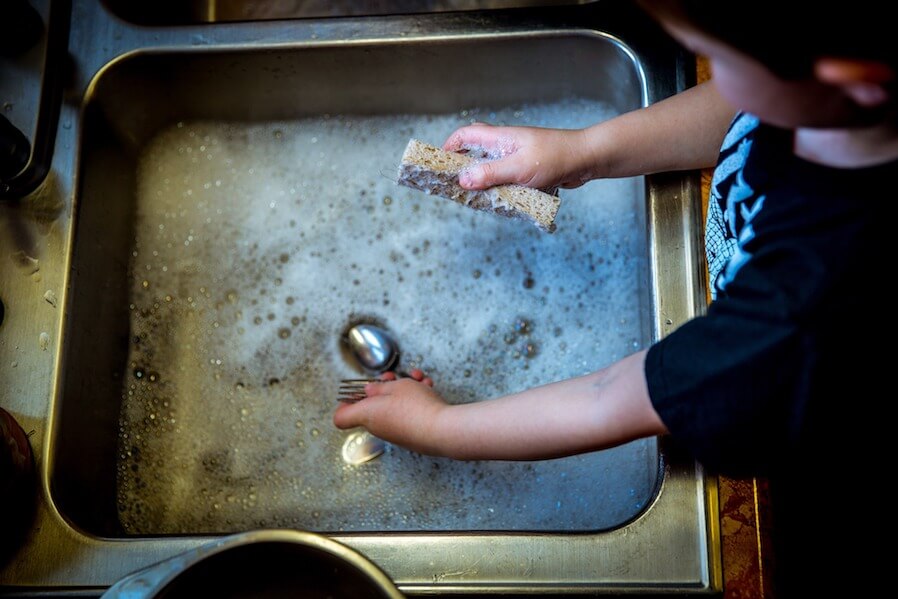 Speaking of timing, kids love challenges, and when it comes with a timer, they love it even more. This is the perfect solution to times when no one wants to clear the table and wash the dishes after dinner. The 10-Minute Tidy Challenge is basically what it is — tidy up in 10 minutes. After coming up with a strategy and enthusiastically counting down 3-2-1, set the timer and let the kids assist in clearing the table and putting everything on the sink. Just be extra careful that there are no pointed things on the table such as steak knives.
Turn it into a sport
For kids who are into sports and games, you might want to turn those chores into sporting activities. Shoot clothes in the hamper and the one with the highest score gets a reward. Make it extra fun by having defenders and going all fancy with their shots. You may also start a race with your kids by arming them with baskets where they can put all the clutter, or make it a mop marathon where their task is to mop the floor in all condo rooms.
Make it a team mission
Pick a chore or two that you have to finish and ask your kids to help you with a "mission : impossible." Gather the kids and tell them to assemble into a team to accomplish a mission, a.k.a. fun chores to do around the house. The first mission could be making up the bed — someone will fold the blankets, tidy up the sheets, take care of the pillows, etc. After the task is done, say "mission: accomplished" with the team.
Give kids chore control
Adults are in a habit of telling kids what to do. Most parents would rather not involve their kids in household chores because they might only make clutter worse or tasks would take longer to complete. But you'd be surprised how much your kids are willing to help. Let them have the "chore control" and ask them what chore they would like to do among the list of age-appropriate chores you made.
Put on some dance music
Everything is so much more fun if you add some music. You can't expect everyone to be game and excited if it's too quiet and dreary. Rainy days make you want to stay in bed forever, so pump up the mood with some dance music. Sing, dance, and be silly while you and the kids clean up your condo space.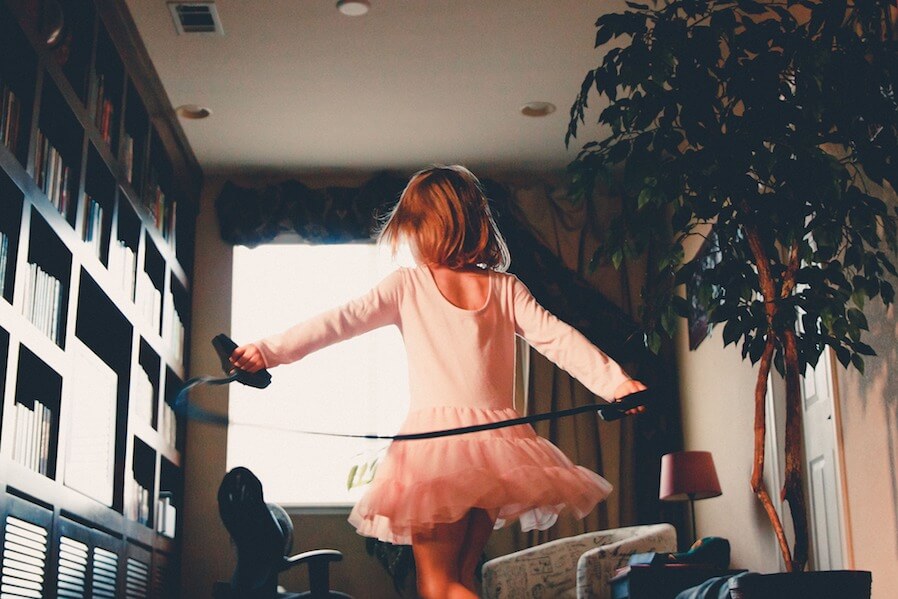 Track progress and be positive
Children like to be assured that they are doing a good job. It would be fun to have a chart of chores where your children can track their progress. Mark the chart with a star or a sticker for every chore completed. And most importantly, provide positive reinforcement and encourage them. Do not constantly criticize your children for not doing a chore right. Show them how to do it and give pointers.
Doing household chores with kids is not an impossible endeavor. It is great to involve kids in activities that you deem are only fit for adults. Make this a family bonding activity, where everyone gets to be creative, productive, and active, while also having loads of fun.