Something is alluring about Japanese gardens. Its appeal – which combines tranquility with the healing visuals of greens and florals – calls out to the weary folks as if saying "Come, rejuvenate." In these gardens, cherry blossoms grow freely, and the distant sound of the gentle stream quells the agitated mind. In it, you can find the very definition of zen. 
Imagining this place amid a busy, bustling metropolis sounds like a far shot. But DMCI Homes  – an advocate for healthy condo living – makes the Zen-filled life just within your reach with Kai Garden Residences.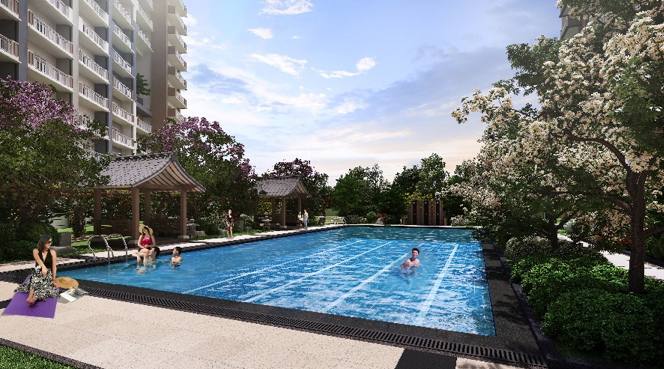 Artist's illustration of the Kai Garden Residences' lap pool adorned with flowering trees reminiscent of the Japan's iconic Cherry Blossom trees.
DMCI Homes' Kai Garden Residences: Escape from the City, Within the City
People exposed to the busy routines that come with urban living would know that the city needs nature to relax, to recuperate, to unwind. Fulfilling this need is at the very heart of Kai Garden Residences. 
Inspired by the iconic Japanese gardens, this stellar development from DMCI homes merges the healing power of nature with luxurious condo living. 
This condominium in Mandaluyong City changes the narrative that condos are only big, boring boxes where people simply stay and go. Here, sprawling Japanese-inspired gardens filled with ornamental blooms breathe life into the complex. Residents get first-class access to open grounds where the verdant landscapes make one forget the fast-paced world beyond the walls. 
The design of Kai Residences gives each resident a chance to escape the city within the city. 
The resort-style condominium in Mandaluyong showcases fascinating details that give a nod to the classic Japanese garden design. The entrance is reminiscent of Japanese gates, and the lawn includes meditation-worthy pavilions. 
Instead of becoming overwhelmed by the skyscrapers, residents can walk around open gardens home to the sight and scents of beautiful local trees – Pink Tabebuia, Palawan Cherry, and Banaba – that rival the charm of the beloved Japanese maple trees and cherry blossoms. 
Other local plants like the Ylang-Ylang, Kamatsile, Katmon, Bougainvillea and the Magnolia tree elevate the relaxing vibe that is ever-present on the grounds. When these trees are in full bloom, they can engulf the place with an explosion of colors that energizes anyone who explores the grounds.
An oasis for those yearning for nature and healing, the Japanese architecture-inspired condominium is a haven for anyone who wants to forget the worries and stresses of the city grind. 
Incorporating Nature and Wellness in Urban Condo Living
City condominiums get a bad rap for their design, but Kai Garden Residences aims to change this perception. 
True to DMCI Homes' dedication towards providing better condos for city dwellers, this latest development has wellness-promoting building qualities and topnotch facilities for healthy, resort-style condo living. Here, residents can find a home where relaxation comes naturally. 
Wide-open spaces provide the best setting for outdoor exercises, long walks, and leisure breaks. In the garden, you will find secluded spots conducive for meditation that rests the mind and body. In this property, the sound of the rustling leaves silence the busy streets; the swaying greenery wins over the rush; fresh air becomes more accessible.
Kai Garden Residences amps up the verdant life from garden to condo with its green building design. All three towers – Sugi, Icho, and Hinoki – will adapt the Lumiventt Design Technology which improves indoor air quality and reduces risks of asthma and allergy. 
DMCI Homes' signature first-rate, resort-inspired amenities complete the package. Known for fusing nature and wellness with urban life, the Quadruple A developer will include the perks of urban living into the property. 
In the property, you will find a mix of amenities for one's social, mental, and physical well-being: a lounge area, bar and game area, audio-visual room, fitness gym, roof deck, function room, swimming pool complex, basketball court, play area, picnic area, outdoor fitness area, and jogging path.
The Condo Life Done Right: Invest in a Nature-Inspired Condo in Mandaluyong Today!
At Kai Garden Residences, you can experience what it means to not just stay in a condo, but actually live and thrive in it. It's possible to escape the city within the city. 
With its green design and A+ amenities, Kai Garden Residences is a great buy at Php 5.157 million onwards.
Units with gross floor area ranging from 24 to 81.5 square meters (sq.m.) are targeted for completion in January 2023 for Sugi building, January 2024 for Icho building, and from June 2024 to January 2025 (depending on the floor level) for Hinoki building.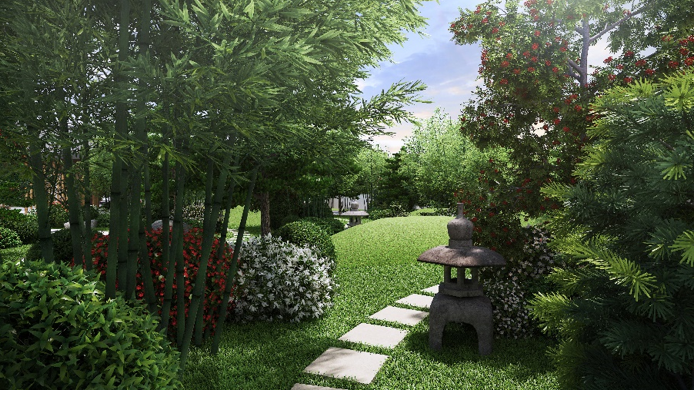 Artist's illustration of Kai Garden Residences' landscape resembling a typical Japanese Garden.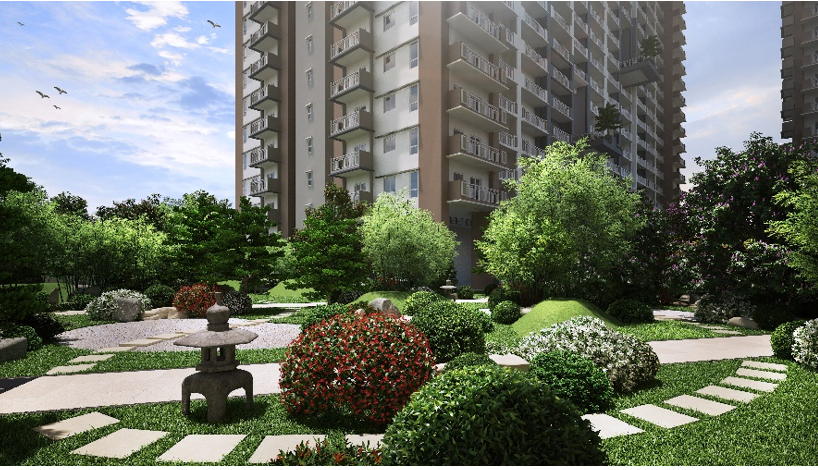 Aside from endemic Japanese trees, Kai Garden Residences will also feature accessories and decorative stones fit for its Japanese Garden theme (artist's illustration).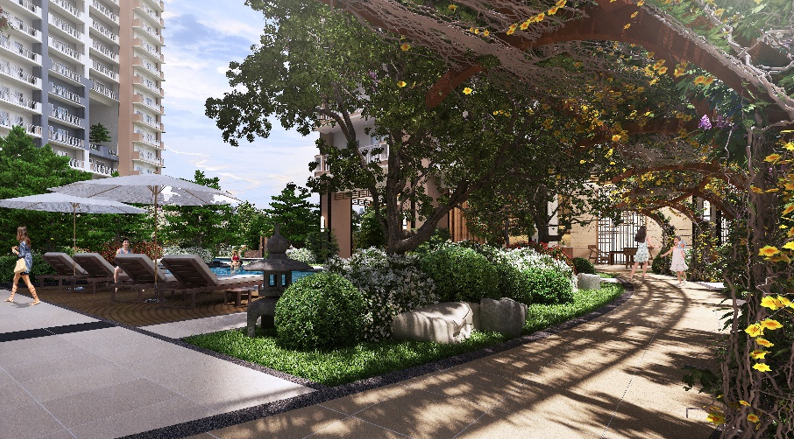 Artist's illustration of colorful vines crawling through Kai Garden Residences' Trellis Garden.
For more information, you can check the company's official social media accounts on Facebook, Twitter, Instagram, and YouTube. You can also call (632) 5324-8888.