When it comes to hosting parties at home, the food you serve will make a big impact on whether or not your guest will have an amazing time. That's why if you're planning to host a party in your condo, make sure to plan your food and drinks preparation ahead.
Are you hosting a party at your condo this coming weekend—or, perhaps, a dinner date with a loved one?  How about taking them on a gastronomic journey around the world? For a list of simple-to-prepare finger foods and easy meals to cook in a condo, read on:
USA: Buffalo Wings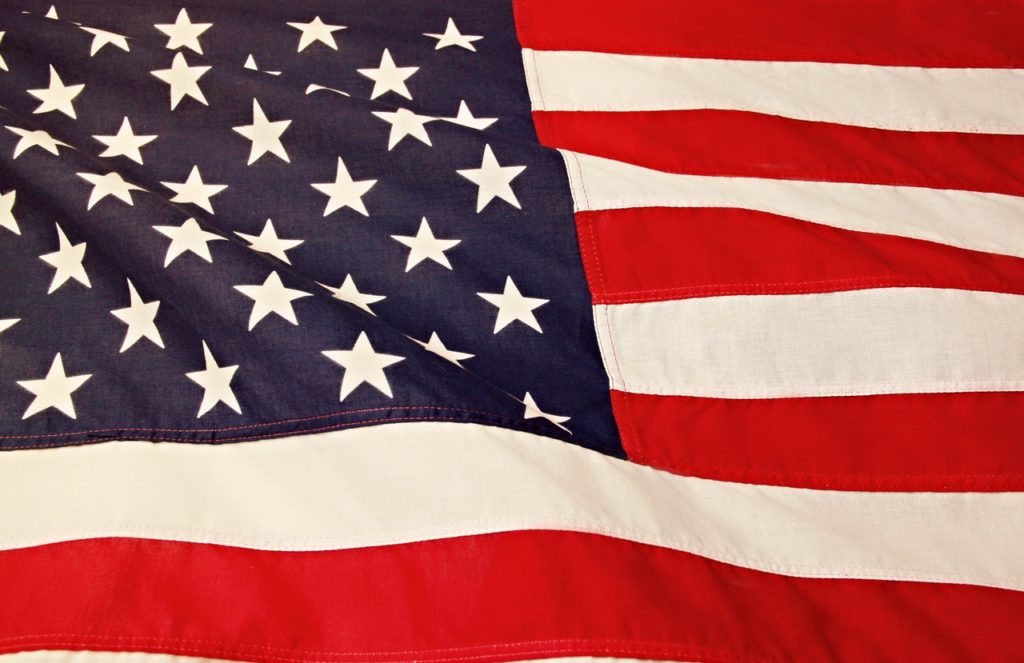 Photo courtesy of Sharefaith via Pexels
Here's a fun fact: Did you know that Americans will eat over 1.38 billion chicken wings on Super Bowl Sunday, alone? If you want to get that USA vibe whenever you watch the NBA, NFL, or MLB,  then Buffalo Wings is an essential condo party food idea.
Ingredients:
12 pieces of chicken wings

1/2 teaspoon of chili powder

1/3 cup of all-purpose flour

1/2 teaspoon of paprika

5 tablespoons of melted butter

3 tablespoons of hot sauce

1/8 teaspoon of black pepper

1/4 teaspoon of salt

1/4 teaspoon of garlic powder

4 cups of cooking oil
Cooking Instructions:
Mix flour, chili powder, salt, and paprika in a mixing bowl. Add chicken pieces and coat with flour mixture evenly. Deep fry chicken until golden brown. Set aside. In a different bowl, combine hot sauce, pepper, garlic powder, and butter. Pour the butter mixture into the chicken. Make sure each chicken piece is evenly coated with sauce. Serve hot.
Switzerland: Chocolate Fondue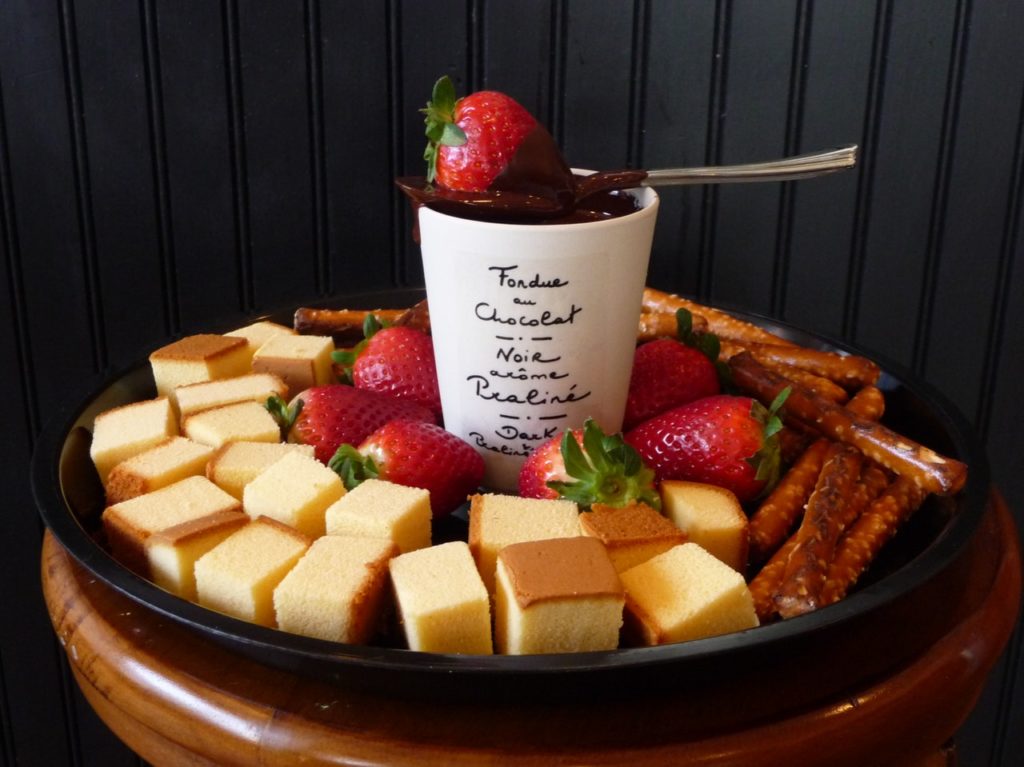 Photo courtesy of Laurel Natale via Pexels
When you're hosting a party at your condo you need a dessert that's sweet, creamy, and will definitely impress your guests' fancy taste in food.
Ingredients:
12 ounces of milk or dark chocolate (chips or roughly chopped, if from a block)

1 cup (8 ounces) of heavy whipping cream

A pinch of salt

Strawberries, sliced bananas, cubed apple pieces
Cooking Instructions:
Heat the cream with a pinch of salt over medium heat in a small saucepan. Bring to a slow simmer. Remove from heat and add the chocolate. Whisk gently until smooth and mixed completely. Serve straight from the pot. Arrange the fruit pieces on a platter around the chocolate pot. You can either use a fondue fork, bamboo skewer, or a regular fork to dip the fruit pieces in chocolate sauce.
Italy: Shrimp Aglio Olio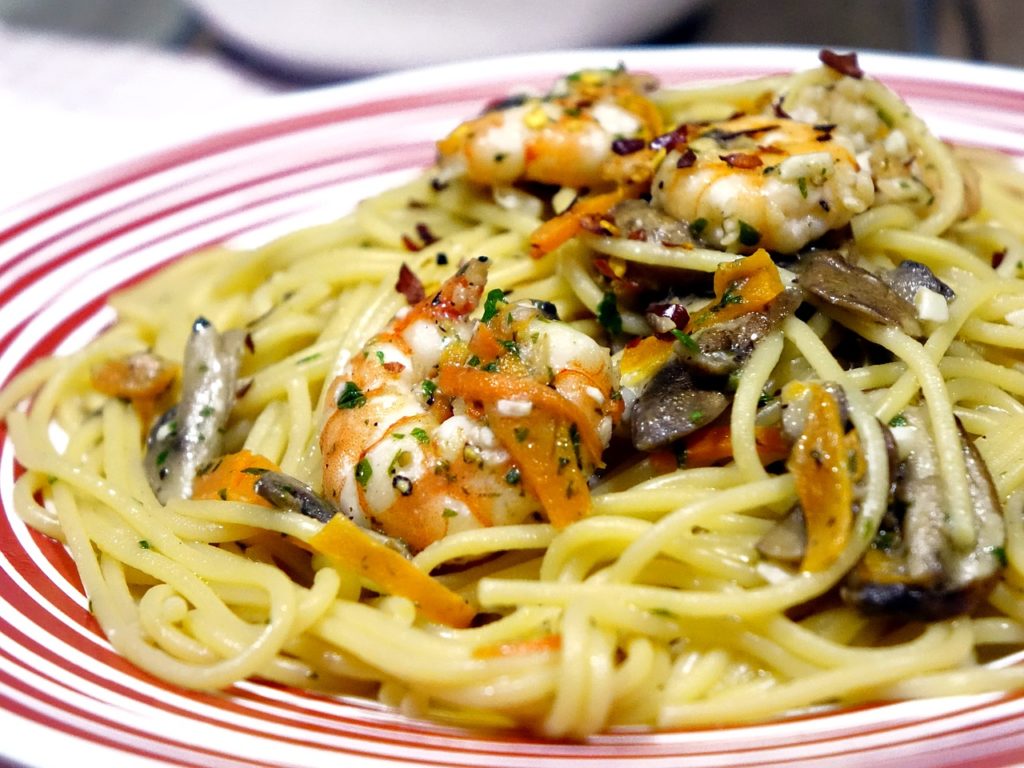 Photo courtesy of cegoh via Pixabay
Getting tired of spaghetti in red (marinara) or white (cream-based) sauce? Why not make it simpler with this delicious pasta recipe:
Ingredients:
250 grams of spaghetti

3 tablespoons of olive oil

1 tablespoon of finely minced garlic

1 teaspoon of chili flakes

250 grams of shrimp or prawns, deveined

1 tablespoon of chopped parsley

Grated parmesan cheese

Salt and pepper, to taste
Cooking Instructions:
Cook spaghetti according to package instructions. Reserve ¼ cup of pasta water. Heat olive oil in a pan and add garlic. Sauté garlic on a low flame 'til fragrant. Add chili flakes then shrimp. Cook the shrimp for 2 to 3 minutes or until the shrimp's color turns pink and opaque. Add the pasta water to the pan and bring to a boil. When the sauce thickens, toss in the cooked and drained pasta. Add parsley and parmesan cheese and mix well. Serve immediately.
Great Britain: Chicken Tikka Masala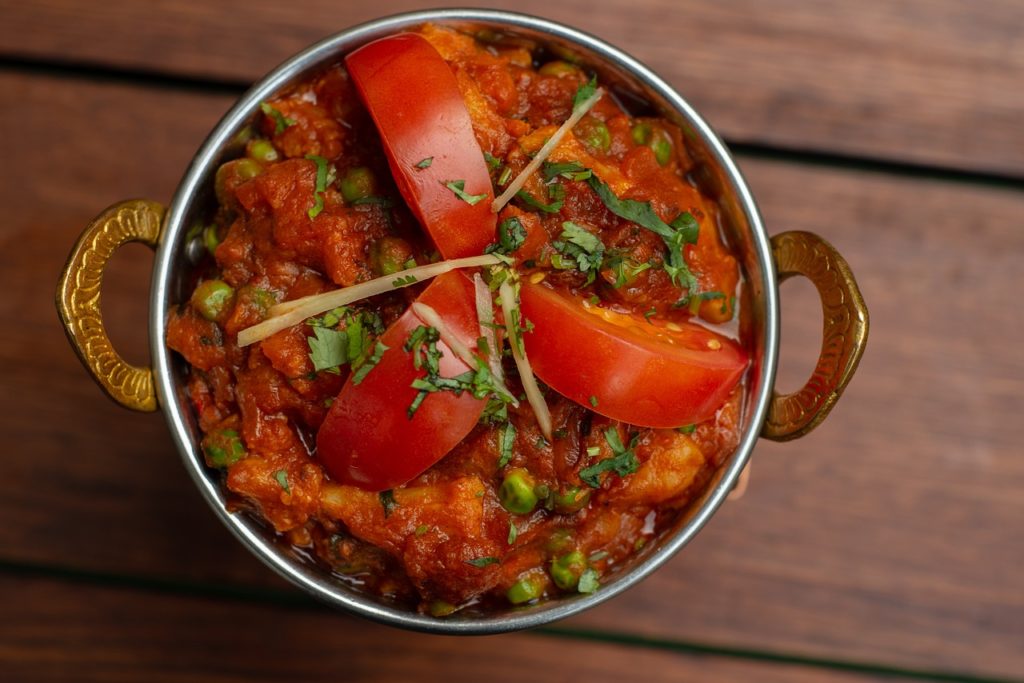 Photo courtesy of ArtificialOG via Pixabay
As the national dish of Great Britain, Chicken Tikka Masala was made specifically for the British as it is not a traditional Indian curry. Make this tasty grub at home with these easy steps:
Ingredients:
1 cup of uncooked rice

1 1/2 tablespoons of canola oil

1 1/2 pounds of boneless, skinless chicken thighs, cut into 1-inch chunks

Salt and freshly ground black pepper, to taste

1/2 piece of red onion, diced

3 tablespoons of tomato paste

3 cloves of garlic, minced

1 tablespoon of freshly grated ginger

1 1/2 teaspoons of garam masala

1 1/2 teaspoons of chili powder

1 1/2 teaspoons of ground turmeric

1 (15-ounce) can of tomato sauce

1 cup of chicken stock

1/2 cup heavy cream

2 tablespoons of chopped fresh cilantro leaves
Cooking Instructions:
Place 1 cup of uncooked rice into a rice cooker, and the appropriate amount of water and cook then set aside. Heat the canola oil in a large stockpot or Dutch oven over medium heat. Season the chicken with salt and pepper, to taste. Then, add the chicken and onion to the stockpot and cook until golden or about 4-5 minutes. Stir in the tomato paste, garlic, ginger, garam masala, chili powder, and turmeric until fragrant, or about 1 minute. Stir in the tomato sauce and chicken stock; season with salt and pepper, to taste. Next, bring the stock to a boil; reduce heat and simmer, stirring occasionally, until reduced and slightly thickened, or about 10 minutes. Stir in heavy cream until heated through, about 1 minute. Serve immediately with rice, garnished with cilantro, if desired.
Mexico: Tacos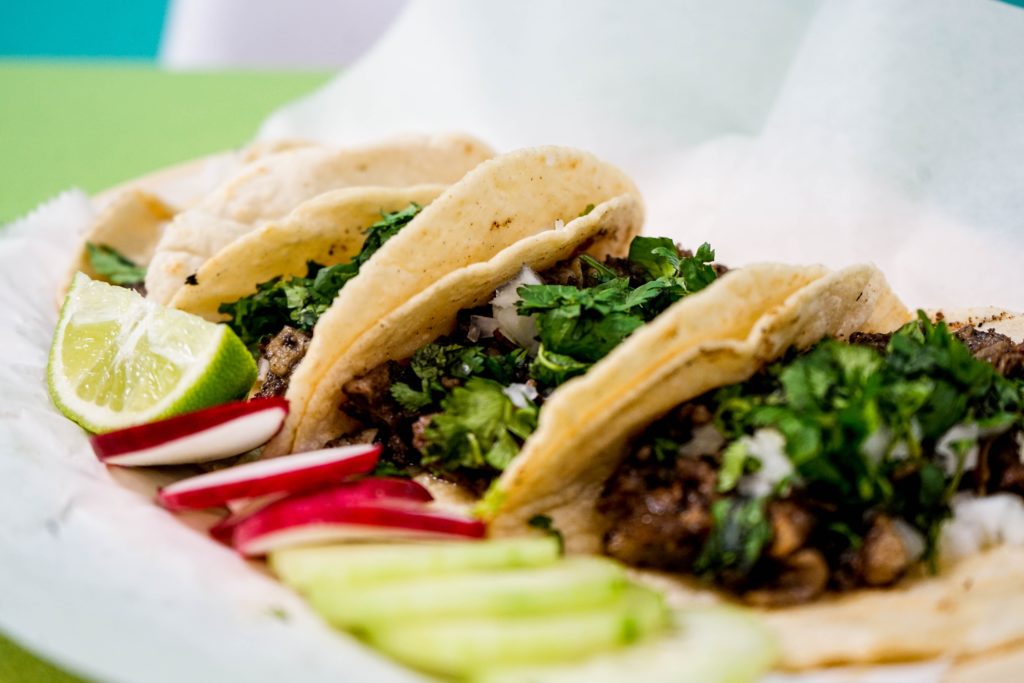 Photo courtesy of Tai's Captures via Unsplash
When it comes to Mexican food, tacos are the most well-known and popular because not only are they tasty but they're also easy to make. Here's how you can bring the taste of Mexico to your condo:
Ingredients:
1 pound ground beef

1 pack store-bought taco seasoning mix

Taco shells (crunchy or soft, depending on your preference)

Store-bought Salsa

1 medium-sized white onions, chopped for sauteing

1 medium-sized red onion, chopped for toppings

2 cloves garlic, minced

Grated cheese
Cooking Instructions:
Sauté the beef with the onion and garlic until the meat browns. Add the seasoning mix and a ½ cup of water. Bring to a boil and lower heat. Simmer for 5 minutes while stirring occasionally to avoid the meat getting burnt. Spoon the cooked beef into a taco shell and top with chopped red onion, salsa, and grated cheese. Enjoy.
China: Kung Pao Chicken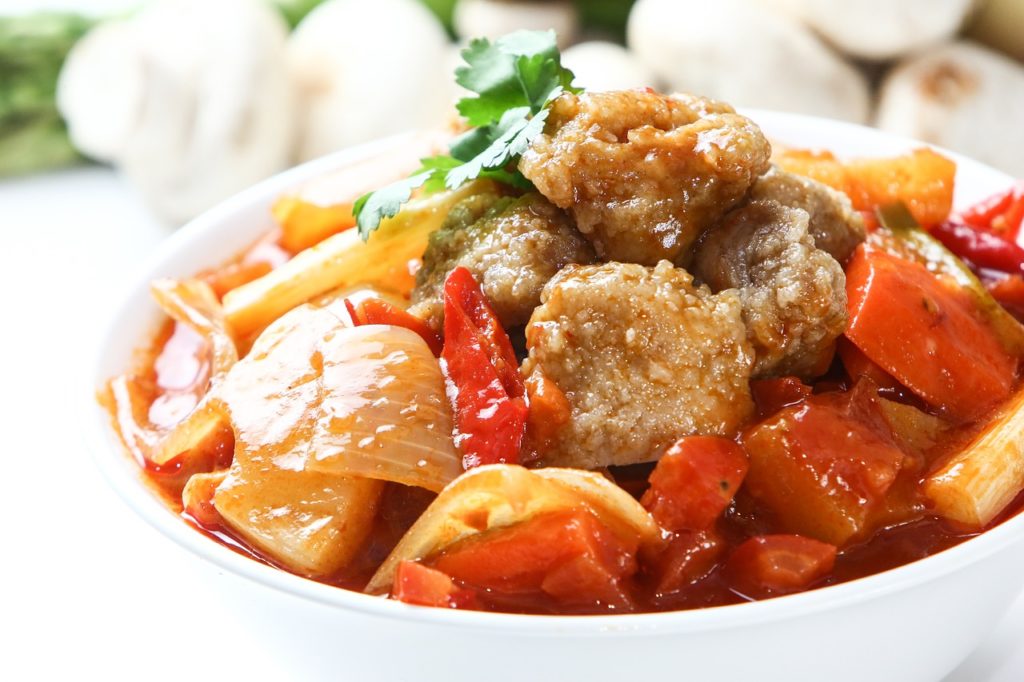 Photo courtesy of uniquedesign52 via Pixabay
Running out of party food ideas? Try Chinese dishes. There are quick and easy favorites that are simple to make since many only need to be stir-fried in a single pan. Dazzle your guests with this simple yet yummy Kung Pao chicken recipe:
Ingredients:
1 pound chicken fillet (thigh or breast part would do) cut into small cubes, skin removed

2 tablespoons soy sauce

2 tablespoons brown sugar

2 tablespoons sesame oil

2 teaspoon cooking oil

3 stalks spring onions, chopped

3 cloves garlic, minced  

2 pieces dried chili peppers, chopped

1 teaspoon peppercorn

A dash of Chinese rice wine (optional)

4 Ounces chopped peanuts

Slurry (2 tablespoons cornstarch dissolved in 2 tablespoons of water )
Cooking Instructions:
Marinate chicken in soy sauce, brown sugar, sesame oil, Chinese rice wine, and the slurry mixture for 20 to 30 minutes. In another bowl, combine soy sauce, brown sugar, sesame oil, Chinese rice wine; set aside. Heat wok or pan, pour in a bit of cooking oil. Stir-fry marinated chicken and garlic over high heat for about 2 to 3 minutes or until the chicken turns white then remove from wok and set aside. In the same wok, stir-fry peppercorns and chili until aromatic then pour in the sauce mixture. Bring to a boil then put the chicken back into the wok and stir-fry until the sauce thickens. Add in peanuts and spring onions. Enjoy over freshly cooked rice.
Japan: Cold Somen or Soba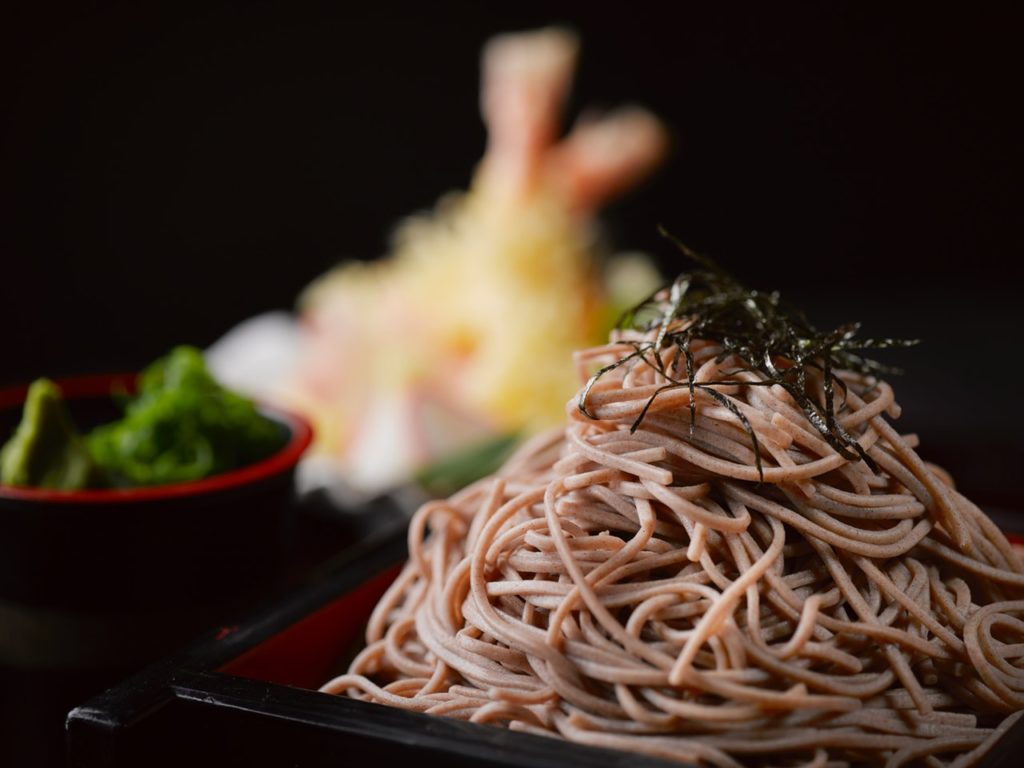 Photo courtesy of Rajesh TP via Pexels
Perfect for our brutally hot weather, this cold noodle recipe is a refreshing alternative to the usual hot ramen:
Ingredients:
Cooked somen or soba noodles
Dipping Sauce
1/4 cup mirin

1/4 cup soy sauce

1 1/2 cup dashi (Japanese soup stock)
Toppings
1/2 inch freshly grated ginger

1 scallion

A handful of shiso leaves (thinly sliced)

A handful of dried Nori, crushed
Cooking Instructions:
For the dipping sauce or soup, put mirin in a pot and heat. Add soy sauce and dashi and bring to a boil. Remove from heat and cool the sauce. Once cooled, pour into individual bowls and set aside. Top the somen noodles with grated ginger, scallions, and shiso leaves. Enjoy.
Note: You can actually find most of the ingredients in major supermarkets across the metro. Find them in the "International Foods" section. Otherwise, try going to a Japanese specialty store such as Konbini, located at 57 Connecticut Street Greenhills, San Juan City, or Seikyo at 2277 Chino Roces Avenue San Lorenzo Village, Makati City.  
India: Naan Flatbread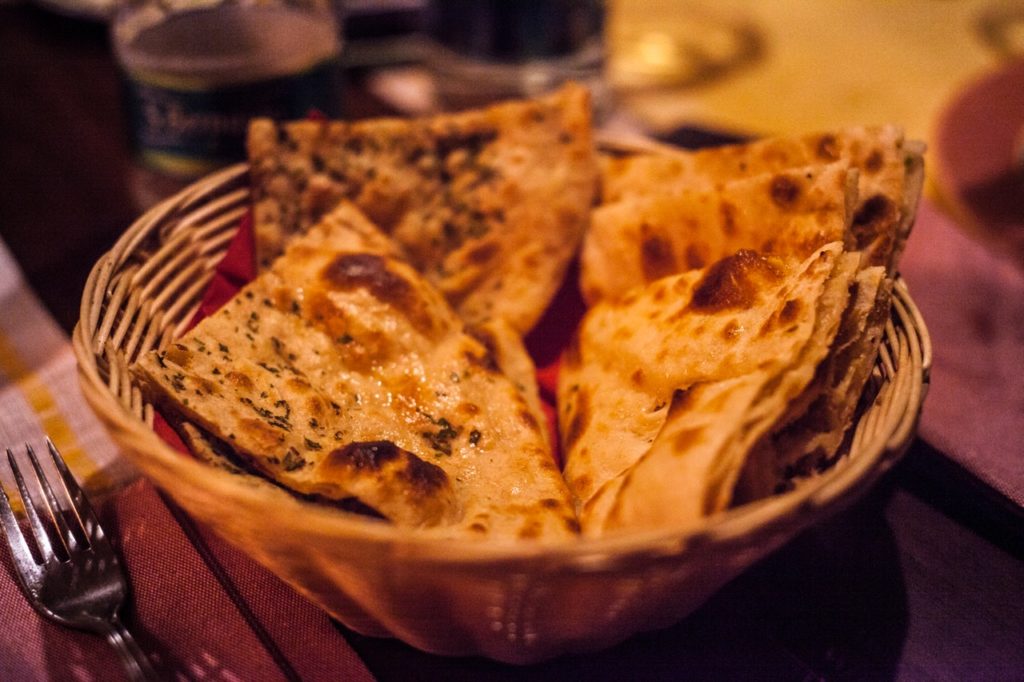 Photo courtesy of Francesco Paggiaro via Pexels
When hosting a party in your condo, you need to get creative. This traditional Indian flatbread is perfect with Chicken Curry or Tikka Masala. Want to know how you can make them at home? Here's a simple way:
Ingredients:
2 cups all-purpose flour

3 teaspoons sugar

1 teaspoon instant dry yeast

1 teaspoon  salt

1/2 teaspoon anise seeds (optional)

3 tablespoons plain yogurt

2 tablespoons extra virgin olive oil

2 tablespoons melted salted butter
Cooking Instructions:
In a large bowl, whisk together the flour, sugar, yeast, salt, and anise seeds. Set aside. In a medium bowl, whisk together the yogurt, olive oil, and 3/4 cup warm water. Slowly pour in the wet ingredients into the bowl of dry ingredients and mix using a fork to make a dough. Dust your hands with flour and start kneading the dough until soft and a bit sticky. Transfer the dough into an oiled bowl and cover with a damp kitchen towel. Let it sit for at least an hour or until the dough doubles in size. Shape the dough into a long rectangle and cut into six roundish pieces. Use a rolling pin to flatten each piece and cook both sides on a heated skillet or non-stick pan. Brush cooked Naan with melted butter.
Thailand: Vegetarian Pad Thai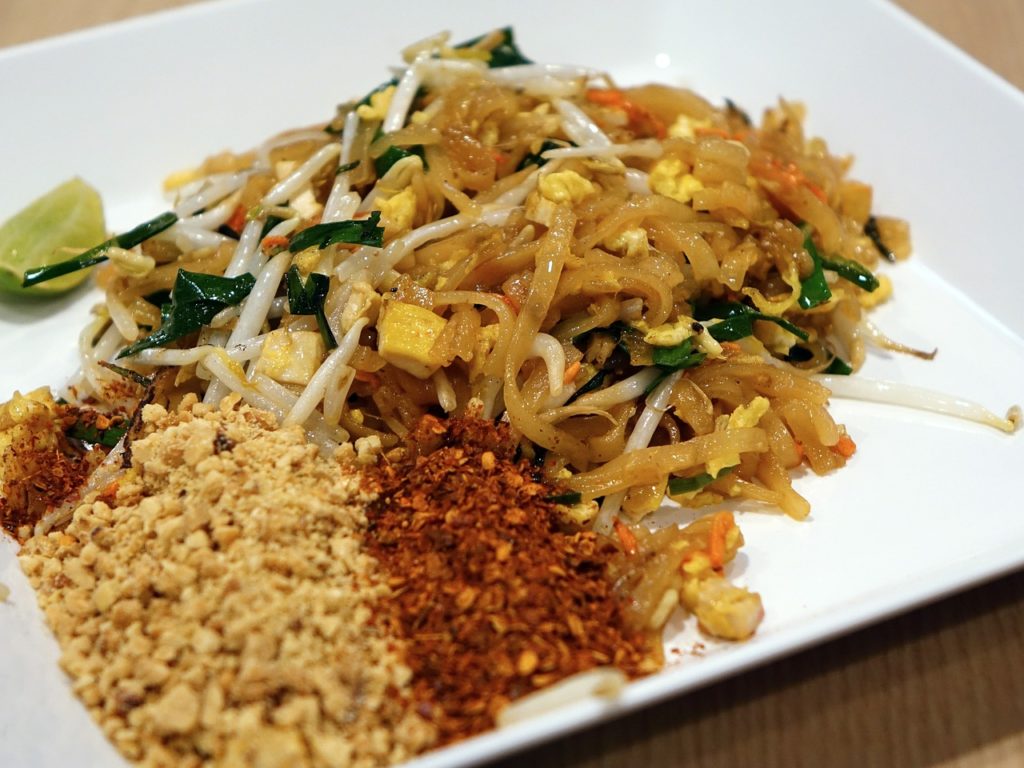 Photo courtesy of cegoh via Pixabay
Instead of the usual hot and spicy Thai noodle dish you're likely all familiar with, why not try this healthy and refreshing Pad Thai recipe:
Ingredients:
8 ounces of Thai rice noodles

2 tablespoons packed brown sugar

3 tablespoons soy sauce

4 teaspoons rice vinegar

2 teaspoons lime juice

2 teaspoons olive oil

3 medium carrots, shredded

1 medium red pepper, cut into thin strips

4 green onions, chopped

3 garlic cloves, minced

4 large eggs, lightly beaten

2 cups of bean sprouts

1/3 cup of chopped fresh cilantro

Chopped peanuts

Lime wedges
Cooking Instructions:
Cook noodles according to package directions. Set aside. Stir-fry carrots and pepper on a wok over high heat until crisp and tender then add onions and garlic. Reduce heat to medium then pour eggs into the pan. Cook and stir until no liquid egg remains. Stir in the noodles and sauce mixture. Add bean sprouts, tossing over heat. Top with cilantro and peanuts. Serve with lime wedges.
Vietnam: Mango-Lime Sorbet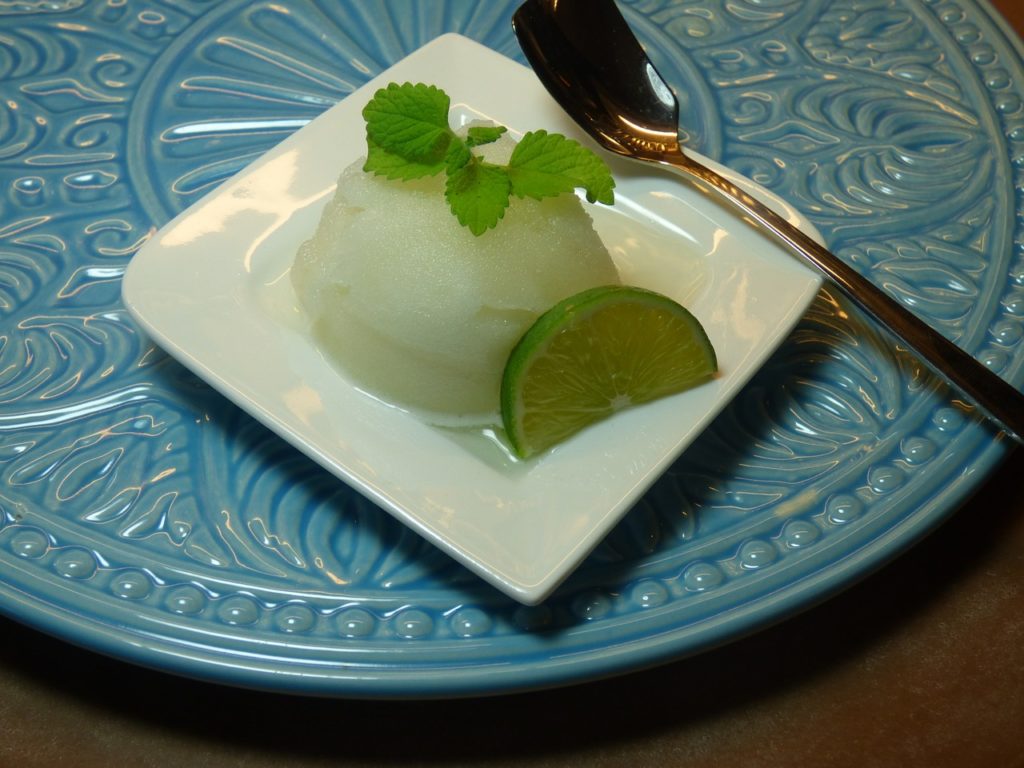 Photo courtesy of flomo001 via Pixabay
For a unique and refreshing dessert, you can try this Vietnamese-style sorbet:
Ingredients:
1 pound frozen mango chunks

1/3 cup sugar

Lime zest

1 1/2 teaspoons lime juice

1 tablespoon maple syrup

1/3 cup water
Cooking Instructions:
Put mango chunks into a blender or food processor and pulse to coarsely chop the mangoes. Meanwhile, combine the other ingredients in a bowl (make sure to dissolve the sugar) and then dump the whole mixture into the blender. Transfer the mixture into a plastic storage container, cover, and put in a freezer for about 30 to 40 minutes or until the mixture is firm. Soften to a scoopable texture before serving.
Korea: Beef Stew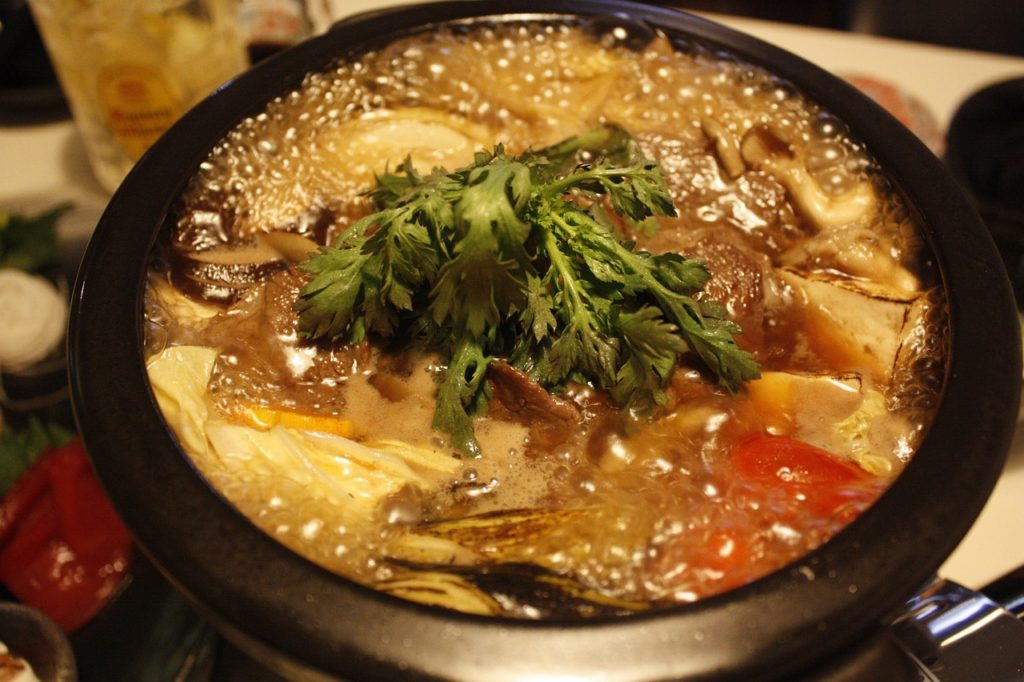 Photo courtesy of bornin88 via Pixabay
You can never go wrong with this hearty Korean dish:
Ingredients:
1 kilo beef briskets, cut into serving pieces

1 whole garlic, minced

1 red onion, minced

½ cup of soy sauce

4 cups beef stock

3 tablespoons sesame seeds, toasted

3 teaspoons sesame oil

1 teaspoon black pepper, ground

1 whole piece of star anise

½ cup of brown sugar

5 stalks spring onion, chopped

2 tablespoons cooking oil
Cooking Instructions:
Boil beef in a pressure cooker for 40 to 60 minutes or until tender. Add in onions, garlic, soy sauce, star anise, sugar, and sesame oil. Simmer for 5 minutes. Add toasted sesame seeds and ground pepper, as you remove from heat. Serve hot.
Filipino: Adobong Balut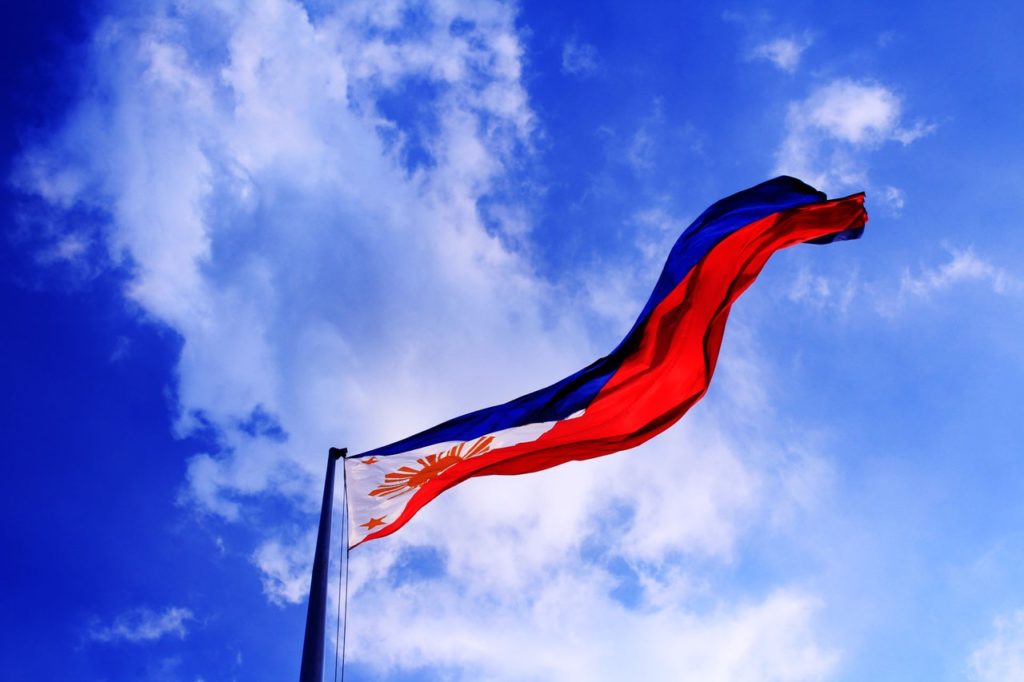 Photo courtesy of Krisia Vinzon via Pexels
Take your guests back home with this easy Balut recipe with a twist:
Ingredients:
10 pcs. balut (

fertilized duck egg

),

shell removed

1 head of garlic, minced

3 tablespoons of soy sauce

4 tablespoons of vinegar

2 tablespoons of butter or margarine

Cracked pepper, to taste
Cooking Instructions:
Sauté cooked balut in garlic, soy sauce, vinegar, and butter or margarine; add pepper to taste. Serve hot.
Yes, you can add a global twist to your party by preparing food and drinks from different countries. And, the best thing about this list is that they're actually pretty easy to prepare. Try these easy condo cooking recipes for that international flavor!