There's no more fulfilling feeling in this life than to see my parents comfortably rest in a cozy, relaxing place after their long, tiring day. Seeing them chill in those soft lazy boy chairs, enjoying watching movies while eating salted popcorn, to fondly hugging and kissing them good night as they head to sleep peacefully in their room – everything feels complete. Those little things make me feel the best of what life can give. However, things were never easy before we got here.
Growing up, my sister and I were raised by our loving parents to different houses. When we were kids, we lived in my father's room at my grandparents' house. It was kind of an extended family living altogether in a single house. When my sister and I reached grade school, my parents then decided to move out and went to rent an apartment. However, things did not work out as my mother would worry and have a hard time raising us by herself as my father was always out of the country for work. That made them decide to move back to my grandparents' house as we enter high school, so that in times that we were alone in the house, there was someone to check on us. They decided to renovate the storage area of that house and use that as our own place. Things seemed to look fine as we're able to stay and live there for years despite of its old condition. But my parents never stopped of dreaming of a house that we could call our own. Until one day, it came to us as a major surprise that we had to leave the house as my grandparents sold its property rights. By that time, I was only on my second year working while my sister was still in college. My parents had no money to secure a new house. Tough as it may seem, we had to leave and find a new place to stay in.
Buying a new house was never part of the plan. My parents were paying monthly installments of our car and securing debts that were used to fund our education. We will not be able to afford one. I was able to see their frustration build up and worry on how to move out of this situation. There was no way to go. They were even losing hope. Then one day, I, being the eldest from their children of two, told them to go out and search for a house that they like. No hows, no buts. At that very moment, I saw the flare of hope in their eyes. I felt the excitement in their voice yet there was still doubts and fear surrounding them. How can we able to pay for it? But they drew strength from what I told them and I was certain that I wouldn't let them down.
They spent days out searching to different places. Until they found Maricielo Villas in Las Pinas City. I was surprised that they seemed to be sure about getting already a unit. When I learned about it, I told them "Are we really settling for a condo? We are just buying a 48-square meter floor space. Don't you think a house and lot would be more reasonable for us?" But my parents replied, "We want that for us. We felt comfort the moment we enter the entire place and see the unit. It's not huge and spacious, but in there, we felt HOME." I was stunned the moment I heard those words. They sounded very sure of it. I took time and thought about it. It came to my realization that it was the first time my parents wanted something for themselves. I felt the strong desire from them to pursue with it. However, that will cost us a lot. But then that moment, I knew, securing that unit will make my parents the happiest as ever. And that was something priceless.
But there was a big problem – my parents didn't have the money to pay for the initial 10% down payment. They were hopeless and saddened by that fact. They badly want something that they can't have. Not until I revealed to them my plan. I committed to pay for the down payment. I was able to get enough savings on my first year of work and without hesitation, gave all of those to pay for the initial part. They were surprised and went teary-eyed. I felt I made them happy big time and that was the most rewarding feeling I've had in my life. After days and months of settling everything, we then finally secured the unit July of 2016. I've seen all smiles from my parents. They finally got what they deserved to have that I know they will always treasure. I felt the feeling of fulfillment that I was able to be part of getting their dream house.
Moving in, we did not have enough money to get new furniture to start with. We tried to reuse some things and materials we have from our previous house and tried how those would fit in. In order to save money, we had our new beds made by a carpenter. Since there are only two rooms, my sister and I had to share a room. She sacrificed herself to take the top of a double-deck bed. Our parents even offered the master's bedroom for us so we could have more space. But my sister and I both were firm to say no as we want them to feel that they own the entire unit and they deserve to be in that room. They are the king and queen of our simple abode.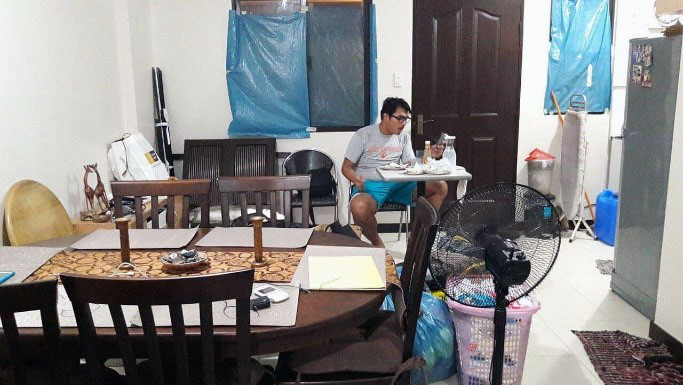 From thereon, everyone in the family invigoratingly worked out ways to get the unit be more conducive to live in. My talented mother unleashed her hidden potentials of being an interior designer. She never felt tired of designing the interiors of the house from its motif down to the furniture. My sister, who has got into work after a year, helped in purchasing house appliances. My father, during his months of vacation off work, did all the cleaning and getting the house more convenient to live in. He would always clean everything, from the living room, to the bathroom and up to our rooms. He always made sure about the cleanliness of our home. As for me, I spent effort to slowly add on the entertainment equipment in the living room where we could welcome our guests and make them enjoy their visit. We made sure that we can give the best possible entertainment for our guests and visitors such as getting them watch Netflix, play games with PS4 or do Karaoke. Things felt so easy to enrich what we have because we do everything out of love for each other and for our only home.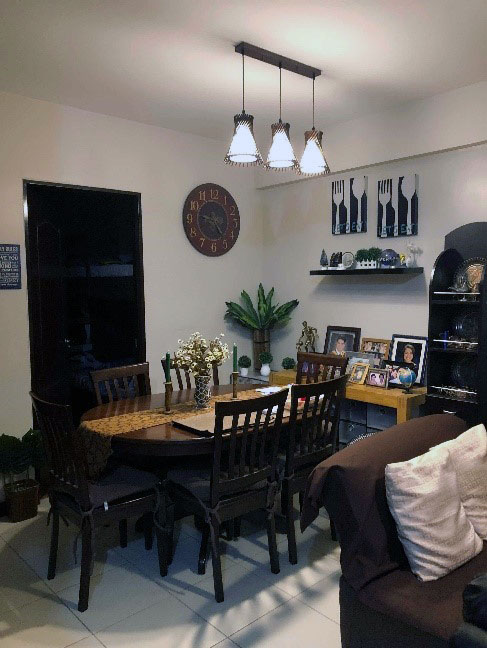 With all of these that had happened, I realized how blessed I am. I am blessed with parents that are so determined and hardworking to provide us the best quality of life they could give in. I am blessed with a sister that is so giving and understanding that she is always ready to help out and put her family first before herself. I am blessed with a family that through all hardships, persecutions and challenges we've been through, we stayed together. We depended on each other and believed that we can surpass anything as long as we keep God as our main centerpiece in our daily life bounded with unbreaking love. Our home may be just small in size compared with what the others have, but ours is filled with tremendous love, respect and faith, built out of perseverance and dedication, nurtured with unfailing belief and strengthened with life challenges. Those reasons collectively make our abode bigger than anything else in this life.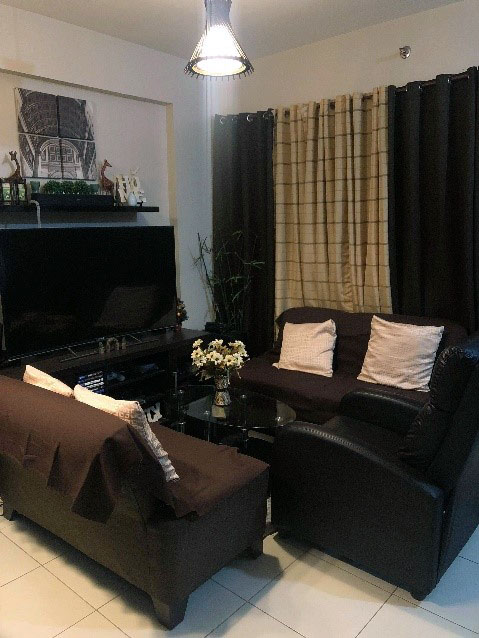 In this life, things are really uncertain. But once you believed and held on to it, regardless how long it would be, you'll reap the success of the things you dreamed and worked for. More importantly, you'll make the most important people around you happy and contented. For life isn't about luxuries nor gaining beautiful things, but for me, it is about getting yourself infused with the love from people you want to be with. That's makes me feel that undoubtedly and undeniably, I am home.