One of the reasons why condo living is always in demand is because of convenience and comfort. Living in a modern condo such as DMCI Homes' The Crestmont allows you to live in the highly strategic location of Panay Avenue in Quezon City where markets, schools, hospitals, and offices are nearby. Aside from being a stone's throw away from essential establishments, living in Quezon City is highly recommended because it gives you easy access to nature parks.
Aside from convenience, choosing to live in a DMCI Homes condo property, be it a pre selling or ready for occupancy (RFO) units, allows you to enjoy high class condo amenities that give you the ultimate comfort without the need to leave the vicinity of your condo community. Truly, a DMCI Homes property such as The Crestmont not only provides your needs in a home, but also a few more extra to improve your way of life and make it more enjoyable and worthwhile.
If you are enthusiastic to finally see this pre-selling condo in Panay Avenue, Quezon City, this list of unique condo amenities and features at The Crestmont will surely make you excited even more!
Unique condo amenities at The Crestmont
Condo amenities not only help you enjoy condo living. They also appraise the market value of your property investment. So it is crucial that when you choose a condo to buy, included in the condo home features you will consider aside from its location, price, and real estate developer is the list of amenities it offers.
Keeping in mind the needs and wants of homeseekers, here's a list of amenities offered at DMCI The Crestmont you wouldn't want to pass on:
1. Modern contemporary architecture
The Crestmont sports a modern contemporary architecture theme that not only provides comfort but also suits the taste of modern families and professionals who want to live in a sleek condo community.
Occupying a land area of 3,000 square meters, there's a lot of space to move within the vicinity of the condo so you will never feel too constricted with space. With seven levels of basement parking and 49 levels of residential units, The Crestmont is truly a condo home to marvel. Due to its height, living here also allows you to enjoy the spectacular views of the Metro Manila skyline without any obstructions.
2. Sky lounge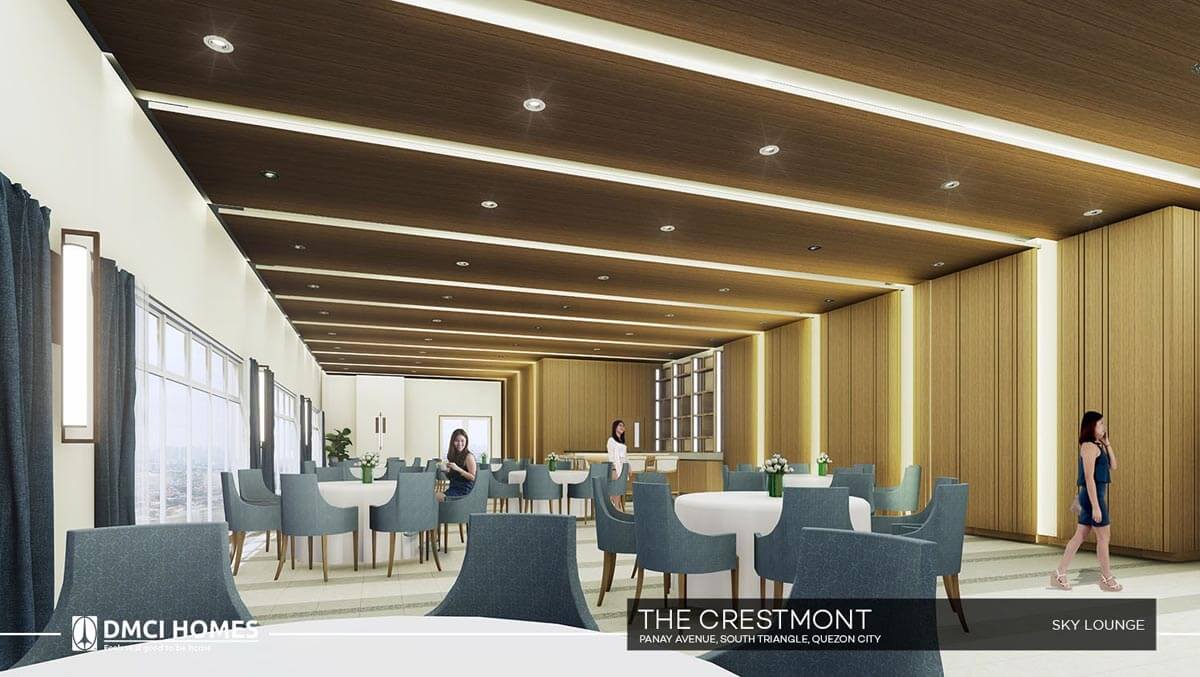 If you have an important meeting, or you prefer to work outside your home without leaving your condo community, or you just want to observe the great outdoors at a height, the sky lounge is the best venue in the condo to do these activities.
The Crestmont's sky lounge has beautiful and sophisticated interiors including tables and chairs. It also has expansive windows that offer a grand view of the Metro Manila skyline.
3. Sky promenade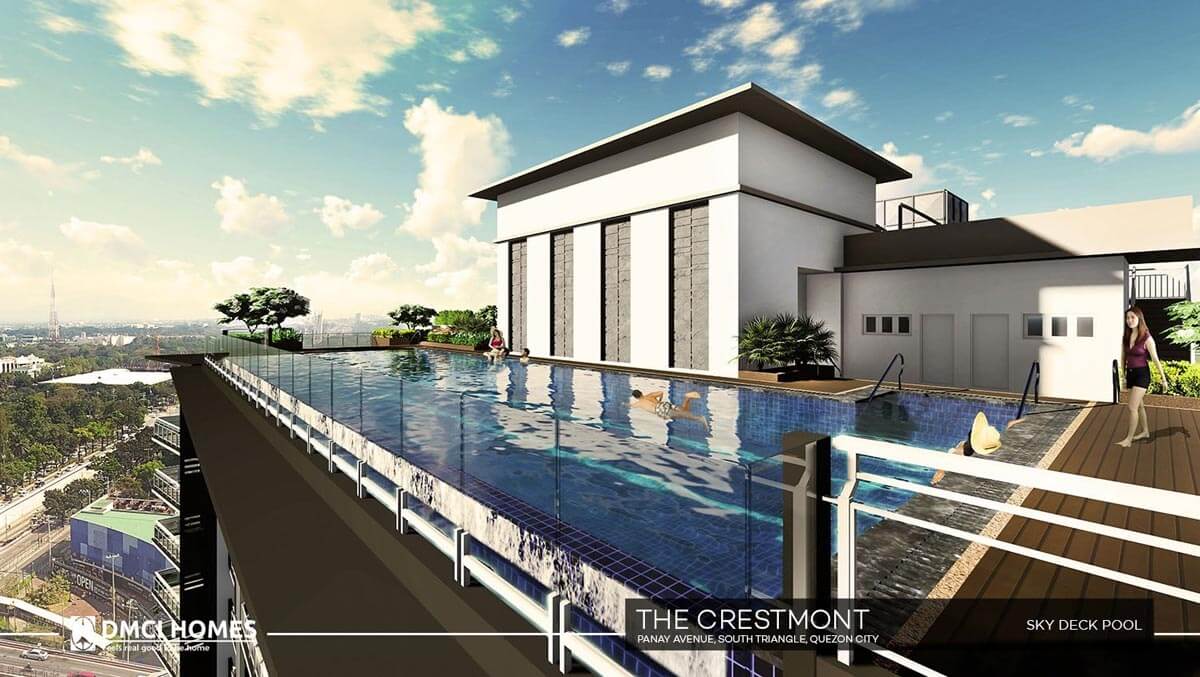 The rooftop or sky promenade of The Crestmont is decked with its general amenities. These include the swimming pool, viewing deck, and gardens. These amenities make the sky promenade feel like a modern resort.
4. Sky deck pool
The sky deck pool offers a grand view of the Metro Manila skyline. This spacious pool has glass panels that offer an unobstructed view of your surroundings. The deck pool is spacious enough to accommodate plenty of guests which is also perfect if you want to host parties at the sky deck for special occasions.
Living in a condo with a swimming pool has its advantages. These include getting enough sunshine, exercise, and feeling refreshed even in the summer months. Swimming allows you to move every inch of your body, so taking a few laps in your condo's pool every day or several days a week will help keep your body in shape. It will also help you exercise your cardiovascular system and lungs.
5. Kiddie pool with water slides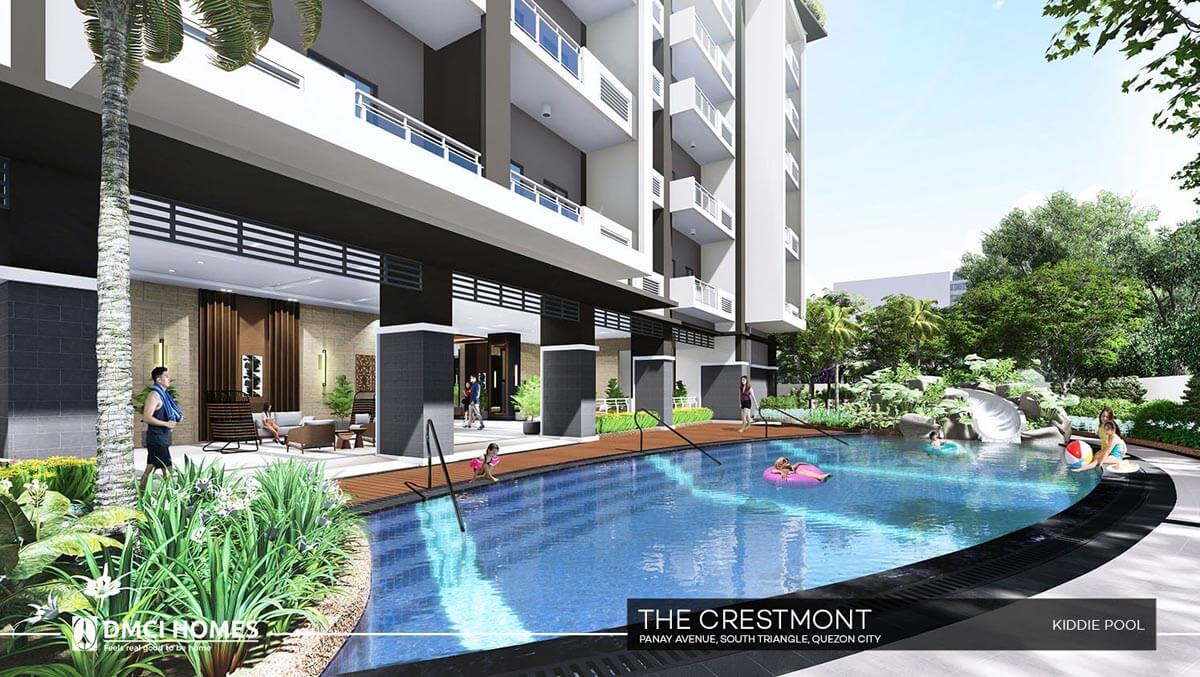 Other condo developers would include a tiny pool for kids. But DMCI Homes knows that kids deserve nothing less when it comes to amenities. The Crestmont's kiddie pool is not your usual pool. This pool at the ground area of the condominium is spacious and has a water slide that provides a more fun element for kids to enjoy. Without a doubt, your kids will never get bored when they swim here.
6. Landscaped gardens
If you want to relax and enjoy the greenery without going to one of the parks in Quezon City, the landscaped gardens in The Crestmont are perfect for you to admire. These landscaped gardens are sprawling on the ground and on the sky deck of the condominium development so you can admire its beauty wherever in the condo community you may be.
7. Open lawn/picnic grove
The list of amenities included in The Crestmont is the open lawn or picnic grove. This amenity is ideal if you want to spend time doing outdoor activities such as eating out or bonding with family and friends without the need to leave your community. Truly, all you'll ever need to have a very comfortable and relaxing stay in a condo is present in this DMCI Homes project.
8. Fitness gym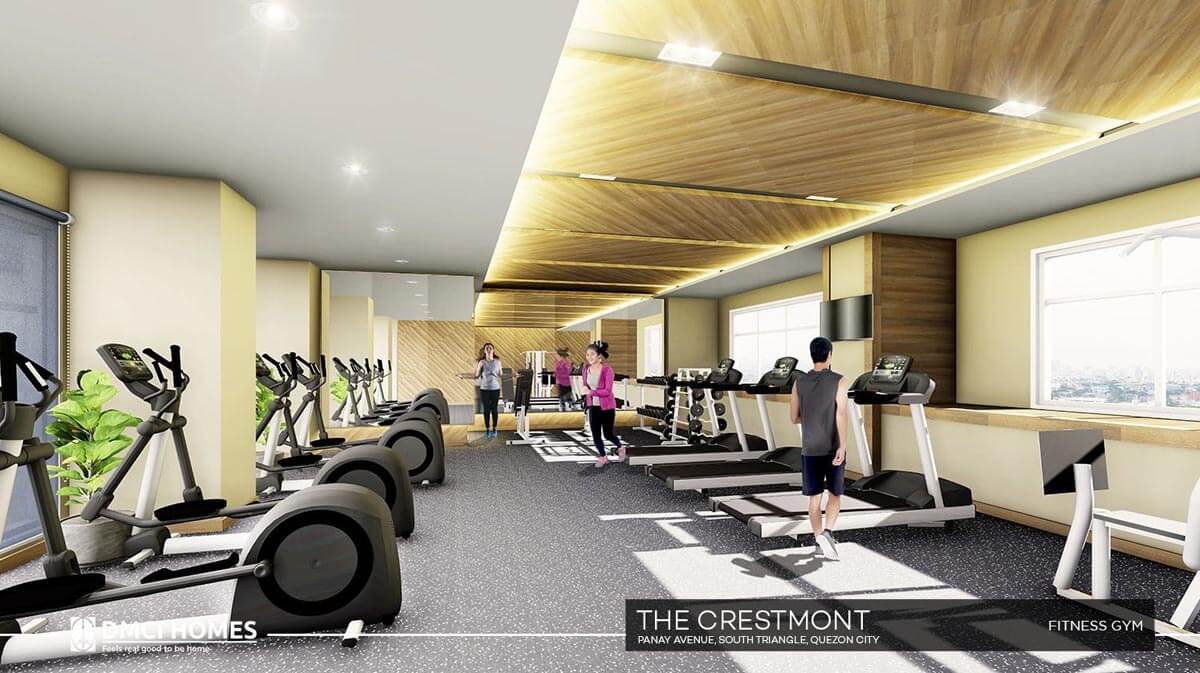 For health and exercise enthusiasts, you don't need to buy large gym equipment if you want to enjoy exercising at home or within your community. You can visit the fully-equipped fitness gym at The Crestmont. With spacious interiors, you can also bring with you your personal gym equipment as well.
9. Children's play area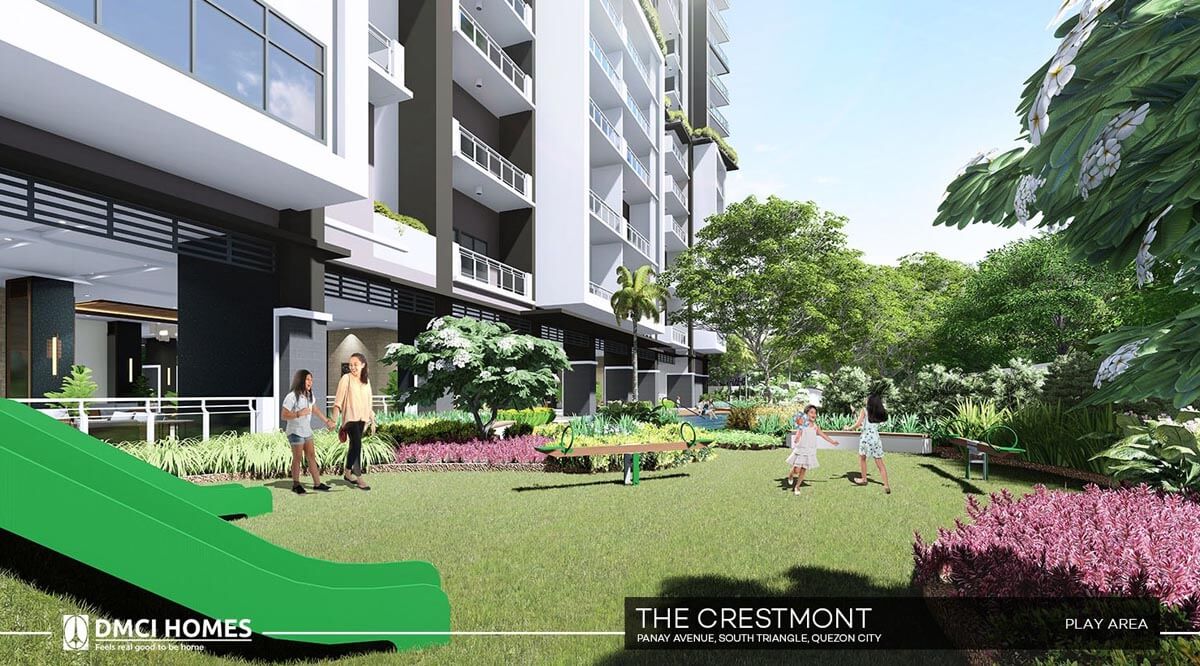 The children's play area at this modern condo in Panay Avenue, Quezon City is a safe outdoor space where children of residents at The Crestmont can play, have fun, and create friendships. This play area is filled with equipment that allows children to exercise and move around without sacrificing their safety. Since this is surrounded by trees and other greenery, children can get enough sunshine and breath fresh air.
10. Entertainment room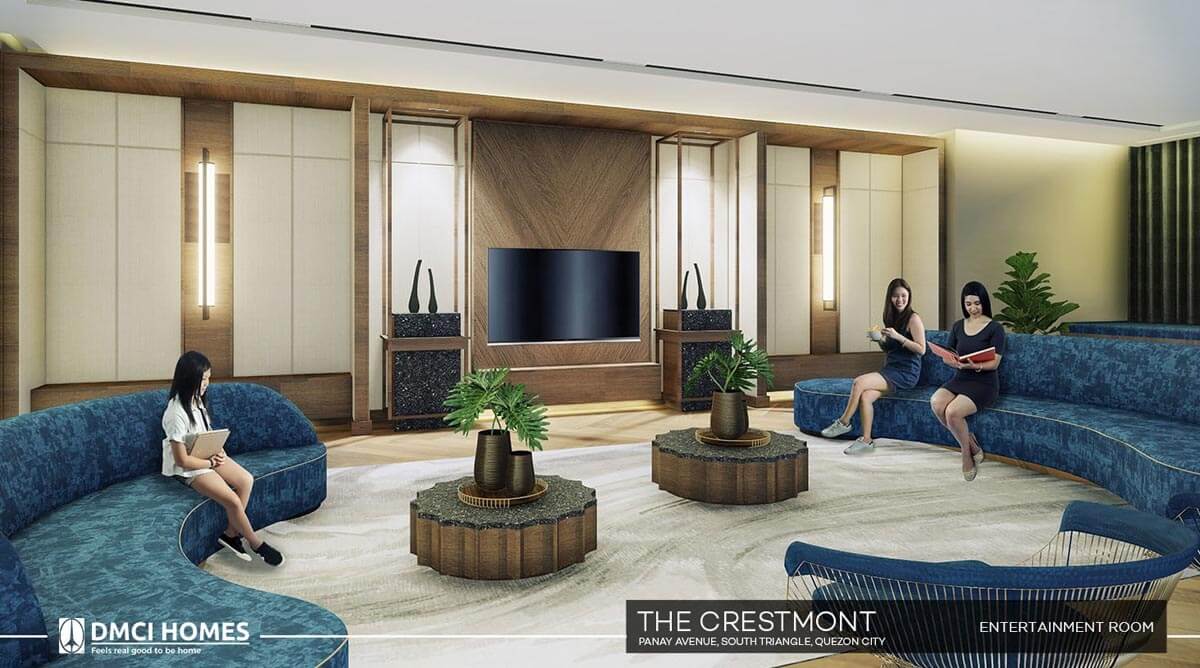 For young condo residents and homeowners at The Crestmont in Quezon City, the entertainment room is the perfect place to hang out with family and friends. Activities you can do here include watching your favorite movies and singing karaoke. This room is filled with spacious couches and a complete entertainment system. It has sophisticated interiors, truly reflecting the modern contemporary lifestyle this condominium community promotes.
11. Drop-off area
The drop-off area at The Crestmont will leave you at awe once you get out of your car. The facade of this modern condominium is very clean and modern. It also has a sprawling garden which will instantly help you get into a relaxed mood even before you enter the beautiful lobby of this condominium.
12. Standby electric generator
At times, there could be power interruptions in the metro. Whether they last minutes or hours, these can cause inconvenience to residents. With a standby electric generator, The Crestmont makes sure that these episodes won't negatively affect the living experience of residents including their work and leisure.
13. Convenience store
Sometimes, residents can have late-night cravings. But leaving the condominium community or ordering take-out is not always the best option. Thankfully, there is a convenience store inside the premises so whatever time of the day it is, residents can purchase their needs and wants.
14. Water station
When you live in a high-rise condominium, it can be a challenge to find a water station that can attend to you immediately. With the goal of providing residents with their tailored needs, this condominium has its own water station so you can have your water refilled immediately.
15. WiFi access
Internet is very important. It helps us stay connected and even do remote work. The Crestmont in Quezon City has WiFi access residents can connect to from time to time if they need access to the internet such as checking important emails or booking for online orders and transportation services.
16. Landscaped atriums
DMCI Homes are known for integrating air and natural light into their building designs. To achieve this, there are landscaped atriums on several floors of the building for air and light to pass through. So if residents want to breathe fresh air and get natural light, they can just step out of their unit and pass by the corridor that opens up to the landscaped atriums on their floor.
17. Breezeway
The breezeway feature of The Crestmont condominium building allows air to circulate on different floors of the building. This makes sure that the air residents breathe when they enter the building is always fresh. This is also a safety feature especially if viruses can linger in the air.
18. Fire alarm and automatic sprinkler system
Another safety feature of The Crestmont high-rise condominium is its fire alarm and automatic sprinkler system. In case of any smoke or fires, residents can be informed beforehand and take the first measures to extinguish the fire before it escalates.
19. Passenger elevators
Since The Crestmont has 49 floors of residential units and seven basement parking floors, there are several passenger elevators that serve the residents to make it easier for them to move in from one floor to another. There are numerous passenger elevators in the building which prevents long lines from the elevators in the lobby.
20. Parking space
Your car is as valuable as your home. To make sure that your car has a safe space inside the condominium residence, The Crestmont has seven levels of basement parking which are very spacious. These floors have CCTV cameras to make sure that your car is always safe even in your absence.
21. Unit fire alarm and sprinkler system
Units in The Crestmont with one to three bedrooms feature a fire alarm and sprinkler system to ensure that smokes and fires within the unit won't spread in their neighboring units.
22. Unit provision for CATV, metered utility, and phone line
Aside from safety features, units in The Crestmont are ready for CATV, metered utility, and phone line. So if you want cables, phone lines, and other utilities installed in your unit, they can be easily installed in your home.
A refreshing take on condo living amenities
As you've read and seen in the list of amenities and features of The Crestmont, everything added fits a purpose – that is to make sure that simple and complex needs are met to bring convenience, comfort, and safety to residents. These amenities and features bring condo living to a whole new level. It allows you to enjoy the things you want to do either on your own or with family and friends the best way possible.
Truly, you can be assured that you'll get more for the price you pay when you invest in a condo unit for sale in The Crestmont.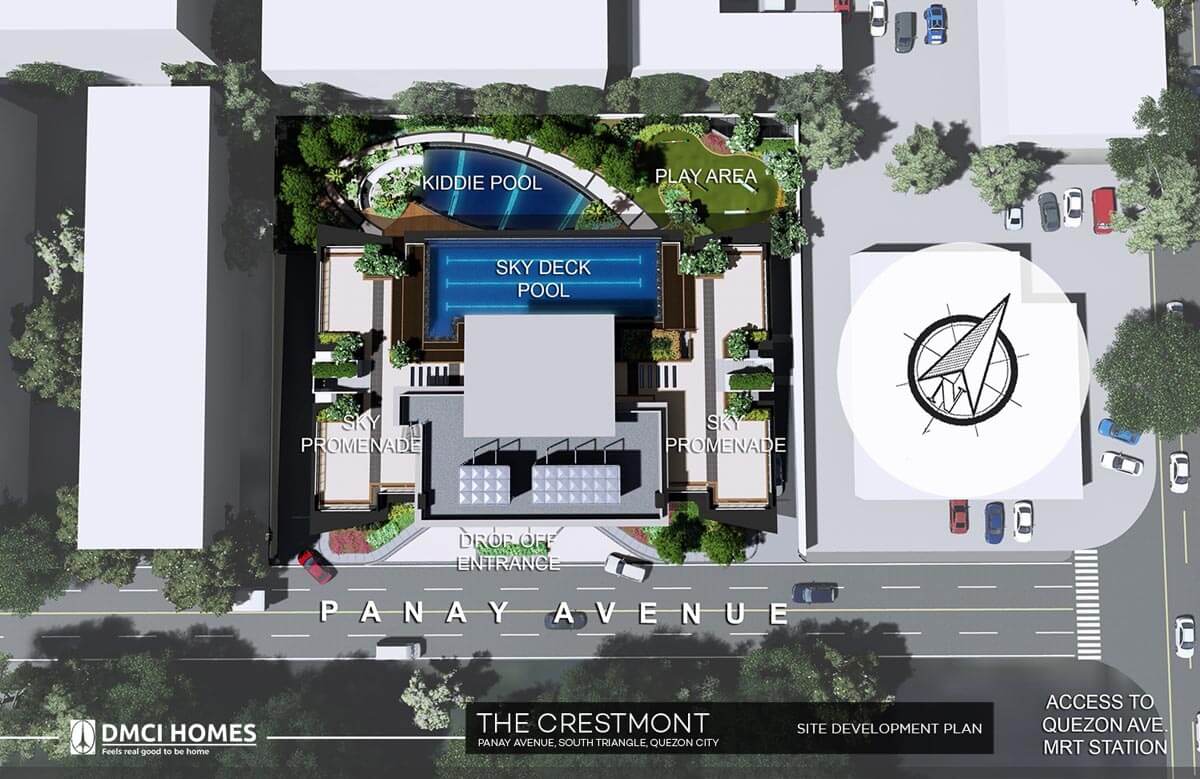 Key Takeaways
The list of condo amenities and features at The Crestmont allows you to see what more you get when you choose this condo community as your new home in Panay Avenue, Quezon City. When you are planning to purchase a condo unit, it is not enough to check on the unit itself and the location of the condo. You should also consider the amenities offered to get your money's worth. Once you move into a condo that has the amenities you need and want, remember:
Use the amenities offered in your condo to reap the benefits. When you choose a DMCI Homes condo, be assured that the amenities included are suited to address the needs of residents regardless of age, gender, and preferences so everyone can enjoy.
Note the amenities and features of your condo unit and community. Knowing this allows you to see the value of your condo.
Install your preferred added amenities inside your condo home. When you choose a DMCI Condo, you can easily install TV cable and phone lines because of each unit's added features.
The Crestmont offers a perfect combination of concrete and nature, of city and rural, offering a modern and sophisticated life without being deprived of relaxation and closeness to nature. Don't miss out on buying a unit in this pre-selling condo before everything is sold out!