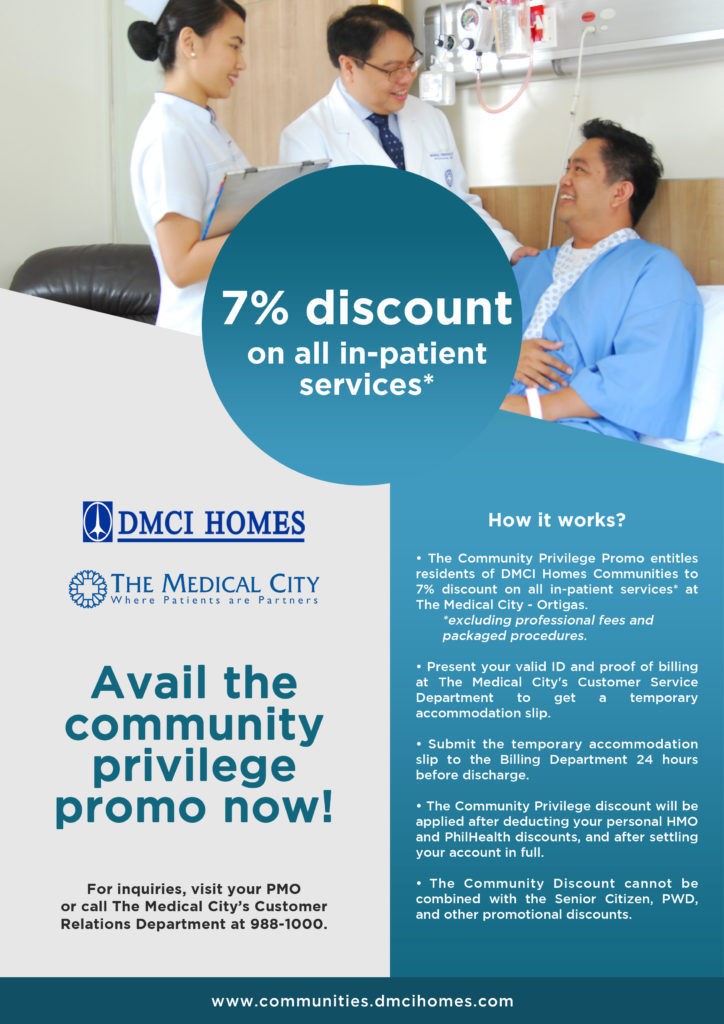 DMCI Homes has always worked towards building a community that will benefit its residents. That's why DMCI Homes has entered into a partnership with The Medical City to provide in-patient services discount for residents of its condominium communities. Here are a few things you need to know about the discount.
Who are entitled to the discount?
All residents of DMCI Homes communities.
What kind of services are part of the discount?
All in-patient services at The Medical City – Ortigas excluding professional fees and packaged procedures can be discounted at 7%.
How does the discount work?
The Community Privilege discount is applied after deducting your personal HMO and PhilHealth discounts, and after settling your account in full. The discount cannot be combined with Senior Citizen or PWD discounts, as well as other promotional discounts.
How can the discount be availed?
To avail the discount, just present your valid ID and proof of billing at The Medical City's Customer Service Department to get a temporary accommodation slip. Submit the temporary accommodation slip to the Billing Department 24 hours before discharge.
For inquiries, you may visit your Property Management Office (PMO) or call The Medical City's Customer Relations Department at 988-1000.