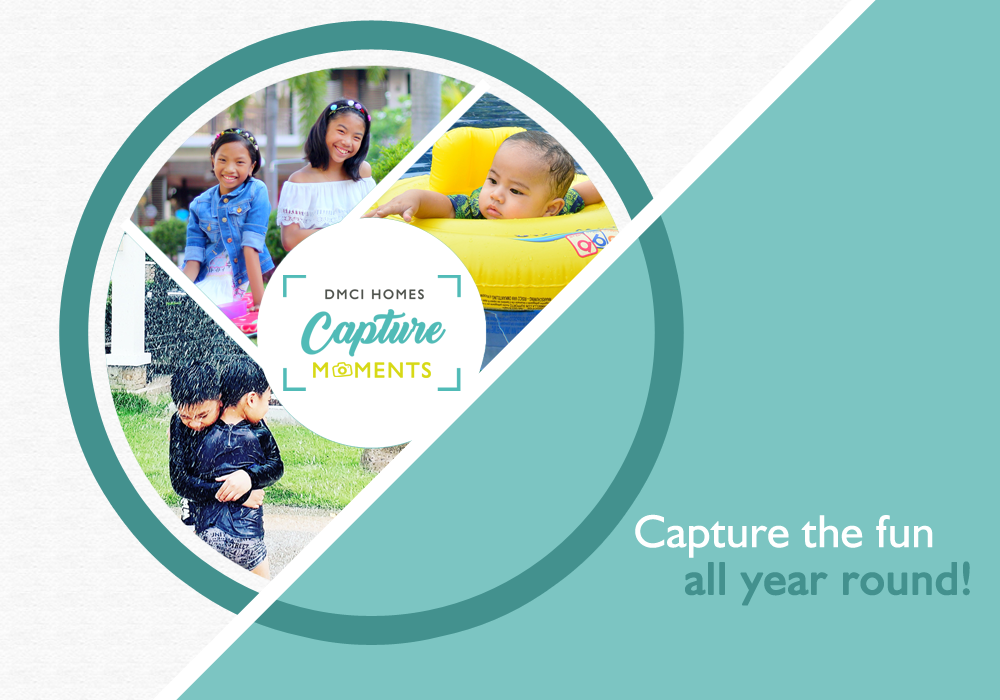 Yep, you're seeing it right. Capture 6 is calling for entries as early as February!
All your entries deserve to be given a chance. That's why we're giving you more time to conceptualize, shoot and post your most valuable moments through a year-round Capture 6 photo contest.
To keep this more exciting, this year's #CaptureMoments will be having 5 different themes for your entries throughout the year. Themes and their descriptions will be announced on the given dates stated in the mechanics below. Be sure you're following us on Facebook and Instagram so you're always posted.
Ready to capture moments? Browse through the mechanics below for details.
Contest Mechanics:
1.DMCI Homes' Capture Moments Photo Contest is open to all DMCI Homes Communities homeowners and residents.
2. The contest will run from February to November, 2018.
3. DMCI Homes' employees and their family members will automatically be excluded in the contest.
4. For submission of entries, please follow these steps:
Following the theme for each month, post your entry/ies on Instagram with the required monthly hashtag/s and tag @dmcihomesofficial.
Make sure that the Instagram account's privacy setting is set to 'public'.
The Instagram account used in posting the entry must personally belong to the participating DMCI Homes' homeowner/resident.
For validation of entries, email a high resolution photo not less than 2MB to marketing@dmcihomes.com. Failure to send email would make the entry invalid.
Email should include the following information:
Name of Participant
Instagram account name
Property Name
Building Name(if applicable)
Unit Number
Caption of entry (Similar to Instagram Caption)
5. Photo Entry Requirements:
Each photo entry must be supported by a caption, 3 sentences maximum.
Minor digital modifications are allowed such as filters and image enhancements but is limited to distorting reality; watermarks, borders or frames, and adding or subtracting elements not within the original photograph.
Participants may submit a maximum of three (3) photos per theme.
Photo must be taken inside a DMCI Homes community.
Photo entries in this category must use people as subjects.
Entries should use the proper hashtag given per theme. Use of the wrong hashtag automatically disqualifies the entry.
Entries for each theme should be uploaded within the given date of submission. Recycling or reposting of photo entries is not allowed.
Changing an entry's hashtag to qualify for the other themes is highly discouraged.
6. Criteria for Judging
One winning entry  will be chosen for each monthly theme based on the following criteria:

Creativity – 40%
Photographic Quality – 30%
Feel Good Message – 20%
Facebook Likes– 10%
7. Contest Schedule for Theme Winners:
ANNOUNCEMENT OF THEME
SUBMISSION OF
ENTRIES

VOTING PERIOD
FOR LIKES

ANNOUNCEMENT OF
MONTHLY WINNER

February 1, 2018
Theme 1: February 1-28, 2018
March 2 - 8, 2018
March 9, 2018
April 1, 2018
Theme 2: April 1-30, 2018
May 4 - 10, 2018
May 11, 2018
June 1, 2018
Theme 3: June 1 – 30, 2018
July 6 - 12, 2018
July 13, 2018
August 1, 2018
Theme 4: August 1 – 31, 2018
September 7 – 13, 2018
September 14, 2018
October 1, 2018
Theme 5: October 1 – 31, 2018
November 9 – 15, 2018
November 16, 2018
Top ten finalists per month, from each theme, will be selected from entries submitted.
Chosen theme finalists will be posted on the DMCI Homes Official Facebook Page, on the indicated schedule for voting.
Facebook 'likes' are actual "like" (thumbs up icon) reactions on Facebook. Other reaction choices would render the vote invalid.
8. GRAND FINALS:
Ten grand finalists will be chosen from all the entries submitted all throughout the contest duration. Non-winners per theme may still have a chance to make it to the grand finals.
Chosen grand finalists will be posted on the DMCI Homes Official Facebook Page on November 23, 2018.
Photo entry with the most number of Facebook 'likes' within 7 days posting will be win the People's Choice Award.
Grand winners will be announced during the Awarding Ceremony on December 12, 2018* and will be posted on the DMCI Homes Official Page
*Date of Awarding Ceremony may change without prior notice.
9. Computation of Likes
10% of the score of an entry will come from the number of 'likes' on the post from the DMCI Official Facebook Page.
A point system will be applied to compute the 'likes'.
Facebook 'likes' will be computed as follows:
Ranking
(Number of Likes)
Points
1st
10 points
2nd
9 points
3rd
8 points
4th
7 points
5th
6 points
6th
5 points
7rd
4 points
8nd
3 points
9th
2 points
10th
1 point
10. Prizes
Winner Per Theme: Voucher worth P5,000 applicable to Association Dues (Special Assessment not included)
People's Choice Award: PhP 3,000 cash
Second Runner-up:  PhP 5,000 cash
First Runner-up: PhP 10,000 cash
Grand Winner: PhP 15,000 cash
11. DMCI Homes shall have the right to use and reuse, publish and republish the entries in whole or in part, individually or in conjunction with print matter, or in composite form, and in any medium, for editorial, commercial, promotion, and/or trade purposes.
12. Winners will be invited to be featured in local broadsheets, DMCI Homes website, and social media accounts
For more information, you may visit your Property Management Office (PMO) or email marketing@dmcihomes.com.