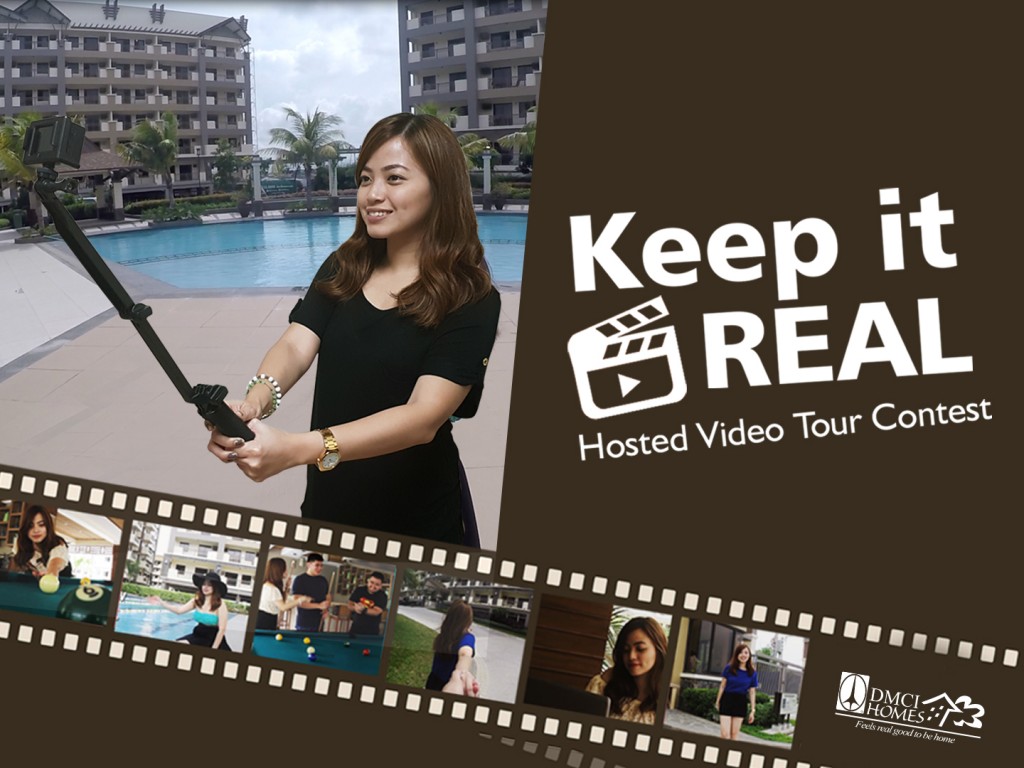 So you've seen the video. Ready to get into the details?
To join, read the full mechanics below:
1. Keep It Real is a video contest featuring the most creative video tours around all existing DMCI Homes communities.
2. The contest is open to all DMCI Homes' developments homeowners and residents.
3. Contestants must submit the most entertaining video tour of their community.
4. The contest will run from October 1, 2016 to November 30, 2016.
5. Submission of entries will be from October 1, 2016 up to November 20, 2016 only.
6. Voting period will start on November 21, 2016 at 12:00 midnight and will end on November 30, 2016 at 12:00 noon.
7. Video entries can be in any form or type— a vine, a tutorial, a travel/tour vlog, a dialogue, a monologue, a song, a poem, etc. – as long as it would convince the audience that your community is the best there is.
8. Video entries should have a total running time (TRT) of 30 seconds minimum, and a maximum of 60 seconds and must be submitted in any of these file formats; AVI, MOV or MP4, with a minimum resolution of 720p.
9. The Video should be taken inside a DMCI Homes community where the contestant resides in.
10. There should be at least one (1) DMCI Homes resident to host in the video. Groups are also welcome.
11. Video should not contain any foul language/scenes/graphics. Videos containing these will be automatically disqualified.  DMCI Homes will also have the right to reject entries with content that would be deemed inappropriate.
12. Each contestant can submit a maximum of three (3) video entries.
13. The video entries will be judged based on the following criteria:
Concept and Creativity – 20%
Entertainment Factor – 30%
Effects and Editing – 10%
Hosting – 20%
Feel-Good Message – 10%
Audience Appeal and Impact through Online Voting – 10%
Total of 100% 
14. All approved videos will be open for voting on the indicated voting period. (See number 6.)
15. Voters should log in with their Facebook accounts to be allowed to vote. One account can only vote for a maximum of three (3) video entries. The contestant/s will be responsible in ensuring that their entries would garner votes.
16. A total of four (4) winners will be announced by DMCI Homes namely 2nd Runner-up, 1st Runner-up and the Grand Champion of the Keep It Real: Hosted Video Tour Contest. The People's Choice Award will also be given to the video entry that obtains the highest number of votes.
17. Winners will receive the following prizes:
Grand Winner: 15,000 pesos
First Runner-up: 10,000 pesos 
Second Runner-up: 5,000 pesos 
People's Choice Award: 3D/2N stay at the Alta Vista de Boracay (exclusive of airfare).
18. Winners will be announced via DMCI Homes' Official Facebook page and Communities Website.
19. All winners will be notified on how to claim their prize via email and/or Facebook.
20. All winners that will be announced by DMCI Homes will be final.
21. DMCI Homes shall have the right to use and reuse, publish and republish the entries in whole or in part, individually or in conjunction with print matter, or in composite form, and in any medium, for editorial, commercial, promotion, and/or trade purposes.
For inquiries and clarifications, message us on our Official Facebook Page.
TO SUBMIT YOUR ENTRY/ies, CLICK

HERE

.