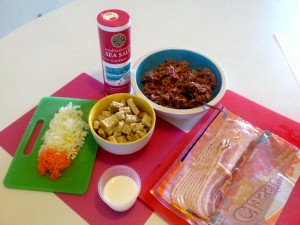 There's nothing more comforting than coming home to a familiar dish on a cold, rainy day. Classic meatloaf is one of those quintessential home-cooked dishes that doesn't take long to make. It's budget-friendly, convenient (You can make several batches and freeze them for later baking.), and can be custom-made to your family's tastes and preferences.
This classic beef loaf is made even more comforting with a generous wrapping of bacon. The addition of garlic, carrots and celery adds both flavor and moisture to this comfort food favorite.
Ingredients
750g ground beef (Use sirloin if you want a leaner meat)
1/3 cup onion, finely chopped
5 cloves garlic, finely chopped
8 slices bacon
¼ cup grated carrot
¼ cup finely chopped celery
4 slices bread, cubed
1/3 cup milk
1 large egg
Salt and pepper
Procedure
Preheat oven to 350 degrees.
Put the bread cubes in a bowl with the egg, milk, salt and pepper. Allow to soak for about 5 minutes.
In a separate bowl, mix the ground beef, shredded carrot, minced celery, garlic and onions. Gently fold in the soaked bread, milk and egg mixture.
With a wooden spoon, mix the ingredients until well combined.
Line a loaf pan (about 9 inches in length will do) with the bacon strips. Pour in the ground meat mixture and tuck it snugly into the pan. Fold the ends of the bacon strips over the top of the packed meat mixture.
Bake the loaf for 1 hour, or until the loaf is cooked through the middle. (Use a toothpick to check for doneness; the toothpick should not contain any blood.)
After 45 minutes to an hour (or until the loaf is done), take the meatloaf out and drain the juice drippings from the loaf pan; reserve.
Turn the meat loaf over into a glass baking pan. Return the loaf to the over and bake for another 15 minutes so that the bacon gets brown.
Slice and serve with ketchup. (You can also make a simple gravy with the reserved drippings: Simply combine 4 tablespoons of hot drippings, 3 tablespoons of all-purpose flour. Allow to sizzle, then add one beef boullion cube and 250 ml of water. Stir constantly until boiling and thickened.)
Slice the meatloaf. Serve with mashed potatoes or hot rice.