When it comes to homes, space is king. This is why it's not unusual for a small condo to receive less preferential treatment when buyers are checking out their options on different types of condo units.
While a small condominium is not ideal for families, it is not without its benefits. In fact, you'd be surprised at how much you can get out of that tiny condo. It may not be as roomy as you would have hoped, but it is in no way diminutive in value. And for the most part, that's what matters. Get to know that smaller condo for rent you've been eyeing to determine what it can do for you and see for yourself how small isn't so bad after all.
A back-to-basics approach
One of the benefits of small condo living is that it forces you to take stock of what you need exactly. You won't have room for everything you want so you need to learn to prioritize and identify what's really important to you. More often than not this means sticking to the basics, the bare minimum you require to survive from day to day, and working your way up from there when you still have room to spare.
Savings abound
Because you are bound to stick with the basics when you're pressed for space, you are able to save money because you're going to need to buy less. Not to mention that your association dues will be cheaper too because condo sizes are factored in the rates. The smaller your unit, the lesser you have to pay.
Cleanup is a breeze
Nobody likes household chores and that doesn't change when you've got your own condo in the Philippines. Sure, you can always call a cleaning lady to come and fix your place, but with a place so small you can do it yourself maybe without even breaking a sweat. Bonus points too for saving on professional cleaning. Your mom would be so proud too when you tell her you did all the cleaning by yourself.
You can see everything at once
Regardless of condo sizes and structure, the building administration will do what it can to keep you safe and protected within the premises. This will surely put you at ease but there's nothing like seeing for yourself that you're safe to really give you peace of mind. You immediately see the entirety of a small unit when you enter the door so a quick scan is mostly what you'll need to assess if everything is in its place. It also won't take more than five seconds to get from your door to the bedroom so you can just as quickly check the room as the rest of your unit.
A better frame of mind
Since you have to make do with what you really need and not just what you think you do, living in a small condo space grounds you to the essentials of life, allowing you to say no to excesses that simply do nothing but weigh you down. Because you have to be honest with yourself in setting priorities straight, you gain a better idea of yourself, giving you a unique opportunity to grow through how you live from day to day. It would be easier to say no to splurge because you'll know that you just won't have space for it all. Who would've thought living in a smaller condo could be so enlightening, right?
Puts into perspective who you invite to your life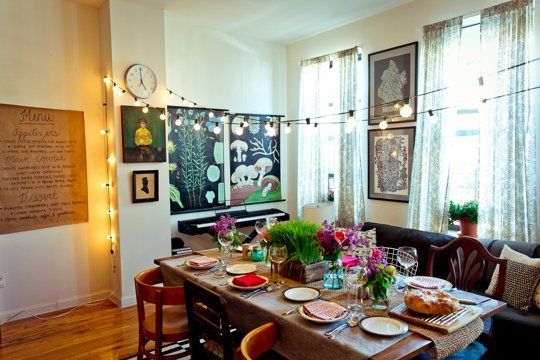 You can't invite everyone to come and hang out with you at home so you have to identify who the really important individuals are in your life; everyone else who won't fit in your life (literally and figuratively) can wait their turn. Prioritizing in a small condo isn't just about actual things you need—it also has to do with the people in your life. But just because you have a small unit doesn't mean you have to shut out people. Yes, maybe you can only fit five of your best friends at a time in your condo, but that shouldn't put a damper on your social life. There are 52 weekends in a year, dear. Surely you'll be able to find time for everyone you care about.
It's your own
A smaller condo translates to smaller monthly payments which is probably what you can just afford at the moment. While you may have grandiose dreams of moving into a bigger place someday, a smaller unit is nothing to scoff at. It may be small but it is your own and that creates a sense of independence no matter what others may have to say. Make the most out of what you have right now by maximizing small condo space to suit your needs and wants. It's going to take work but it is very doable. And when you're done, living in a small unit will be just as satisfying as having a bigger one.
Same benefits for less
Just because you have a smaller unit doesn't mean that you are entitled to fewer amenities in the condominium. Access is universal to all tenants so you'll be enjoying the same benefits as that guy from two floors up with the big condo. Not a bad deal, most especially because it means excellent value for your money. So chin up. A smaller condo by no means labels you as a second-rate citizen in the building.
Size matters
Don't get too wrapped around worrying that smaller condo space simply reflects what you can afford. While there is some truth to that (no need go around sugarcoating things), your money is just a small aspect of who you are. What matters more is what you do with you have. "Go big or go home" does not apply here. Just because you live in a unit some square feet less than your neighbor doesn't mean that they sleep better at night. It may be a small condo purchase but it can be just as homely.