You can go anywhere in the world, but nobody does Christmas the way Filipinos do. It's true, nobody does it better.
In the Philippines, there's no snow, no winter, no chimney for Santa, no real pines for a tree. It's nothing like Hollywood Christmas, but it is uniquely wonderful. It's more than just the lights or the gift-giving—Paskong Pinoy is all about the spirit.
Everywhere you go, every street corner, you'll see families and friends having the time of their lives. Sure, times are hard and life could be difficult, but there's that kind of energy that is bursting just about everywhere. Tummy's full and so is the heart.
The history of Christmas in the Philippines can be traced back to the 300-year Spanish colonization. Christmas was introduced to the Philippines by Spanish colonizers, who brought Christianity to the country in 1521. To this day, there are traditions observed by Filipinos that were largely influenced by the Hispanic era. American colonizers in the early 1900s influenced the manner in which Filipinos are to celebrate Christmas such as decorating a tree, singing carols, sending cards, and waiting for Santa Claus.
Through the years, Christmas in the Philippines became that one single event that brings families together. It became the one celebration that truly mattered, taking up months in preparation and anticipation. No other nation would probably have a Christmas countdown long before Halloween is done, and would start playing carols as soon as "ber months" have begun.
Looooong Christmas celebrations
Photo courtesy of henriettebarneveld via Pixabay
The official start of Christmas in the Philippines is September. Why? No one really knows. But when the calendar says September 1, everyone suddenly feels that time came by too fast, and before you know it, it's Christmas.
What happens during the ber months? You go to the malls and you hear holiday tunes and carols blasting from mall speakers. Another reason to love ber months is that this is the time when everyone starts planning reunions. Families who have loved ones abroad would start asking: "Uuwi ba sila ngayong Pasko?" Are they coming home this Christmas?
By October and November, mall sales and early Christmas shopping begin. There are parties and get-togethers on practically every week of December.
Unique Paskong Pinoy icons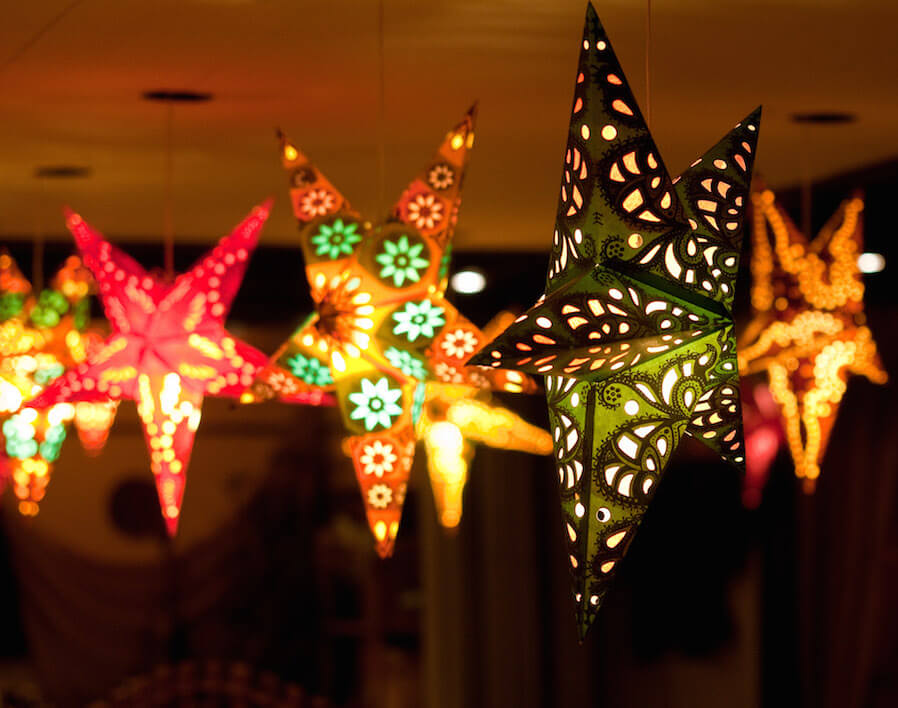 Photo courtesy of michael_swan via Flickr
The world has Santa. Some have the snowman. The Philippines also has a place for Santa even if there are no chimneys, and for a snowman even if there is no snow. But one thing that beats them all is the parol or the Christmas lantern. The history of the parol is quite heartwarming, too. These lanterns were originally used to light the way of churchgoers who want to hear the mass. These days, a parol can be small and made of cheap materials or really huge and decorated with lights, but they uplift the Pinoy Christmas spirit just the same.
Another decoration is the belen or the nativity. As a Catholic nation, the nativity reminds everyone that Christmas is remembering the birth of Christ, the savior of humanity.
Masses at dawn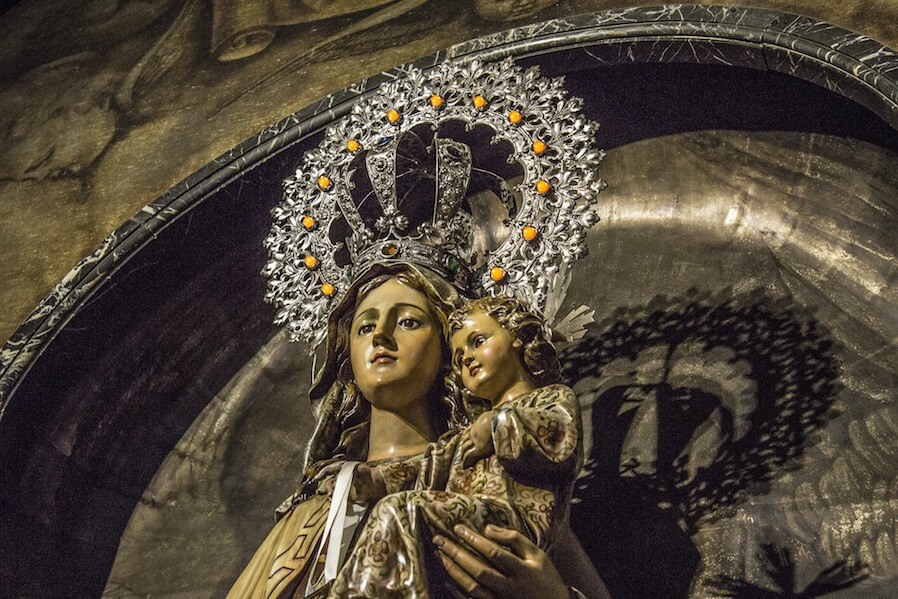 Photo courtesy of josemdelaa via Pixabay
Misa de Gallo or Aguinaldo masses or Simbang Gabi are heard at dawn all over the Philippines. The goal is to finish all nine masses leading up to Christmas eve. Completing the Simbang Gabi is such a huge deal that it is part of many Filipinos' bucket list. Filipinos believe that they can make a wish on the final mass and it will come true. Whether or not it did, the tradition continues nonetheless.
Taste of Christmas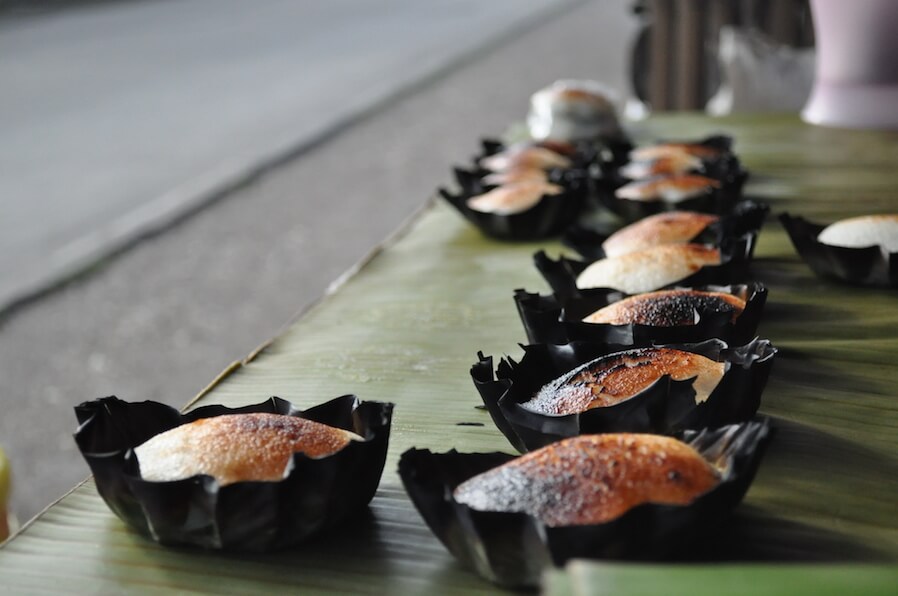 Photo courtesy of whologwhy via Flickr
Two of the things that can keep you motivated to complete the dawn masses are bibingka and puto bumbong. These are sweet delicacies sold outside the churches when the mass is over. A Paskong Pinoy wouldn't be complete without these delicacies. Bibingka is made from galapong or rice dough, and is baked in a special clay pot with live coals underneath. Puto bumbong is made from purple-colored ground rice steamed in bamboo tubes.
Street carols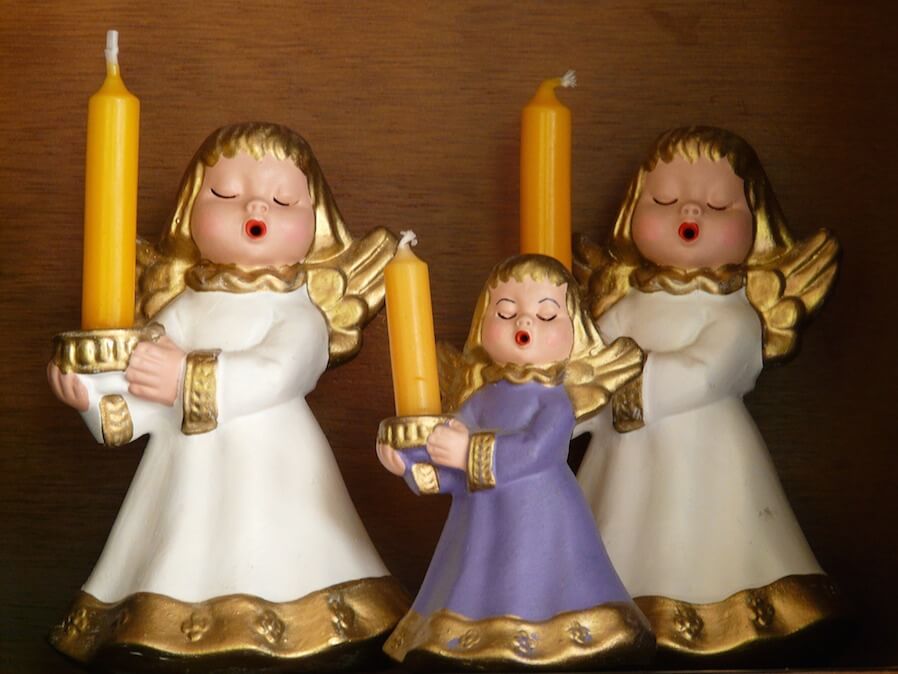 Photo courtesy of Hans via Pixabay
Carolers are in no way organized in the Philippines. But that's the charm of it. If you are traveling to the Philippines for the first time at Christmas, one fun Pinoy fact you have to know is that it is important that you to stock up on coins and loose change. There will be groups of kids with handmade instruments (milk cans and aluminum bottle tops) knocking on houses every night to sing carols and wish you a merry Christmas. When you're inside the car and stuck in traffic, there will be kids knocking on your car window, too.
Festive Noche Buena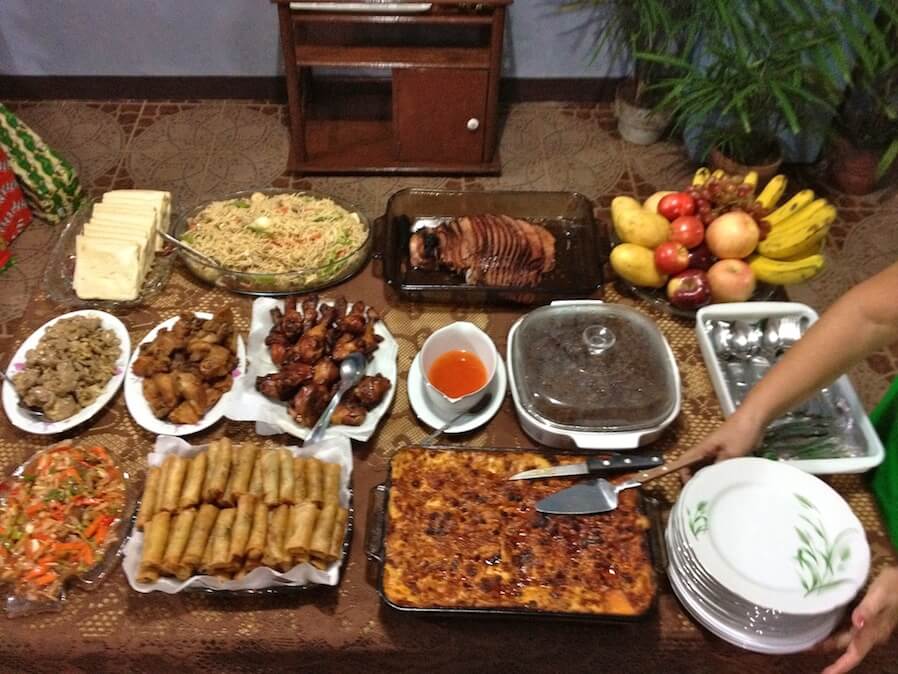 Photo courtesy of Scott Maentz via flickr
If there is one thing that Filipino families prepare for at Christmas, it is Noche Buena, the meal at Christmas midnight. It's a grand family dinner with all Pinoy favorites such as sweetened ham, lechon, pancit, spaghetti, fruit salad, etc. But more than the food, what matters here is that everyone in the family is present at the table.
Culture of Aguinaldo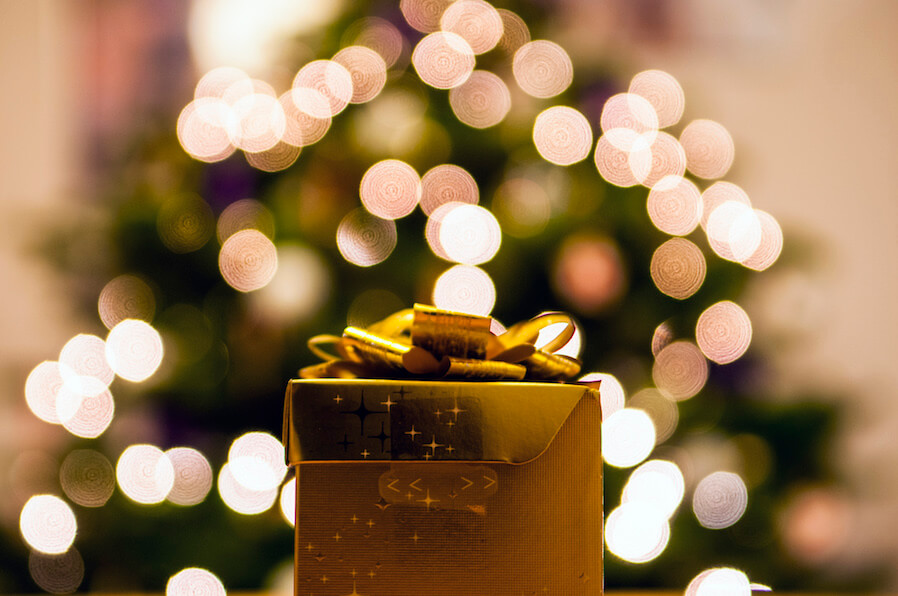 Photo courtesy of Tookapic via Pexels
On Christmas day, little kids would be wearing their new clothes. Together with their parents, they will go from one house to another. They will visit their relatives and godparents to pay respects with the tradition of pagmamano. Children are often rewarded with presents or money or what is traditionally referred to as "aguinaldo."
The crispier, the better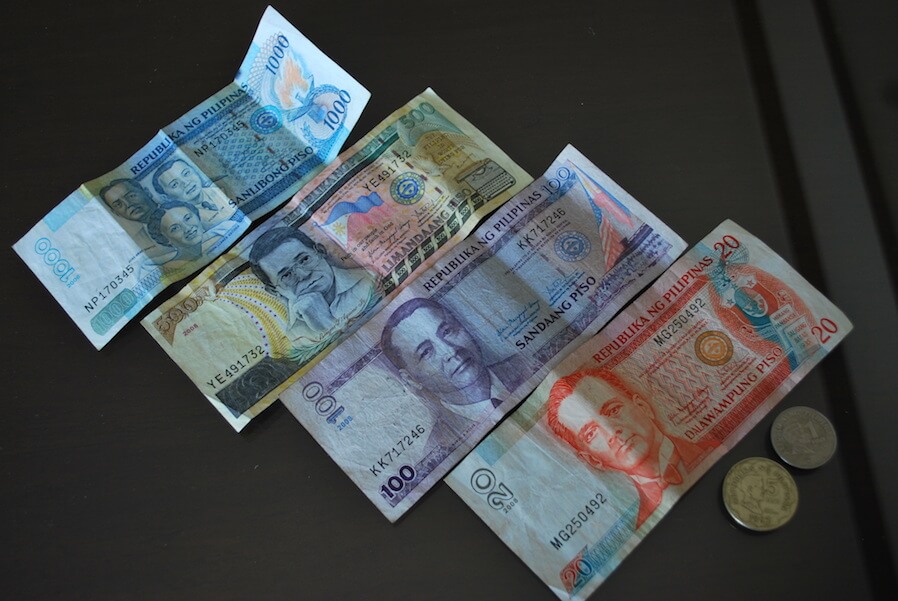 Photo courtesy of Trishhhh via Flickr
One of the many unique and fascinating facts about Christmas celebration in the Philippines is people's fondness for crisp bills. Never mind if we're just talking about Php20, what matters is that it is new and crisp. Some would even go as far as change their large bills into smaller crisp bills at the bank. These bills are normally given to children as aguinaldo.
Exchange gifts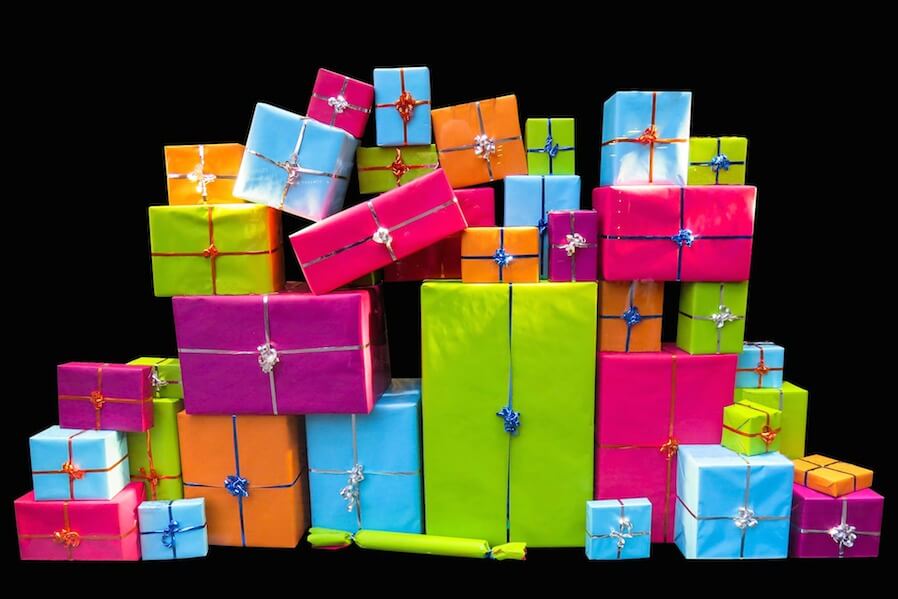 Photo courtesy of Gellinger via Pixabay           
Gift-giving is extra special in the Philippines. Weeks before Christmas, family members, friends, and co-workers pick their monito or monita. They will pick a gift for their "baby" to open on Christmas eve. Sometimes, exchanging gifts go on for the 12 days of Christmas. To make it fun, themes for gift-giving are agreed upon such as "something long," "something soft," "something red," etc.
Christmas ends in January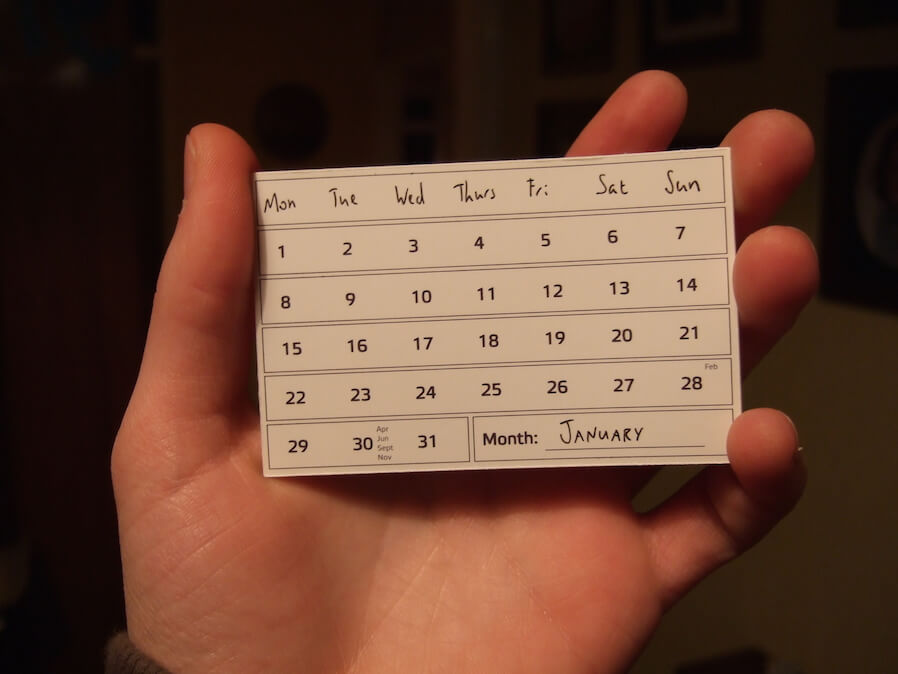 Photo courtesy of  Joe Lanman via Flickr
If the official start of Christmas is September, the official end is January. That's how long Christmas is celebrated in the Philippines. The Feast of the Three Kings or the Epiphany marks the end of Christmas. But it won't be long until everyone's singing carols again.
Christmas in the Philippines is nothing like any celebration in the world. More than the feasts, lights or gifts, it is the Christmas spirit that truly makes it uniquely special and beautiful.