Still wondering what to do on Valentine's Day to wow your date? Well, there's a saying that the fastest way to a man's/woman's heart is through their tummy, so why not prepare a home-cooked meal for your special someone? Take a look at these Valentine's Day dinner date recipes you can make in your condo unit. Even if you don't have a lot of cooking experience, you can sweep him/her off their feet with these meals.
Let's start with the appetizers, shall we?
Slice up a cheesy heart-shaped appetizer
Start your Valentine's Day date night in your DMCI Homes condo with carabao cheese, aka kesong puti, which can be a stand-alone appetizer – especially for Filipinos. Buy a block of this local cheese and slice it in the shape of a heart. You can dazzle its plating and make this cheesy dish sweeter with a little bit of locally-made strawberry jam on the side.
Bring out the cold cuts
Is your date a wine lover? If yes, then he/she will definitely love this. Why not prepare a plate of cold cuts for Valentine's Day appetizers? It can consist of anything from pepperoni, ham, cheese, or even bacon. You can even serve it with a few jalapeños. Pair your cold cuts with a good bottle of wine, and present them on a candlelit table and you're in for a classy, romantic Valentine's Day in your condo.
Heart-shaped love toast
Show how much you love your date with this special kind of toast. Carve a heart shape in the middle of the bread and cook a freshly cracked egg in it. Add some salt and pepper, then throw in a little bit of fresh basil to add taste. It's a good recipe that anyone can do at home this Valentine's Day for those who want to eat comfort food at night.
Make no-yeast flatbread
Yes, there's such a thing as no-yeast flatbread. It's perfect as dough for your homemade pizza or can be eaten with a wide variety of dips and sauces. And because this is a lot easier to make than traditional bread, it only makes sense to cook this one up to save up some time for other more important parts of the meal.
All you need is a mixture of melted butter and milk, a bowl of flour, and a teaspoon of salt. Mix it all until it becomes gooey firm. Make sure to knead it until it has a smooth texture. Wrap it in plastic wrap and let it rest for twenty minutes. Cut it into slices and flatten each into a circle (use a rolling pin). Heat a pan and put half a tablespoon of olive oil. Finally, place the bread on the pan and cook on both sides.
Now let's move on to the main course.
Go Japanese with sushi
With a firm hand, you can prepare homemade sushi rolls for your Japanese cuisine-loving date. Get a makisu, a bamboo mat used to roll sushi. Scoop rice and place it on top of seaweed wrapper. Place your filling in the center. Roll the makisu as tight as you can to create sushi.
Choose from the many varieties of this meal that are relatively easy to prepare like the spicy tuna roll or the Philadelphia roll. Serve these with soy sauce, wasabi, and/or pickled ginger.
Easy peasy tomato butter spaghetti
If you want a slightly heavier Valentine's Day recipe that's easy to prepare, you need to try this tomato butter spaghetti. All of its ingredients are readily available in your local grocery store and can be prepared within thirty minutes. Best of all, its instructions only have three steps, making it one of the easiest and fastest main course meals to prepare.
Show the shape of love with mini heart-shaped pizza
Do you or your date love pizza? You can make homemade heart-shaped pizza using bread or if you have time and an oven, dough and fresh ingredients. There are plenty of flavors to choose from to match you and your date's taste, but the easiest one you can do is one of the three: four cheese, Margherita, or Hawaiian.
You can use white bread, buy pre-made dough, or make it yourself. Preferably, the first option would be the easiest. Cut it into a heart shape, spread some tomato sauce, shred some cheese, and place your favorite toppings. Place it in your oven or toaster and you're good to go.
Winner winner, pan-roasted chicken dinner
Meat should be included in any full course meal unless your date is a vegetarian. But if you're not an experienced cook, this pan-roasted chicken is a nice highlight for your Valentine's Day main course. It's relatively easy to cook. All you have to do is season the chicken with salt and pepper, heat the olive oil in a skillet, cook the chicken on both sides, then sprinkle some fresh herbs to taste. You'll then just add vinegar and butter into the pan and you're good to go after a total cooking time of ten to eleven minutes.
Quick and simple chicken piccata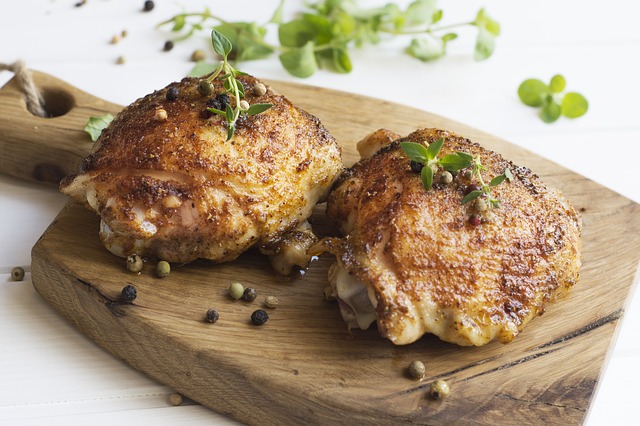 One of the quickest, yet classy-looking Valentine's Day dinner date recipe you can cook is Chicken Piccata. Don't worry. It's very easy to cook and the ingredients are available in your local grocery. You need all-purpose flour, salt, pepper, butter, white wine, lemon juice, and boneless chicken. Mix the first four ingredients, then dip the chicken in it. Cook the meat on both sides and add wine and lemon juice. Cook it for around twelve to fifteen minutes, and you're good to go. It's easy enough to impress your date.
Steakhouse sheet pan dinner for you and your special someone
If you want to display your skill in cooking and woo your date, here's a romantic dinner idea for two at home. You can prepare your main course in the oven by cooking a steakhouse sheet pan dinner. It's a little bit complicated because you'll be cooking many ingredients in one pan, but going through all that preparation and cooking will sure make an unforgettable romantic dinner.
Serve heart-healthy salad
Is your date into healthy things? Try making a salad to impress them with this affordable romantic dinner idea. Buy fresh vegetables and other ingredients. You can prepare it when you get home or do it together for more bonding time. Find out if your date wants to add meat or which dressing they want beforehand so you can prepare the salad. You could learn a lot from someone if you do things together.
Time for dessert!
Don't you love s'mores?
What do you get from Graham crackers, marshmallow, and chocolate (or Nutella)? S'mores! It's one of the easiest Valentine's Day dessert recipes you can make. Aside from the above ingredients, all you need is a skillet or oven toaster to melt the marshmallow for your s'mores. It also doesn't cost as much.
Show how sweet you are with a smoothie
On the healthy side of things, you can prepare a cool smoothie for your date. You can mix various fruits and vegetables to create the perfect smoothie or juice for your special someone. You can even name it after him/her. Isn't that sweet?
Pretzels with Nutella dip
Head to the famous bakeries at the mall and take out some pretzels. Once you're home, melt chocolate or better yet, open that jar of Nutella. Dip your authentic pretzels in it and you have instant dessert. And who doesn't love Nutella, right?
Even if you're a really bad cook, the effort you put into preparing a homemade meal for your special someone this coming Valentine's Day should be enough to impress them. But if all else fails, part of condo living is being located near key establishments such as restaurants wherein you can order some takeout food and then you can try other Valentine's Day home date ideas.