The holiday season is fast approaching! But because of the pandemic, there are safety precautions that need to be taken. These include, but not limited to, avoiding large gatherings and limiting trips outside. Still, these restrictions should not stop you from preparing an appetizing holiday menu for Noche Buena and Media Noche.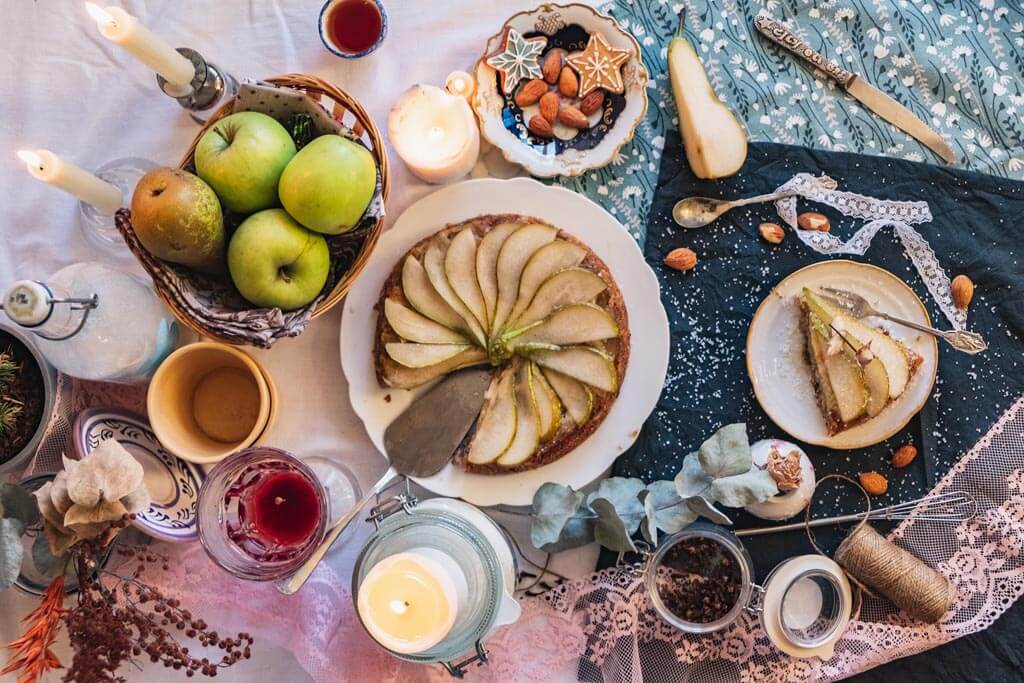 Photo courtesy of Dilyara Garifullina via Unsplash
Noche Buena and Media Noche Explained
The festive Noche Buena is one of the things that make Christmas in the Philippines uniquely special. Translated from Spanish as "a good night" Noche Buena is a traditional Christmas eve feast held to gather families to celebrate the birth of Jesus Christ as they feast on mouth-watering dishes.
The origins of the local celebration of Noche Buena can be traced way back to the Spanish colonial occupation in the Philippines. The meal follows midnight Christmas mass from which devotees would come back to their homes feeling very hungry. After a night of prayers, they are greeted at home with meals that they would enjoy before heading to bed, to rest until Christmas morning.
Media Noche is another holiday tradition we celebrate in the Philippines. Media Noche means "midnight" in Spanish and is contextually similar to Noche Buena in terms of celebrating post-mass and the Christmas season with a feast. But where the latter is celebrated on Christmas eve, the former, on the other hand, is celebrated during New Year's Eve.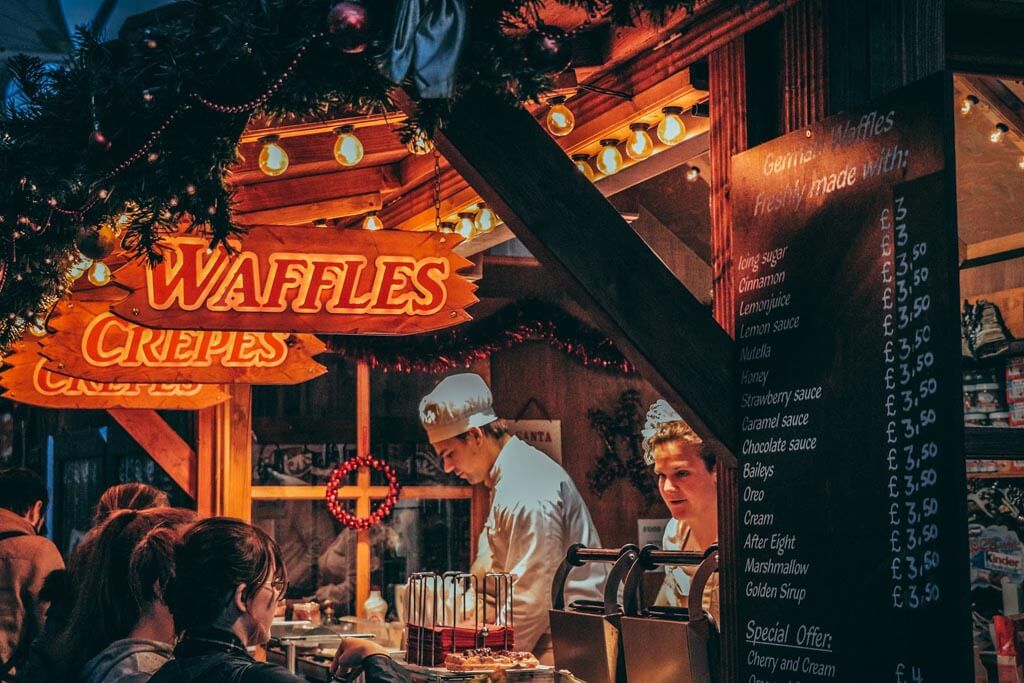 Photo courtesy of Arthur Edelman via Unsplash
Holiday Menu Shopping
Now, are you excited to buy your ingredients for your Noche Buena and Media Noche menu? But first, you need to ensure that you observe safety precautions when you buy your ingredients. Make your trip to the store as the least of your worries with some of these grocery shopping tips in this pandemic:
Write your grocery list and stick to it.To prevent going around in circles in the grocery store, write a complete grocery list of your Noche Buena dishes. Stick to this list, so that you can avoid adding unnecessary items to your cart and ruin your holiday budget as well.
Bring alcohol and disinfectant wipes.A lot of people will also head out to buy ingredients for their Noche Buena. Different people will be holding those cart handles, food cans, bottles, and others. This makes contamination highly likely as COVID-19 has been shown to remain on surfaces for prolonged periods.
A little caution and care go a long way to protect yourself during these precarious times. Make sure to always carry and disinfect your hands and items with alcohol or wipes.
Try other possible methods to buy ingredients.Last-minute Christmas shopping in overcrowded places is a big no-no in this pandemic. But if you find yourself in the situation, one of the last-minute shopping tips to consider is to try other options to buy ingredients like online stores.
Some of the online stores where you can order ingredients and have them delivered are Landers, WalterMart Supermarket, Robinsons Supermarket, and the all-around Metro Mart.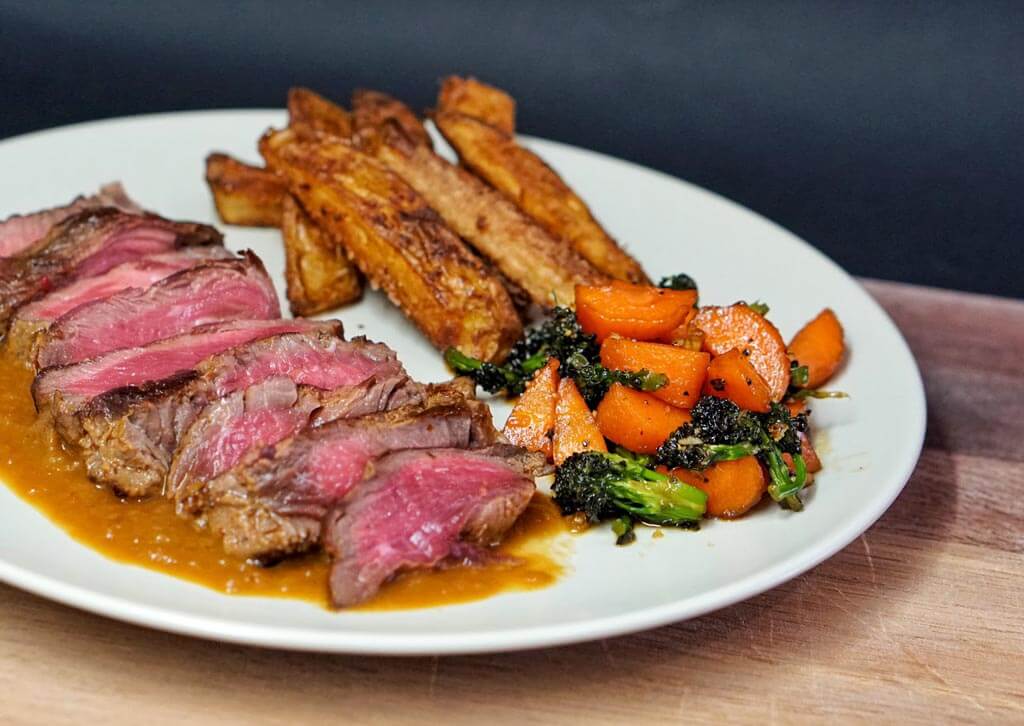 Photo courtesy of amirali mirhashemian via Unsplash
Your holiday menu for Noche Buena
Once you've disinfected the ingredients that you bought, it's time to get cooking. Here are a few hassle-free recipes for this Christmas season.
Appetizer: Healthy lettuce cups
Go for something heart-healthy for your Noche Buena appetizer and make lettuce cups.
Ingredients:
1 ½ diced carrots
1 cup diced celery
1/2 diced white onion
1/2 cup red lentils
1 teaspoon herbed salt
1/4 tsp ground pepper
1 ½ cup water
Lettuce leaves
2 tablespoons neutral-tasting oil
Chopped almond nuts
Red Sriracha sauce
Cooking procedure:
Boil the lentils according to package directions.
Heat the pan on medium to high heat and add oil. Add the onions, carrots, and celery afterward.
Season the mixture with herbed salt and pepper. Stir until cooked.
Scoop the lentil mixture to the lettuce leaves.
Garnish with the almonds and Sriracha sauce.
Main Course: Filipino-style Beef Morcon
Want a sweet and savory dish as your Noche buena food? Try cooking the traditional delicacy beef morcon for your main course. Read below to learn how to make morcon.
Ingredients:
500 grams beef, round
150 grams fatty belly bacon
Pickle sticks
Carrot sticks
Celery sticks
Sausages cut lengthwise
Boiled eggs, cut lengthwise
2 tablespoons salt
1/2 teaspoon Prague or pink salt
1 teaspoon peppercorns
1/4 teaspoon baking soda
1 bay leaf
2 tablespoons olive oil
1/4 cup butter
2 cups tomato sauce
Kitchen twine
Cooking procedure:
Pound the beef with a meat mallet.
Cut the beef into a rectangular shape and place it in a resealable bag.
Mix salt, pink salt, peppercorns, baking soda, and bay leaf with a cup of water.
Pour the mixture into the bag. Keep the soaked meat in the refrigerator overnight.
Rinse the beef on the next day and dry with paper towels.
Lay the beef flat. Arrange the beef and vegetable sticks together with the sliced eggs and sausages. Roll up the meat and tie using twine.
Heat the butter and oil and cook the rolled beef lightly.
Transfer the beef, including the butter and oil, to the slow cooker. Add the tomato sauce. Set the slow cooker to five hours.
Dessert: Chocolate Leche Flan
Put two of the Filipino Christmas favorites together, chocolate and leche flan, and you have an irresistible chocolate flan!
Ingredients:
½ cup sugar
4 ounces semi-sweet chocolate
1 can evaporated milk
1 can condensed milk (1 can)
5 large eggs
½ teaspoon cinnamon
1 teaspoon vanilla
Cooking procedure:
Preheat the oven to 350 degrees.
Place an 8-inch round cake pan in a 13×9 baking pan. In the outer dish, add hot water that is ½ inch deep.
Heat the sugar in a small pan on medium heat, and stir until golden brown.
Pour the melted sugar into the 8-inch pan and coat the pan with it.
Add chocolate and evaporated milk into a microwaveable bowl. Microwave for 30 seconds, then stir the mixture. Repeat the process until chocolate is completely melted.
In a blender, combine the chocolate milk, condensed milk, eggs, cinnamon, and vanilla. Pour the mixture into an 8-inch pan.
Bake the mixture for 1 hour, then cool for 30 minutes and refrigerate.
Drink: Refreshing Fruit Salad Juice
Fruit salad is a popular Noche Buena food. But you can also turn it into a yummy and refreshing drink!
Ingredients:
Shredded coconut meat
1 400g can evaporated milk
1 can fruit cocktail
3 cups red Nata de Coco
Sliced bananas
Ice cubes
Water
Cooking procedure:
Combine all the ingredients in a large punch bowl.
Add water and ice cubes.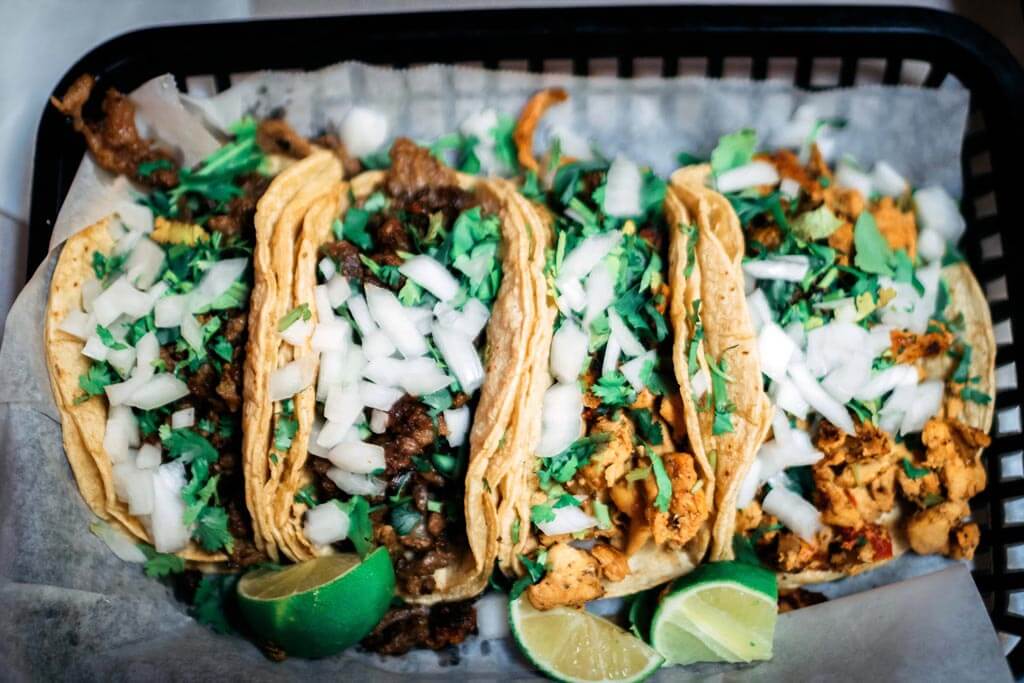 Photo courtesy of Xavier crook via Unsplash
Your Holiday Menu for Media Noche
Welcome the New Year with an impressive holiday menu. Get your aprons ready and try these no-fail recipes.
Appetizer: New Year Tacos
A healthy way to start the New Year right and a fun meal to build would be tacos!
Ingredients:
Bag of hard or soft taco shells
Diced tomatoes
Diced brown onions
Shredded lettuce
1 can of red beans
1 tablespoon vegetable oil
1-2 peeled garlic cloves
½ teaspoon cumin
½ teaspoon chili powder
Salt
Different taco sauces
Shredded cheese
Cooking procedure:
Heat pan on medium heat. Saute garlic cloves and smash them with a fork.
Add the beans and season with salt.
Place the cooked beans and other ingredients in separate bowls. Let your family or friends assemble their own tacos.
Main Course: Slow-Cooked Honey Glazed Ham
Ham is always a holiday favorite, whether it's for Noche Buena or Media Noche. Read further to learn how to make your own holiday ham.
Ingredients:
1 spiral-sliced boneless ham
1/4 teaspoon ground cloves
1/2 cup brown sugar
1/2 cup honey
2 tablespoons spicy brown mustard
Minced garlic
1/4 cup water
Cooking procedure:
In a pan, mix the honey, mustard, brown sugar, garlic, water, and cloves on high heat.
Pour the mixture into the ham.
Place the ham in the slow cooker and cook for three hours.
Dessert: Ube Pie
Turn the all-time favorite ube halaya into a pie. Here's how you can make this to add to your Media Noche menu.
Ingredients:
Finely ground chocolate cookie crumbs
4 tablespoons unsalted butter
1 can coconut milk
1 ½ cup whole milk
1 ¼ cup ube halaya
⅓ cup granulated sugar
½ teaspoon kosher salt
⅛ teaspoon ground cinnamon
5 egg yolks
⅓ cup cornstarch
1 teaspoon vanilla extract
1 teaspoon ube extract
Whipped cream
Sprinkles
Cooking procedure:
Preheat the oven to 350 degrees.
Drizzle the cookie crumbs with melted butter, and press lightly on a 9-inch pie pan.
Bake for 8 minutes to set. Then, let the mixture cool.
For the filling, combine the coconut milk, whole milk, ube halaya, sugar, salt, and cinnamon in a pan on medium heat. Stir occasionally and let it simmer.
Whisk ¼ cup milk with the egg yolks and cornstarch in a bowl.
Slowly mix the hot mixture into the bowl, then whisk well.
Pour the mixture into a pan and bring to a boil.
Remove from heat and add the vanilla and ube extracts.
Pour the custard mixture into the cooled crust. Let it cool, then refrigerate overnight.
Garnish with whipped cream and sprinkles.
Drink: Fruity Jungle Juice
Here's a holiday drink for the adults, or skip the alcohol for the kids.
Ingredients:
4 limes
4 oranges
1 750ml bottle of vodka
1 64oz bottle of cranberry juice
1 32oz bottle of pineapple juice
Ice cubes
Cooking procedure:
Slice the limes and oranges into thin rounds.
Mix the juices in a large punchbowl. Don't add vodka if you opt for a non-alcoholic drink for adults and kids alike.
Stir the juices and add the lime and orange slices, and the ice cubes.
The pandemic may have changed the way we live our lives, but it will not cancel the festive season. It should not stop us from enjoying the holidays, and that includes picking and trying out delicious Noche Buena and Media Noche recipes.