Living in condominiums has become a trend in the Philippines due to the numerous advantages they offer. But some think moving in a condominium unit may mean swapping some of the privileges you might enjoy with keeping an ordinary home, such as choosing the color of paint for your front door. This is not exactly true. While some people may be anxious about the limitations that go alongside the condominium lifestyle, the advantages still outnumber the not so good ones. For one, living in condominiums gives relief from problems such as repairs. Residents can savor the comfort brought by recreational facilities. Security is also high while still having that sense of community not very often displayed in exclusive subdivisions.
The greatest challenge perhaps about living in these spaces is the fact that you have to make the most of the area. Depending on the size of the unit, you can start deciding how you want the interior to look like. The living room area, in particular, needs a lot of mulling over since it is the first thing that your visitors will see once they pay you a visit. Below are condo design ideas that fit your condo living room space.
1. Do not veer away from the light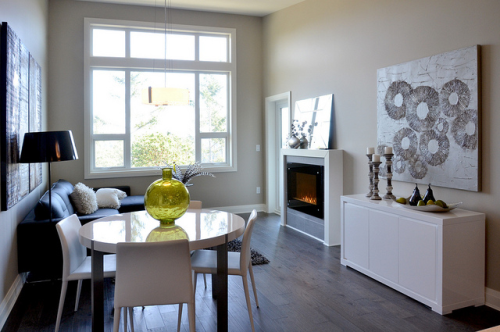 Choose a light color for all of your base moldings and window casings to let in more natural light. White may be a little traditional but it never fails. You want your space to look as natural as possible even when say you are atop a building. Thus, creating that effect by using light colors should be easy. Choosing the right shade of white paint will pose as a challenge for any homeowner.
It's best to go for the cool white shade for your walls to perfectly match the white furniture and window treatments. This provides a tranquil, homogenous space with very little contrast or distraction. These types of pure whites work well in contemporary spaces as they offer a feeling of newness.
2. Go for the minimalist approach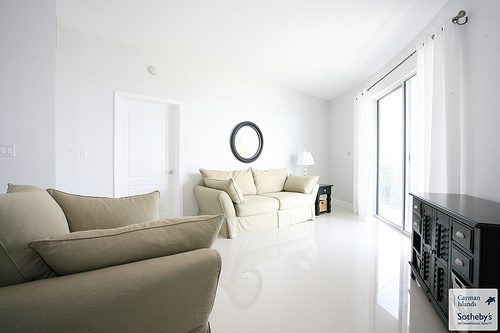 A concept heavily swayed by Japanese architectural designs, minimalism gave life to the well-known saying "less is more". The idea has been commonly used by those residing in reduced spaces since it centers on the basic provisions of home living.
If you are thinking of using the minimalism concept in your condo, why not try this sleek and chic design. The hues of black and white make a very soothing living room space. It provides a futuristic feel. The furniture does not hamper it from having the storage space it needs for other things. This design idea is best for many since people are likely to own unbiased colored fixtures and appliances.
3. Design the living space adjacent to the kitchen.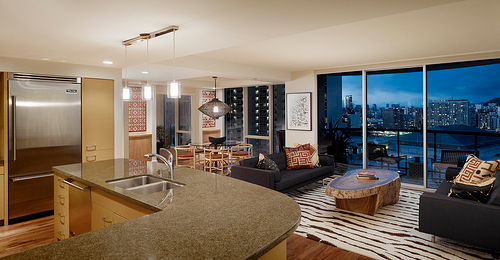 An open floor plan has its fair share of good and bad. The goods however seem to outnumber the not so good ones. Some homeowners would consult experts and more often than not they'd get advice to have their kitchen combined with the living room. According to CaseDesign.com, "The premise of this idea is that living rooms are underused, and creating a "great room" by combining the kitchen and living room helps the living room get more use and the kitchen gain some much-needed extra space."
The idea of combining the kitchen and the living room is common in condominiums with very limited space. Furthermore, it provides an easier way of welcoming guests and creating that homey effect.
4. Get that Hawaii vibe straight to your home.
Experience cool breeze slips and a country feel. This Honolulu inspired condominium tells you how you can actually turn your living room space into a perfect receiving area. The use of wood to complement a modern space seems to work well. Pair it with a solid floor and very light upholstery. Maintaining it is definitely a breeze.
5. Add some green elements to make the living room space brighter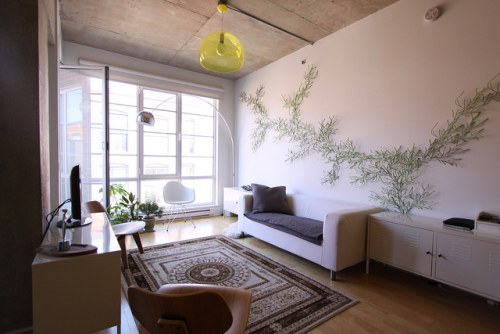 The addition of houseplant can definitely make your cold and modern house design more natural and stimulating. Not to mention various benefits that can be acquired when we using several houseplants as the adornment for our home. There are quite a few modest and unique indoor house plants ideas that you can try to do to make your home look more modish, natural and beautiful. Some of these concepts are quite easy to perform so implementing them in your household will ring about a totally different vibe.
6. A touch of red never hurts.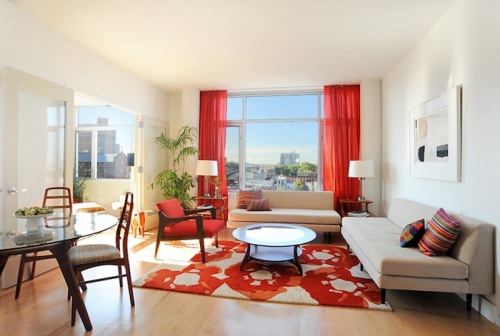 In the Philippines, despite strong Filipino traditions we have remained to have such high regard for Chinese beliefs such as Feng shui. For instance, the red color carries the energy of the fire feng shui element. Don't be intimidated by the robust intensity of red. According to Rodika Tchi from About.com, "fire has always been a symbol of divine energy and can be both destructive and creative". Thus, if you wish to bring luck into your home, why not start by adding touches of the red color into your living room? Just make sure it fits your furniture perfectly and that you aren't overdoing it.
Always remember whatever you do to your living room space is a representation of who you are and how you want your guests to feel about you.
Images via Flickr Creative Commons