If there was a holy grail of zero-waste living practices, composting would be it. Although it's not the be-all and end-all of environmental solutions, it's aspired to become one because of the benefits and the challenges of adopting it. This helped spark the Acacia Estates' #GreenestCommunity Ecological Solid Waste Management through the bokashi campaign.
By and large, this campaign marks a step towards achievable and sustainable zero-waste living practices and adopting a more conscientious eco-friendly lifestyle. We've interviewed one of the residents, Claire, and her community's Property Manager, Jewel, on how the campaign is coming along.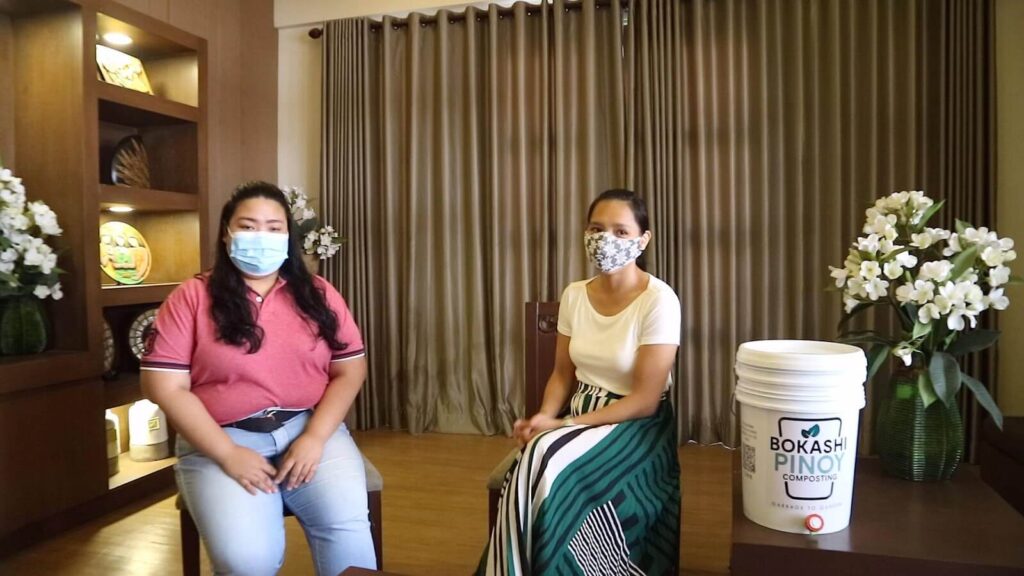 Taking root in an accommodating condo community
Claire has started becoming an environmental advocate when she moved into her home at the Acacia Estates. Regardless of where home is, one thing she always packed and took with her was her passion and advocacy for zero-waste living and environmental conservation.
When she started her new life at the Acacia Estates, she also took the opportunity to write into this new chapter of her story a Bokashi composting journey. This journey started as a personal goal and later blossomed into a community project after experiencing and wanting to share the joy of her success on it.
One day, Claire approached the Property Management Officers (PMOs) of the Acacia Estates to ask for dried leaves for her composting. To her delight, these were provided to her immediately! Little did the PMOs know that this unassuming hospitality of theirs sowed a seed of an idea in Claire. And this idea was if her composting journey could turn out so well because the PMOs were so accommodating, then it could turn out just as well for others.
Claire narrates that she was able to really make her own compost. "I was able to bury my Bokashi kitchen waste with the dried leaves, and nakakuha talaga ako ng results (I was really able to achieve results)…. Naisip ko (I thought): other people can benefit from this."
This inspired idea compelled Claire to reach out to local Bokashi composting advocates Bokashi Pinoy and asked them: "How do I start introducing this tech to our community?"
The hurdles of the advocacy
However, asking for a sack of dried leaves proved easier than getting a 'yes' for her idea of starting a community composting and other solid waste management projects from a PMO. Jewel herself admitted that when Claire first approached their office for an opportunity to present her zero-waste prospects, they had their reservations.
As a PMO, Jewel is mainly in charge of ensuring orderliness in the condo community, among others. So, naturally, Claire's idea triggered quite a number of common concerns about composting such as storage, odor management, and how these would affect the daily lives of other residents.
"Ang question namin (Our question) with [sic] Bokashi Pinoy's Miss Lanie and Miss Claire is kung mabaho ba siya (if it smells). Kasi (Because) if they will store the Bokashi treatment [in] their units, [we have] very limited space (to air it out). So magiging concern siya [if it spreads] (So this will become a concern if the odor spreads)," says Jewel.
On top of the odor, pests are also a common problem encountered in traditional composting, which Jewel was trying to anticipate. However, with Bokashi composting, the much shorter composting time helps to avert this problem. Additionally, Bokashi-treated food is fermented – causing a more citrus odor that attracts fewer pests than would traditional composting.
To assuage Jewel's concerns, Claire and Bokashi Pinoy were more than happy to present case studies of various communities with thriving community gardens and compost projects. Likewise, they provided video demonstrations of using the Bokashi Bucket.
As a result, deciding to sponsor Bokashi Buckets for 20 families of the Acacia Estates was done in a heartbeat, supporting their new mission to adopt a zero-waste lifestyle. Imagine the amount of waste such effort will put to better use and divert from our landfills.
The Acacia Estates flourishes into the Greenest Community
Today, 15 of the 20 families comprising the #GreenestCommunity are currently in the middle of the same Bokashi journey that Claire undertook.
They have since started and maintained a lively Messenger group chat wherein concerns and experiences are shared and weekly meetings are conducted, to check on everyone's journey. During these meetings, they share their stories, their struggles, and – more importantly – their enthusiasm to continue and ideas for expanding their zero-waste journey.
Their solid-waste segregation efforts are being religiously followed. Implementing the Bokashi Bucket is also nearing its completion for the community. The only thing left to do is to use the compost in a garden from which the fruits of their labor – literally and figuratively – can be harvested. When asked what their dreams for the community's immediate future are, that her fellow residents can experience these real and tangible benefits of their composting, that would be Claire's answer.
Claire and Jewel shared that they're also now in the process of arranging for solid waste and used oil collection schedules. This would involve the collection of the community's recyclables, so these can be redirected to facilities that can treat and repurpose them. The two ladies are also hosting webinars to help open doors for people who've been wanting to adopt a zero-waste lifestyle and help them begin their own journey.
This, perhaps, is what Claire considers the most important aspect which will allow continuity and enables people to "start small, and keep at it." After all, small and collective efforts go a long way in terms of achieving real-world change.
For more updates on the #GreenestCommunity progress and for more inspiring condo community stories, visit the DMCI Communities blog.