"Whenever I see boys and girls selling lanterns on the street –" or will we?
Yes, it's that time of the year again when the air is cold, homes are decked with sparkling lights, garlands, and parols, and Christmas songs are playing everywhere.
Only this 2020 we are under home quarantine so instead of hopping from one Christmas party to another, our celebrations will be intimate and spent with loved ones sheltered indoors. Although large Christmas parties are banned this year to prevent the spread of COVID-19, it doesn't mean that you can't enjoy the holidays. You can still do a bunch of indoor holiday activities to make your Christmas celebrations safe, enjoyable, and memorable.
Here are 10 ideas for safe indoor activities you can do with your loved ones this quarantine holiday:
1. Play board and card games at home during the quarantine.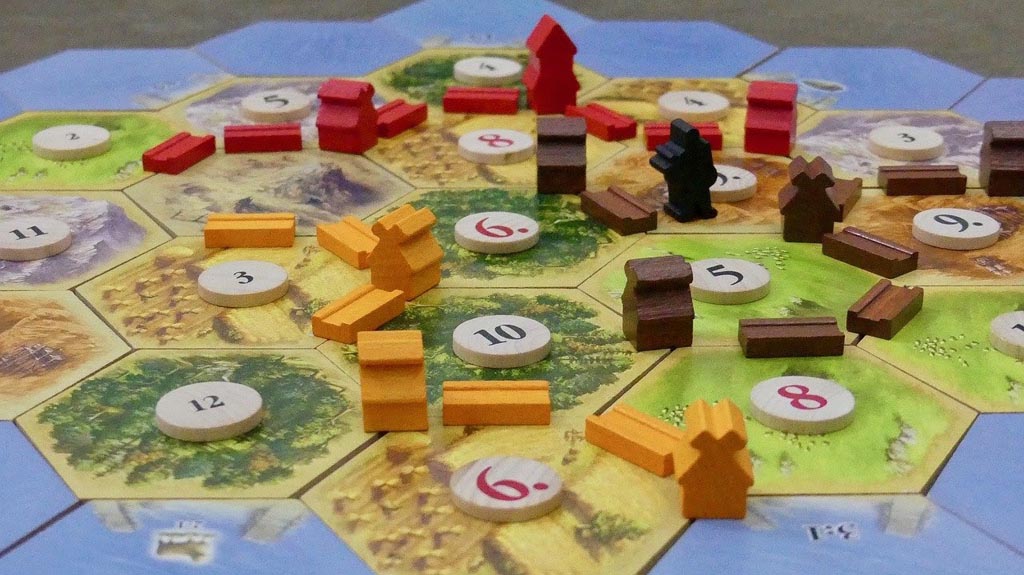 Photo courtesy of marceloferrari via Pixabay
Board and card games never go out of style and they're enjoyed by players young and old. There's a variety of board and card games to choose from that test your strategy, wit, and/or creativity. Some classic family games you can play during quarantine can be:
Catan
Monopoly
Spot It
Sequence
Jenga
Poker
2. Play staple Christmas party games.
One of the classic Christmas games played is charades. Create a word pool and let each player take turns acting out the word they picked out. Get ready to show off your acting skills so that others can guest the word assigned to you for a limited time.
If words are too difficult to act out, don't forget that you can opt to act a word that sounds like the true word you want them to guess. If you're looking for charade ideas, you can search online or pick a book and list interesting words you find there.
Aside from charades, other classic games you can play are the longest line, stop dance, and trip to Jerusalem.
3. DIY holiday decoration family activity.
Of course, the holidays are a special time to decorate your condo. During this time, you can try recreational activities with the family like creating DIY decorations. The activity will allow you to both bond with your loved ones and save up on purchasing new decorations. It also allows you to make and follow your own holiday theme and is a good activity for kids to show off their creativity and craft skills!
4. Shoot your Christmas video and photo greetings for virtual celebration invitations.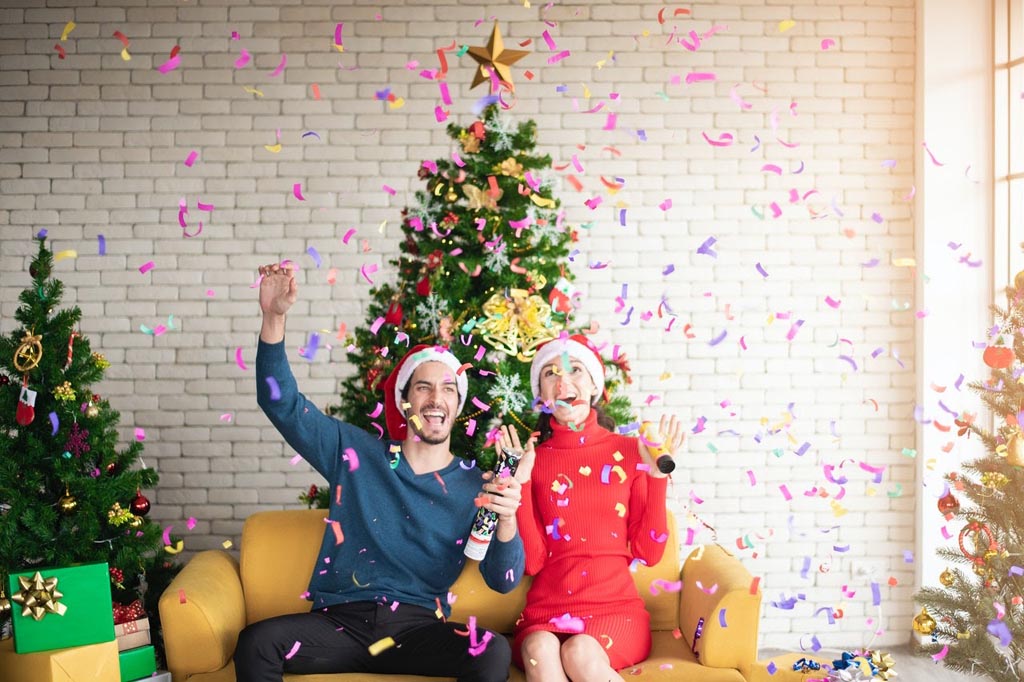 Photo courtesy of Thanakorn Phanthura via Pexels
Sending out holiday greetings is one of the traditions done during the Christmas season. Though we love to do it in person when we pay our family and friends a visit, sending out video and photo greetings is the safest way to go about it while we're under quarantine. So include a photo or video shoot in your things to do during the quarantine.
Select a theme, dress up, and have fun with your family as you take photos and videos. Send them out to your loved ones and include them in your invitations when you host a quarantine party to make them more personal and thoughtful.
5. Host a virtual Christmas party.
Thanks to the internet, we can still connect with family and friends despite physical barriers. So even if this year's Christmas parties will be done at home, you can host a virtual Christmas party with your friends and family so that you can celebrate the holiday season together despite the distance to ensure everyone's safety.
These parties include playing games such as Pictionary, charades, bring me, and name that tune so that everyone can enjoy and have a good laugh.
6. Invent new holiday dishes with the family.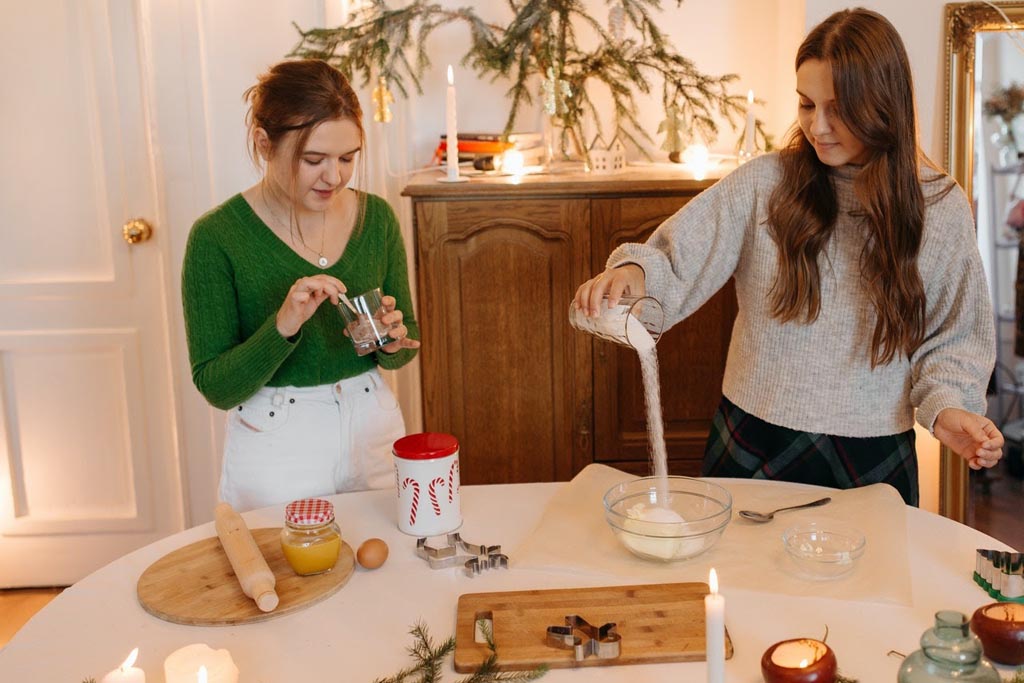 Photo courtesy of Pavel Danilyuk via Pexels
One of the things that we look forward to during the holiday season is the food we'll share with family and friends. Now that there's a pandemic, staying fit and healthy is important. So while the holiday season is for indulging ourselves by eating delicious food, why not invent new holiday dishes with the family that are delicious and healthy?
You can start by tweaking your holiday dishes by adding or substituting healthy ingredients such as vegetables, tofu, grains, and fresh fruits. This holiday activity is also a good way for parents to teach their children life skills such as cooking and baking.
7. Learn something new as a family holiday activity.
Aside from cooking, why not spend the holiday to learn something new as a family? It can be learning a musical instrument, calligraphy, or other life skills such as folding laundry flawlessly.
If you're planning a vacation abroad when the pandemic is over, why not learn the language of that country with your family? You can use free language learning websites to guide you with your language learning.
8. Achieve those quarantine fitness goals.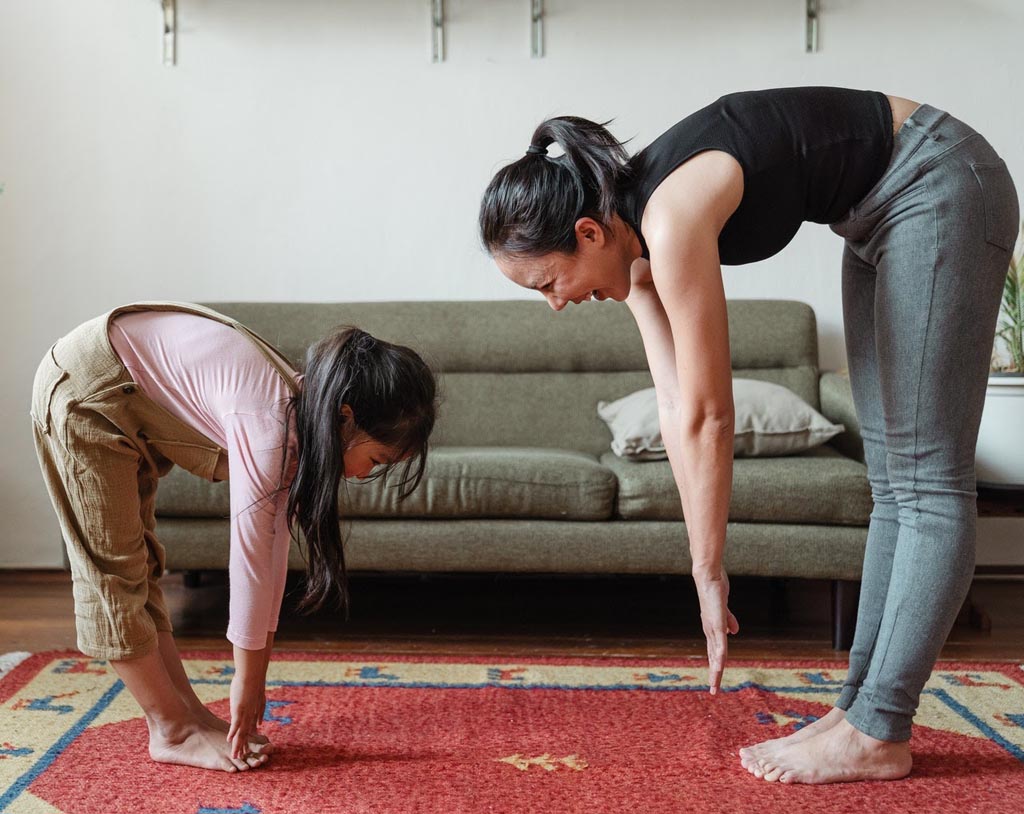 Photo courtesy of Ketut Subiyanto via Pexels
Under prolonged home quarantine, most have gained weight because we're hardly moving around. Now that it's the holiday season, why not unlock your fitness goals by setting aside time to exercise every day? That way you can achieve that ideal weight you promised yourself last year. If you want to gain some muscle, then go ahead and eat your (healthy) fill of food and start lifting those weights!
9. Take a virtual tour.
The Christmas season is usually a time to travel. But if you have kids or seniors in the family, it can be too risky to travel with them as they are encouraged to stay indoors. In order to enjoy the great outdoors, why not go on a virtual tour?
Visit museums, zoos, even hiking trails, and beaches all around the world with a click of a button. Famous landmarks and museums have interactive exhibits and live tours you can watch online so you can enjoy its beauty in the comfort of your own home.
Imagine the ability to travel great distances in an instant without spending money on transportation and hotel accommodations – it's made possible with technology! Don't forget to take pictures or screenshots with family and friends at the virtual destinations you've visited. It'll serve as a good memento of your 2020 holiday travel experience.
10. Help your local community from home.
Christmas is a season for sharing. So aside from sharing gifts with family and friends, why not extend help to your local community? If you've included in your family activities learning how to sew masks or cook simple meals and desserts, maybe you can also create some for others.
Make them for your neighbors, the staff of your condominium community, and other members of your local community. That way you get to feel the joy of being of help to others. Trust us, just seeing their faces light up once they see your gifts will wipe away all the tiredness you've experienced while creating them. You will experience the bliss that no amount of money can buy.
Celebrating the holiday indoors exclusively with your family or roommates need not be boring. Try out the indoor activities included in this list and you can surely enjoy your Christmas quarantine this year safely.