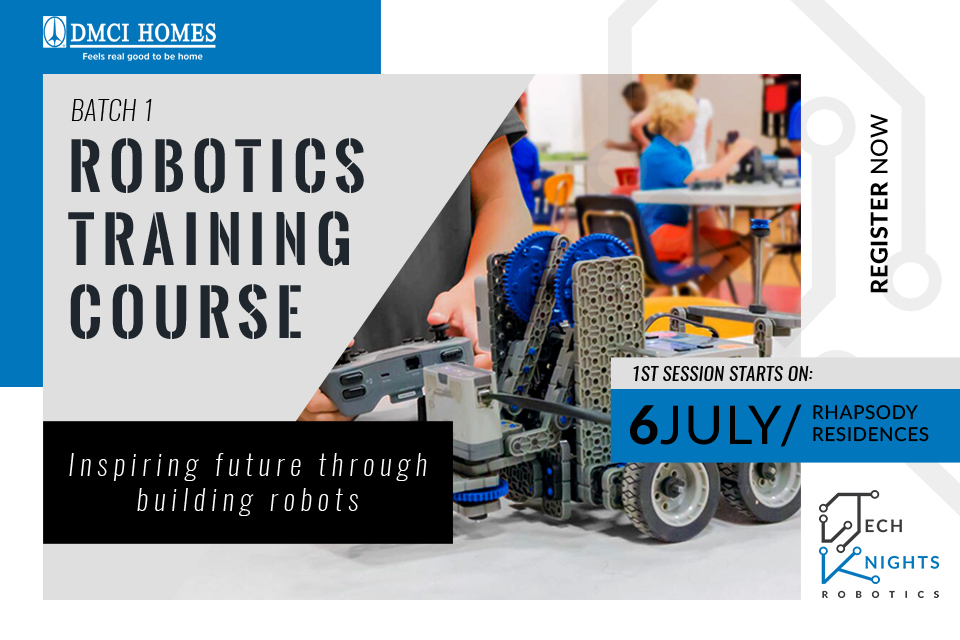 Is your child interested in building machines? Or does he or she have an affinity with robots? Or would you like your child to be immersed in a Science, Technology, Engineering, and Mathematics or STEM-based learning program? Here's an opportunity to do all of those with TechKnights Robotics' Robotics Training Course! This 3-day workshop, in partnership with DMCI Homes and Rhapsody Residences' Property Management Office, is a sure fire way to expose your child to a training program that is fun, exciting, and educational!
This STEM-based training program is designed to provide young learners with a better understanding of the potential and power of robotics in solving day-to-day challenges. For only P3, 000, this workshop also aims to inspire and train learners, depending on their level of awareness regarding robotics, through exciting challenges that will be solved through teamwork.
This course is open to children from ages 8 to 14 and will be held at Rhapsody Residences. To register, you may give Rhapsody Residences' Property Management Office a call at (02) 5210604 or (02) 5210622. You may also email them at rhapsodyresidences@dmcihomes.com.
Do you want to have this exciting program in your community? If you do, you may visit your Property Management Office or email marketing@dmcihomes.com to get started.