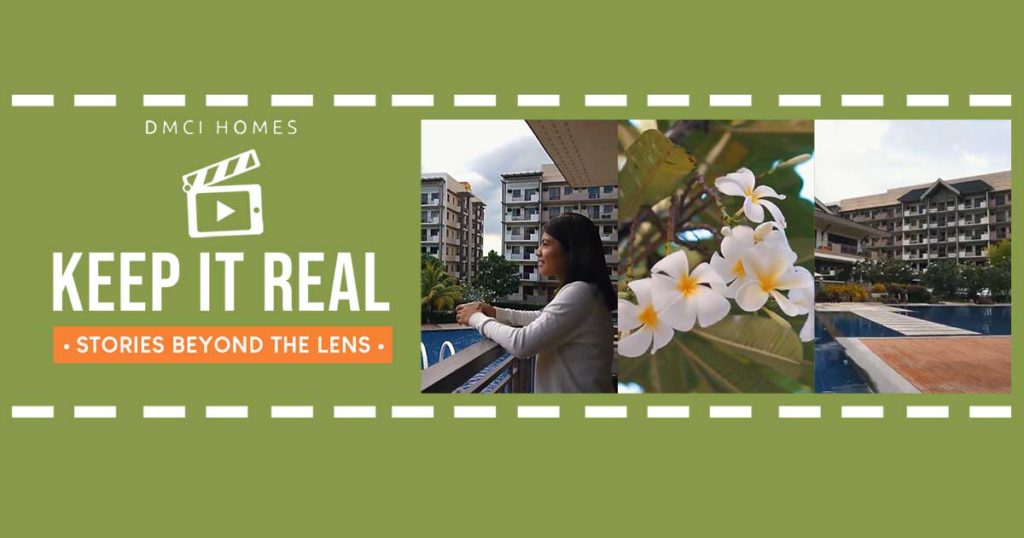 DMCI Homes communities are truly a unique one. With activities to keep everyone engaged, it is a place where friendship and camaraderie are continuously fostered. That's why in this year's Keep It Real video contest, our theme will be Stories Beyond the Lens!
The theme will be about stories beyond what the eyes can see. It can be about events that make us feel a certain way, or simple gatherings that spark a bond within the community. Showcase the moments that are beyond the lens and let everyone see what goes inside your community.
Check out the mechanics below:
•  DMCI Homes' Keep It Real: Stories Beyond the Lens video contest is open to all DMCI Homes Communities residents.
•  DMCI Homes employees, sellers, and their family members are not allowed to join.
•  DMCI Homes shall have the right to use and reuse, publish and republish the entries in whole or in part, individually or in conjunction with print matter, or in composite form, and in any medium, for editorial, commercial, promotion, and/or trade purposes.
•  Winners are also subject for testimonial stories to be featured in local broadsheets, DMCI Homes website, and social media accounts.
•  The contest will run from October 18, 2019 to December 6, 2019.
VIDEO ENTRY REQUIREMENTS:
Style
•   Must be in lifestyle form along with a recorded narrative.

•  Any style will do like – tour/travel/ lifestyle as long as it will showcase the living

experience inside the DMCI Homes Community.

Total Running Time
•   Minimum: 30 seconds

•   Maximum: 60 seconds

Format of Video
    MP4, AVI or MOV
Resolution
    Minimum 1080p/Full HD
Subject
    At least one (1) person as the main subject should appear in the video.
Location
    Video should be taken inside the DMCI Homes Community where the contestant resides
Number of Entries
    Maximum of three (3) video entries per contestant.
•  Video should not contain any foul language, scenes or graphics.
•  Failure to follow these requirements would mean disqualification of your entry.
Submit your video entries at: http://bit.ly/KeepItReal2019
CRITERIA FOR JUDGING:
Concept and Creativity …………………………….. 35%
Entertainment Factor ………………………………. 25%
Effects and Editing …………………………………… 15%
Feel-Good Message …………………………………. 15%
Audience Appeal and Impact …………………… 10%
Total ……………………………………………………………100%
CONTEST SCHEDULE:
| | | |
| --- | --- | --- |
| Deadline of Submission | Voting Period * | Announcement of Winners (Awarding Ceremony) |
| November 29, 2019 | December 2 to 6, 2019 | December 11, 2019 |
* Entries will be posted at the DMCI Homes Official Facebook page for liking / heart (♥) reaction.
PRIZES:
Grand Winner …………………………………… 15,000 pesos
First Runner-up ………………………………… 10,000 pesos
Second Runner-up ……………………………. 5,000 pesos
People's Choice Award (will be given to the video entry that will obtain the highest number of heart (♥) reaction.) This awardee will receive a voucher worth P5, 000 applicable to Association Dues (Special Assessment not included).
•  All winners announced by DMCI Homes during the Awarding Ceremony will be final.
•  Winners will be posted via DMCI Homes' Official Facebook Page (facebook.com/dmcihomesofficial) and Communities Website (communities.dmcihomes.com)
For inquiries, send a message through DMCI Homes Official Facebook Page or email us at marketing@dmcihomes.com.