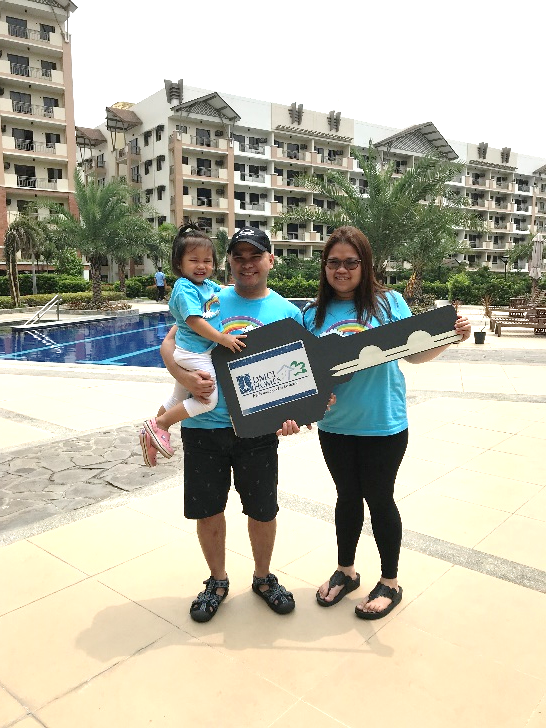 My wife and I, got married last 2012, we were still 24 and 25-years old back then and ever since, we wanted to live on our own and have a place we can call home. We started renting a 1-bedroom condominium for 6 months and found that it's too small for us. Finding an affordable and spacious place was difficult back then, so we decided to rent an apartment in Makati instead.
In 2015, we have been blessed with a baby girl and decided to go back to our parents' house since the environment in Makati was not friendly for our new baby, pollution and unfriendly insects crawl to visit us from time to time. We have been hopping from one place to another until we decided to look for our own permanent place for us to settle down. Our expectations for our new home were high and we came up with top 5 things that we needed to consider in looking for a perfect place to live:
1. Location
We all know that traffic in the metro is so horrendous and it consumes most of my travel time going back and forth to my workplace. Since, I want to spend quality time with my family we need to find a location that will be near to my workplace yet not in the main road to avoid pollution.
2. Security
Since only my wife and daughter will mostly spend their time together when I'm at work, I want to have a peace of mind and not worrying about their safety. So, we need to find a well–secured environment for us.
3. Environment
We want our daughter to have a free–range childhood memories that she will cherish. Finding a greenery places here in the city is a bit challenging but we are really eager to provide a good environment for her growing years for we believe that it will be beneficial for her growth – physically and emotionally.
4. Spacious space
Spacious place is probably our top 1 must-have to consider. This is so important for us because we are decided to homeschool our daughter. We want to have a ventilated and open space which are the key components in creating an enjoyable homeschooling for our family.
5. Affordability
With all the above taken into consideration, I guess this is the make or break question, Is it within our budget? At first, we thought finding all 5 was unrealistic until we found Mirea Residences.
Why we choose DMCI?
We have been reading excellent reviews about DMCI condominiums and decided to visit several DMCI homes projects last 2017. Nestled in the city of Pasig, it was love at first sight when we saw Mirea Residences. We fell in love with how the environment is secluded by green trees, peaceful vibes and a hotel like resort home. In addition, the location is basically in the center of every business district in the Metro. The huge common area and amenities is a perfect haven for us to live and start our homeschooling journey with our daughter.
Building Homeschooling memories at the comfort of our Home
Why did we choose to homeschool our 3-year-old daughter? Children grow fast and gasps behavior and attitude easily. We want to make sure we incorporate the right attitude and values to our daughter as young as she is. We only have a few years to mold and prepare her heart, mind and soul into a full well–being, that is why, we want to be an intentional parent in nurturing, nourishing and raising our daughter. We always want to make everyday count and doing homeschooling will give us more opportunity to spend quality time with our daughter. Our chosen journey wasn't easy as we need to highly consider the environment that we will live in but being positive and focusing on the result of our decision would be very fulfilling not only for her but for us as her parents, too.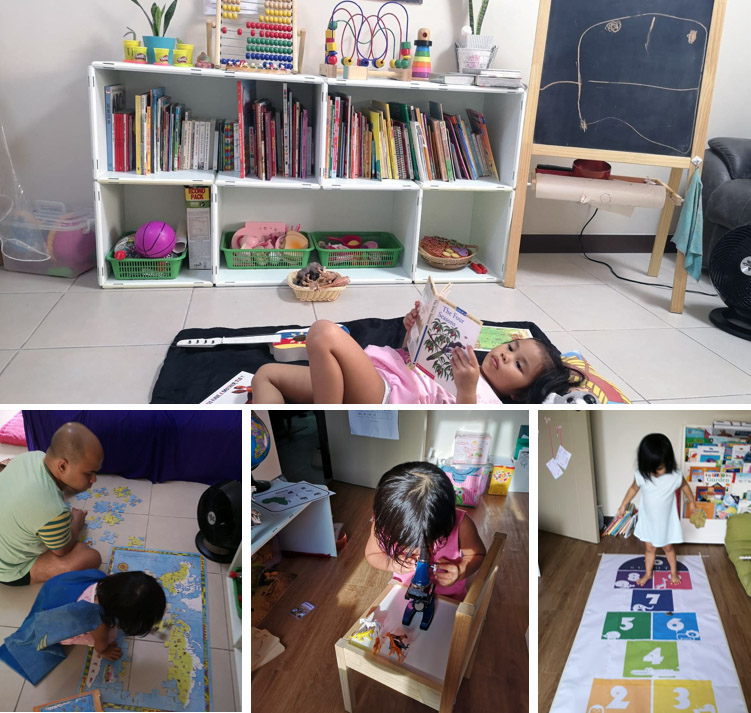 After receiving our keys during our turn–over last August of 2018 we were so ecstatic to start building memories in our first new home. Aside from slowly furnishing our unit, we were much excited to fix our daughter's first homeschooling room. We bought a 2-bedroom unit and converted the other room to be her play and study nook area. In homeschooling, workable space is essential to cope up with her learning mind. We also built a mini library in our living and dining area where she can easily grab a book and asks us to read her a story or sometimes pretend to read them on her own. This was made easy with the spacious family friendly unit of DMCI.
She also has her own kitchen area, where she can cook and prepare her food independently.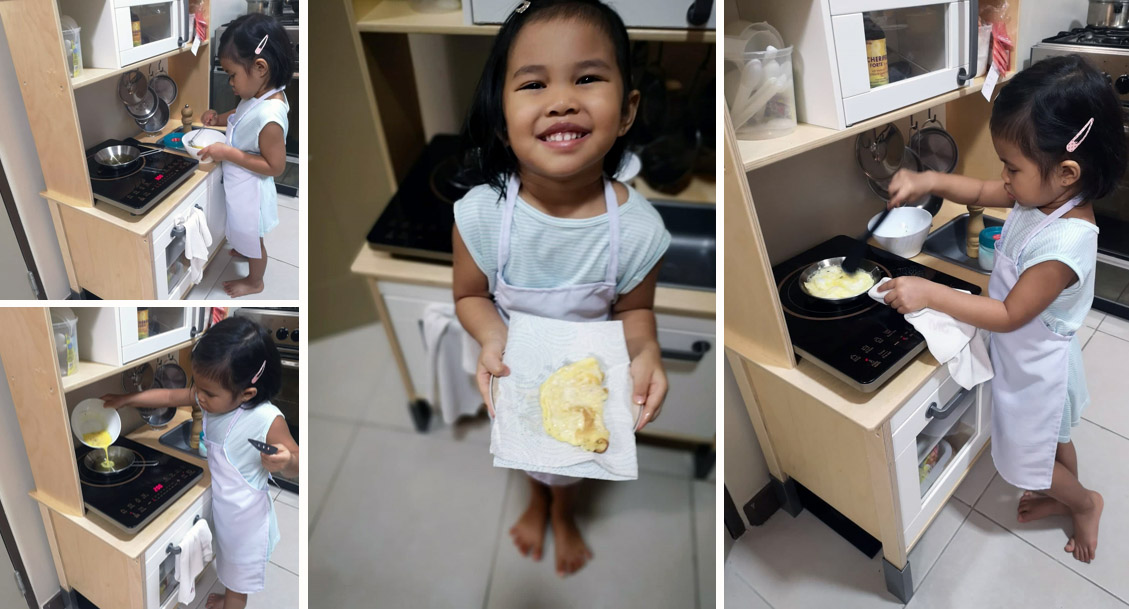 In our balcony, she has her own space for her plants where she waters and look after daily. Sometimes, she also chooses to paint or play with her sensory bin while enjoying the view as the sky turns to night.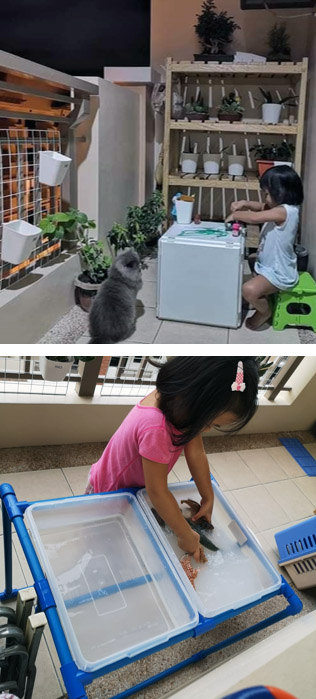 Our homeschooling area is not only confined with the four corners of our home. Experiential exposure is often more engaging to our daughter's interest. Since Mirea Residences has I think the biggest space for common areas, we use it to our advantage and gave her unlimited opportunities to learn things outside, sometimes we set up a "picnic room" as we call it which she can freely run on the grassy area. My daughter loves our "picnic room" so much that it helps her crave and learn more as she sees real things around us like the plants, soil, rocks and trees. She also finds the most interesting insects like millipedes, snails, dragonfly, ladybugs, beetles, butterflies and so on. Yes, these insects are still seen in our busy city and right inside our condominium. This eco-friendly environment helps our daughter get excited and absorbs knowledge faster as she learns by observing them.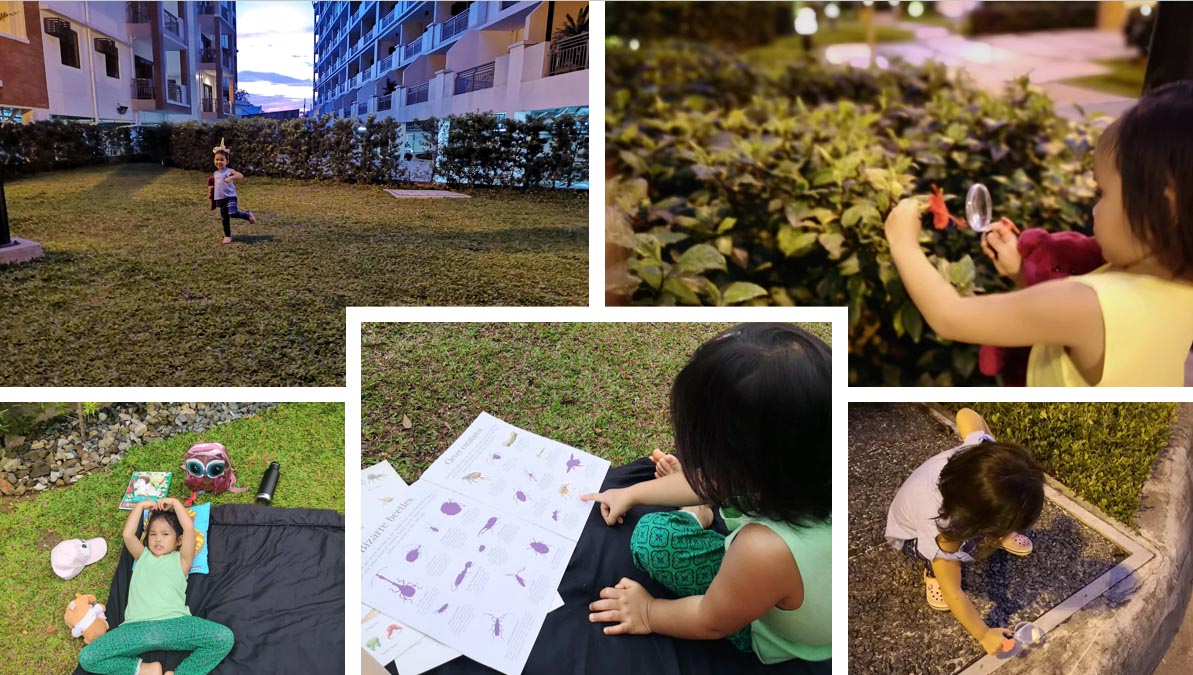 We also use other amenities that we have such as our playground, swimming, biking/jogging area, basketball court, badminton as a fun-filled opportunity to practice and improve her gross and fine motor skills.
The most common question of people when they learned that we are homeschooling our daughter is how about her socialization? Surely, one American proverb says, "It takes a village to raise a child" and we are so blessed that we found that in our Mirea community. We have neighbors that turned to be family and their children became my daughter's playmate. Not only that, even the staffs, security, housekeeping personnel became my daughter's Ates and Kuyas. She will always greet and have small talks with them. There are also exciting activities that are organized by volunteer parents and by PMO staffs like Halloween and Christmas events, summer camp activities, Glamping and Palarong pinoy. These activities enhance our daughter's self-confidence and social skills. In addition, some of our neighbors are into volunteering in charity works and extend help for those who are in need, which my daughter responded with a compassionate heart when she voluntarily told us that she was ready to share some of her books and toys to other children.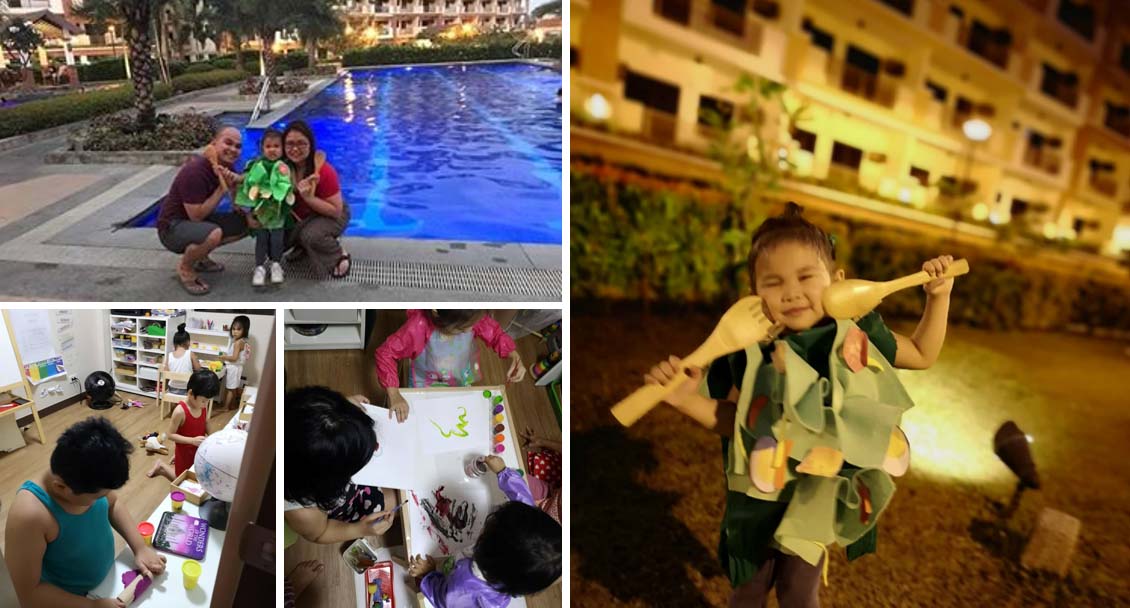 We are also inspired by many of our neighbors who does balcony farming, where they plant different kinds of vegetables, herbs and herbal plants in their balconies and served it as an organic food for their family. This is our next homeschooling goal for our daughter since she loves eating vegetables and fruits.
There is still so much to learn, give, share and enjoy here in our community. We believe that we made the right decision in choosing Mirea Residences as our new home as we continue to give the best homeschooling experience for our daughter.
This is our story. Beyond our DMCI home arises our homeschooling journey.