Buyers, homeowners, and all, hear ye! The DMCI Homes newly-upgraded mobile app is here– available for installation and update on Android and iOS.
In comparison, the very first interface of DMCI Homes mobile app took it from the functionality of the DMCI Homes website. It allowed users to browse property information, know project locations, amenities and pricing schemes with their mobile phones. But DMCI Homes figures out more ways on how to use this platform, and makes it even more functional for homeowners and buyers alike.
What sets it apart from apps? If you're a buyer, a homeowner, or just an onlooker, there are ten useful reasons why you should be upgrading — right about now.
1. You can view projects anytime, anywhere.
You can know us more by browsing our pre-selling and existing projects straight from your phone.  See for yourself our product offers, speculate functionality and design, know amenities available and so much more.
2. See what we feature most.
Know about our pre-selling projects, RFOs and other featured DMCI Homes projects and corporate campaigns lined up in the Spotlight section. This quick view can navigate you directly to projects you need to see, and you need to know about.
3. Search for DMCI Homes projects near you.
Want to know where our projects are located? The DMCI Homes newest mobile app gets you there with a single click. But if you need to know the properties near your current location, simply click the "Nearby Projects" button and let the app do the search for you.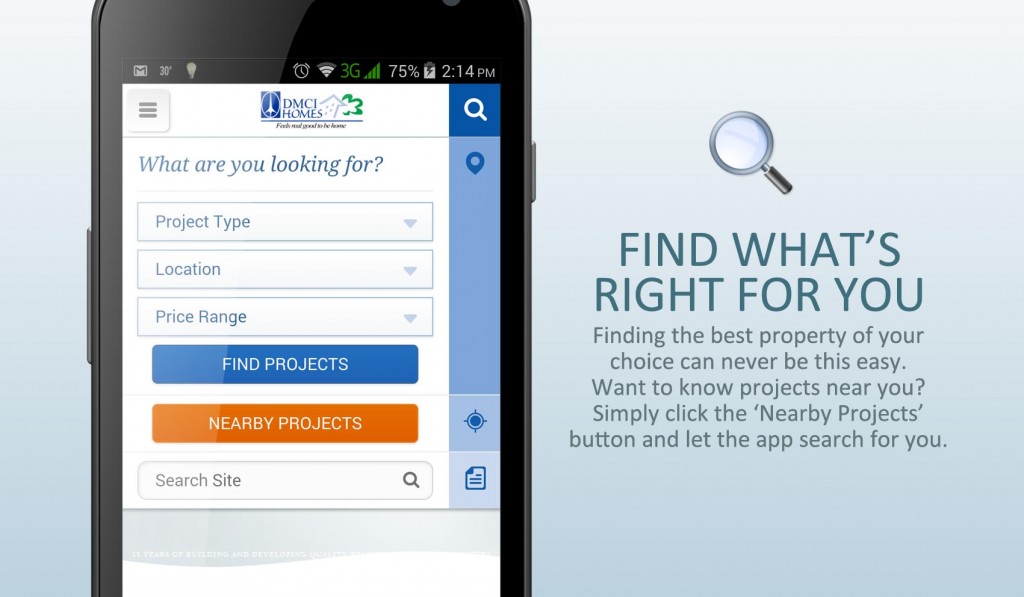 4. Choose which function suits you.
The newest mobile app is made to be friendly with everyone. It segregates the function you can experience if you're a guest, that is, a potential buyer, or a simple onlooker; and if you're a homeowner. It has ready-built features that makes every homeowner's living experience hassle-free.
5. Get more connected with us.
Once you're a certified DMCI Homes resident, our commitment to serve you better never stops. With the operational SID system, homeowners are given access to log-in their SID accounts and enjoy the service. You can now get in touch with us, flag us a concern regarding your community, or share your thoughts just by using the app.
6. Be rightfully informed, real-time.
Homeowners can receive announcements and memos from their designated Property Management officers. This will allow us to serve you better by notifying you with property upgrades, services, maintenance and others.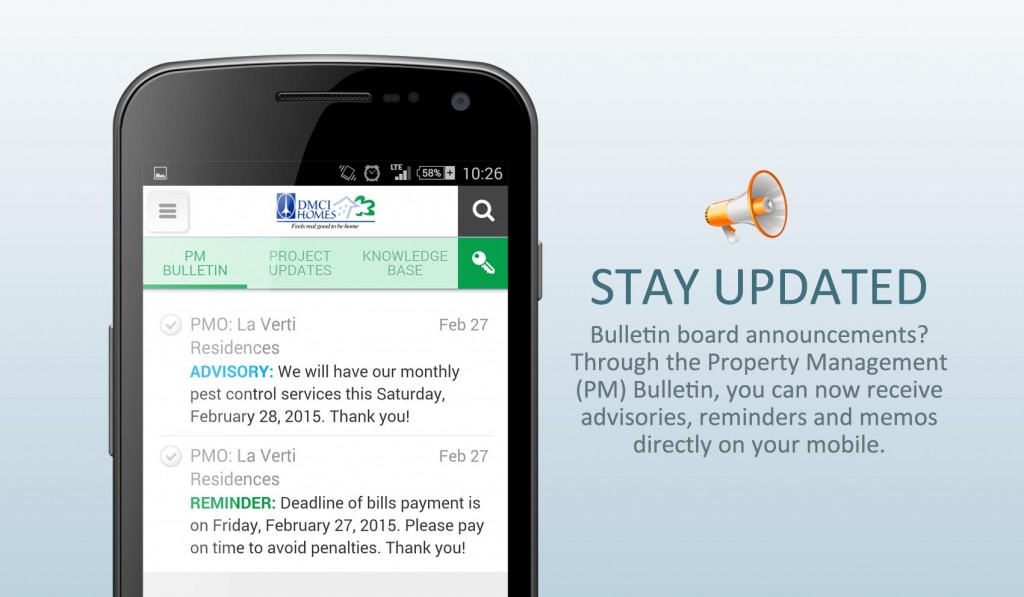 7. Because our Customer Care cares.
Indeed, we care! The newest DMCI Homes mobile app lets you connect with an able Customer Care representative, dedicated to answer your important concerns and queries.
8. You can talk to us back.
We give you the power to talk to us back by the "Reply" feature on the newest mobile app. Once a message is received, from your Property Management officer or a Customer Care representative, you can give them your thoughts, and stay connected as possible, anywhere you go.
9. It notifies you for updates.
The newest DMCI Homes mobile app automatically prompts you whenever you've got a new message or update through its personal concierge notification system. A numeral will pop on your home screen whenever a recent update, news, or message is detected.
10. Home-ownership and maintenance? Easy-peasy.
The new app can serve as a handbook to inform you about DMCI Homes' easy home-ownership processes, resident manuals and other community guidelines.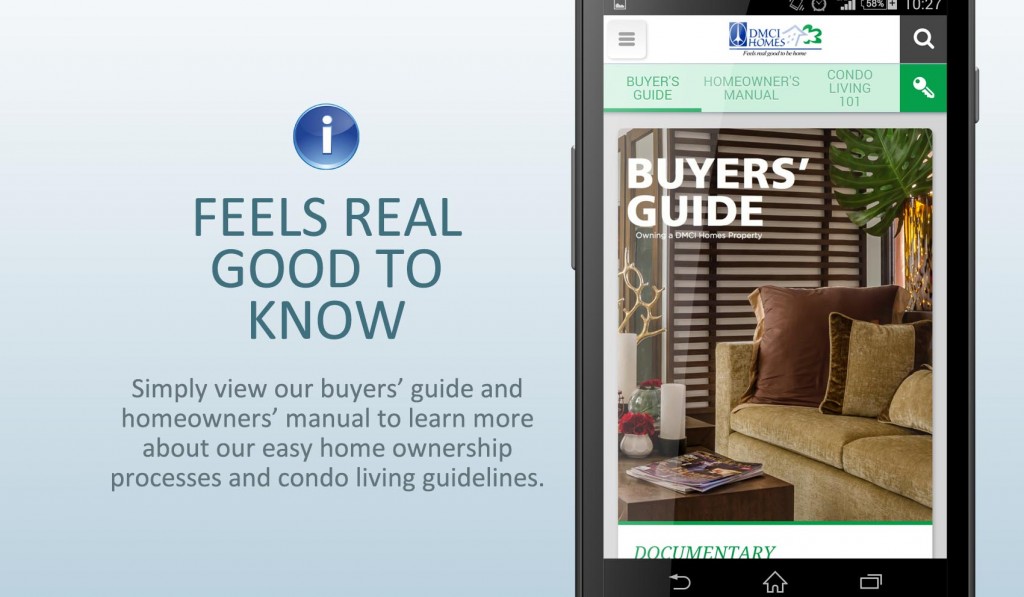 Convinced? Better be. Download the DMCI Homes mobile app now to know what we're talking about.