Coffee drink recipes for beating the heat don't just start and end with dalgona coffee – not this summer, at least.
Alas, the love for dalgona coffee came and went with summer 2020, and this year around, you must be craving to try other iced coffee recipes for beating the heat. This is especially true if you found yourself exploring a few baristas and craft coffee-making skills all lockdown long.
To be clear, this isn't a case against the unique charms of instant coffee or loving coffee made from beans – single-origin or blend; robusta or arabica.
But take this as a sign to upgrade your home barista skills with a few more techniques you can try out. Learning to make different kinds of coffee with these techniques makes for a good way to have summer fun in your condo, on top of helping you cool off!
To help you out, here are a few recipes, plus tips and tricks from two established local baristas trained by no less than Kyoto's % Arabica Coffee Masters.
Coffee drink recipes to cool down to and level up your barista skills
1. Japanese style pour-over iced americano
Nothing comes close to the unique and impeccable quality of Japanese craftsmanship, even when it comes to a cup of coffee. For the Japanese, making a cup of coffee is as much of a precise ritual as making tea, and the quality in their coffee shots is achieved mostly with the pour-over technique.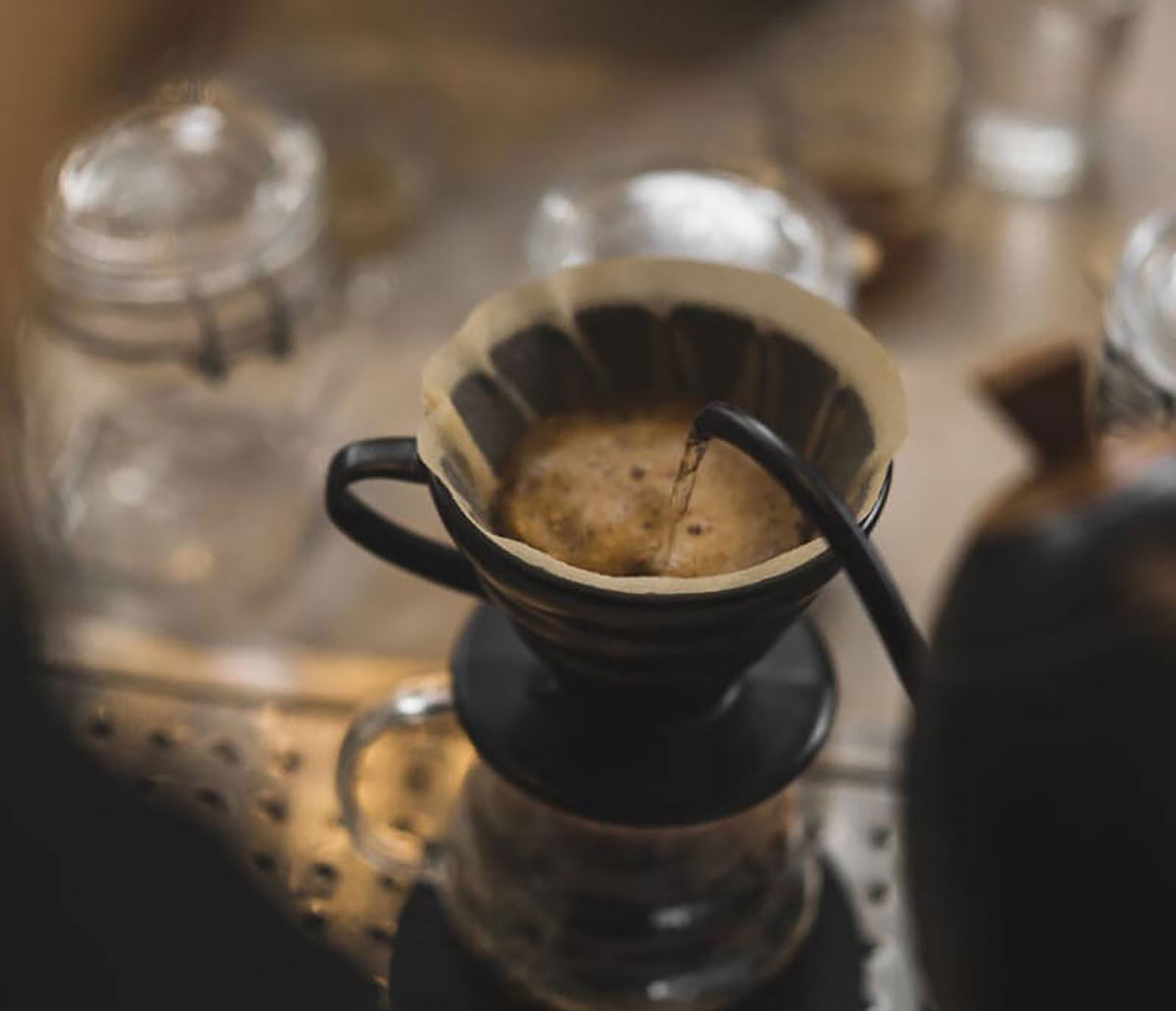 Photo courtesy of Thuyen Ngo via Unsplash
If you're the type who likes their coffee straightforward and made with care to bring out the best qualities of a coffee bean, then you should definitely learn this technique..
For a drink such as an iced americano, how do you achieve the best brew with this method? Here's how to do it, according to former % Arabica Head Barista Sef Francisco:
What you'll need:
100 grams of ice
200 ml of hot water
20 grams of your preferred roast
Grinding machine or hand grinder
Weighing scale
Pour-over drip set
Procedure:
Begin by keeping in mind a grind-to-water ratio of 1:15. This will tell you how to measure your beans for grinding – and roasting if you're really hardcore. For a 300-ml cup of coffee, you will need 20 grams.
Grind 20 grams of coffee beans by hand or with a regular grinder into a medium grind – about the texture of iodized salt or sand. You can up-dose to an additional five grams to increase strength and flavor.
Boil your water up to 95 to 96 °C.
Assemble your setup: dripper with a coffee filter placed on top of your carafe or pitcher. Don't forget that your weighing scale should be set to zero after you place your setup over it.
Begin to pour in your coffee grounds, and then, your hot water. Your total extraction time should be two to two and a half minutes. The target brewing temperature after your hot water comes in contact with the ice is 94-93 °C.
Swirl your brew in the carafe before serving in a cup with the 100-gram block of ice.
2. Espresso shot kori-kohi
If you used to frequent UCC Cafe prior to lockdown, you are guaranteed to know and love the kori kohi. Translated as ice coffee in Japanese, kori kohi is a quintessential iced coffee drink recipe you should definitely make a chill weekend condo project for chilling out of.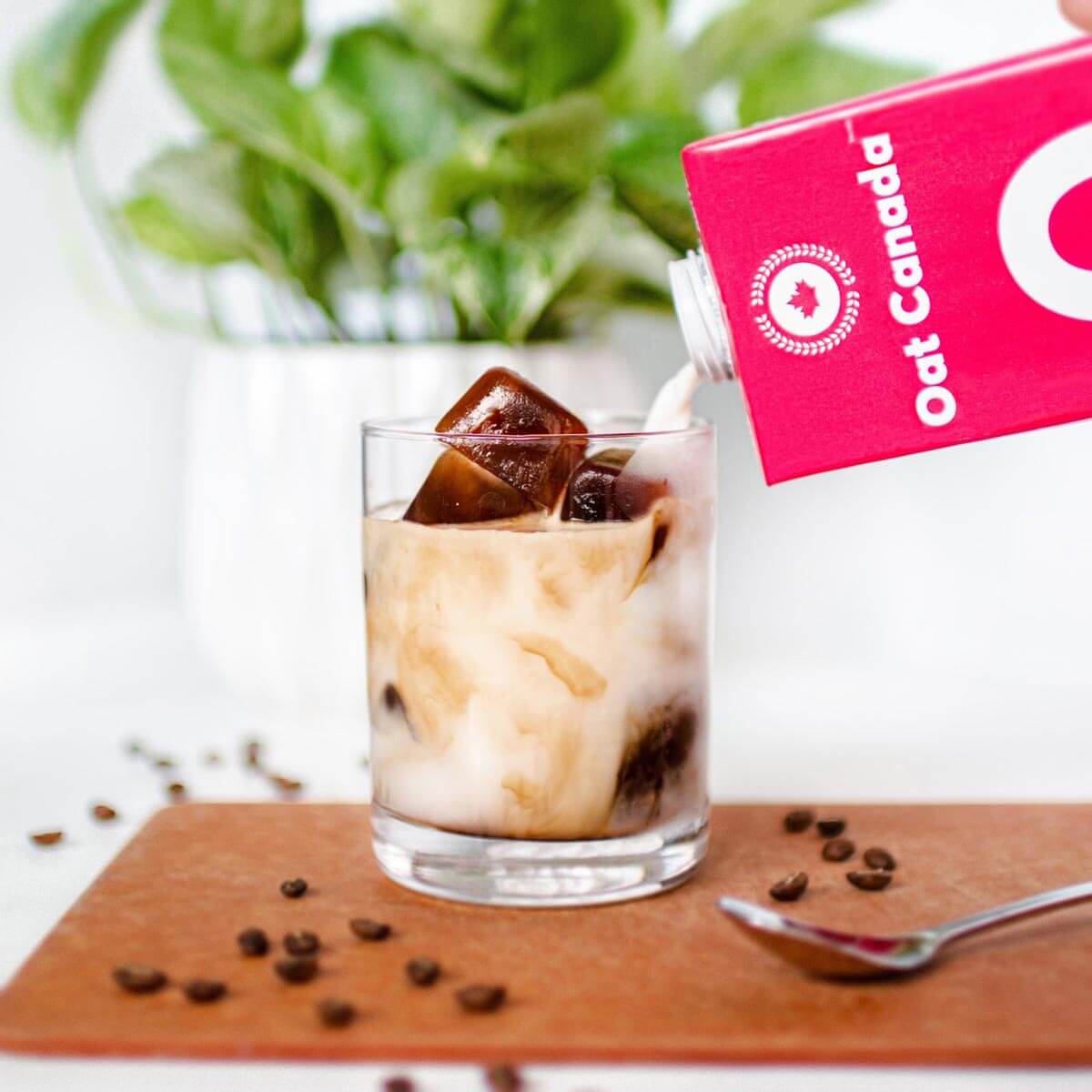 Photo courtesy of Oat Canada via Unsplash
Here's how to make one at home, according to Nix De Jesus, also a former Senior Barista at % Arabica and now the owner of her own coffee brand Lay-by Coffee (@lay_by_coffee on Instagram).
What you'll need:
Two shots of espresso
Ice tray
Warm milk
Syrup or sweetener of your choice
Procedure:
Pull two shots of espresso out of your preferred beans. Nix suggests going with beans that have a nutty or chocolatey flavor profile to go well with the milk and sweeteners.
Pour the shots into an ice tray and leave them in the freezer overnight, or for at least three to four hours, and voila! You have kori kohi.
Take your kori kohi out of the freezer and layer them into a tall glass.
Take your warm milk and pour it in.
Here, you have the option to add sugar syrup, condensed milk, or your preferred sweetener. But otherwise, you can still enjoy your kori kohi unsweetened.
3. Simple cold brew served white or black
No iced coffee drink recipe list will do without cold brews, obviously. But there are more ways to serve your cold brew other than straight from your fridge and into your ice-filled glass. One such way is as a cold brew latte, poured or shaken.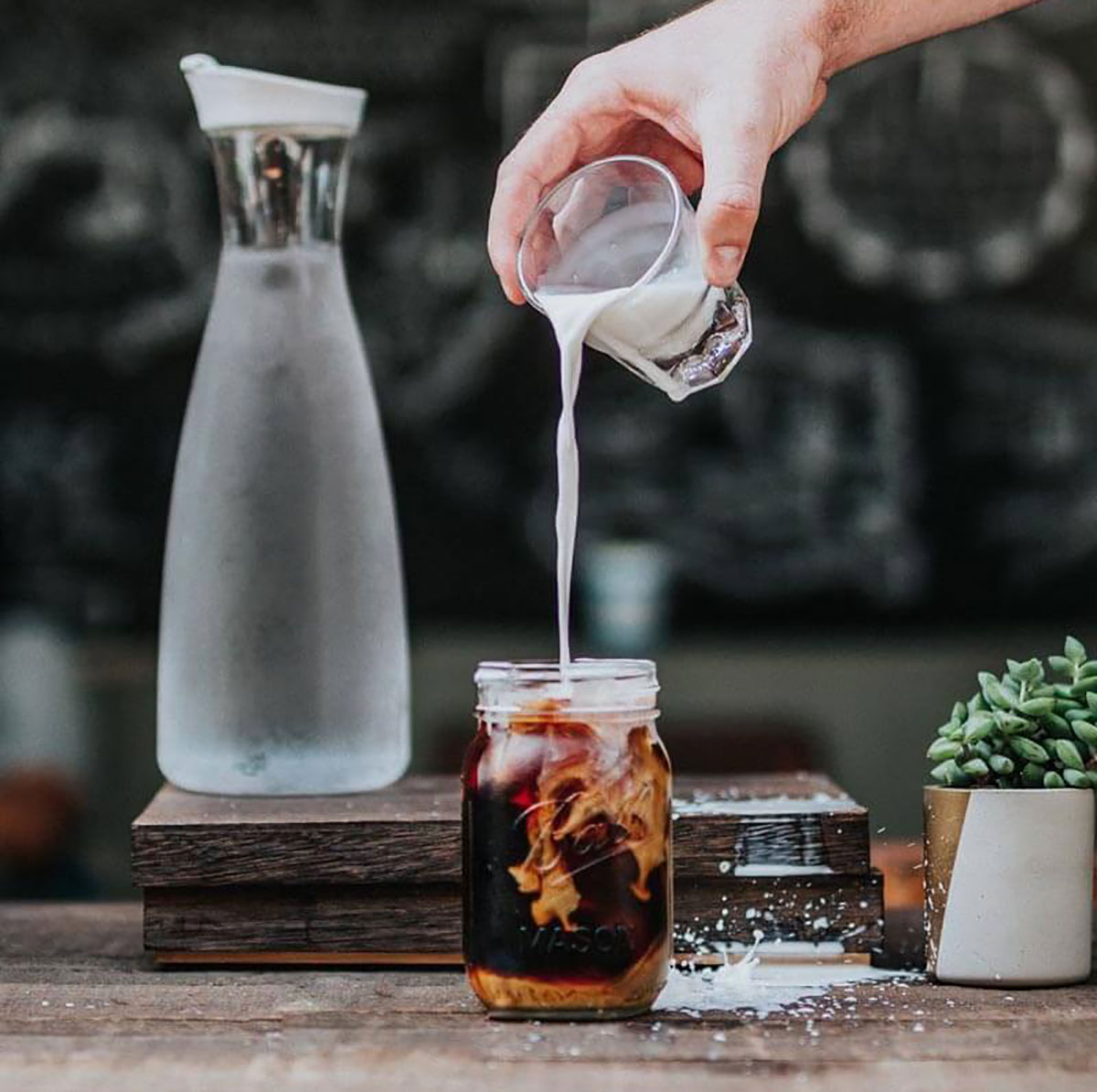 Photo courtesy of Tyler Nix via Unsplash
Making your own poured cold brew latte at home is simple and easy with this recipe that Nix recommends.
What you'll need:
Coarsely ground medium-to-dark roast
Water; amount based on a 1:10 ratio of grounds per milliliter of water
Cheese or mesh cloth
Deep pitcher
Procedure:
Bear in mind once again your ratio of grounds-to-water when measuring your coffee beans for grinding. For a 500-mL pitcher, you'll need 50 grams of ground coffee.
Once you have your beans measured out, you will need to put them through a grinder. You will need a coarse grind so that there is more surface area for ground-water contact.
Put your grounds into a cheese or mesh cloth and seal it tight.
Immerse your coffee bag into your pitcher of water and leave it to sit in the water for about 18 to 20 hours in your fridge.
Take it out of your refrigerator and serve over ice, with condensed or unsweetened milk.
Optional: Pour into a shaker. Shake well and serve as a shaken cold brew latte for a more foamy texture.
4. Foamy iced coffee using pour-over and french press
Coffee straight out of the pot can be boring sometimes. If you're feeling a little playful, you should definitely give this recipe a shot to give your pour-over coffee a textured twist.
But, wait. Can you make foamy milk without a frother? Yes, you can. All you'll need is a french press! Here's how to do it.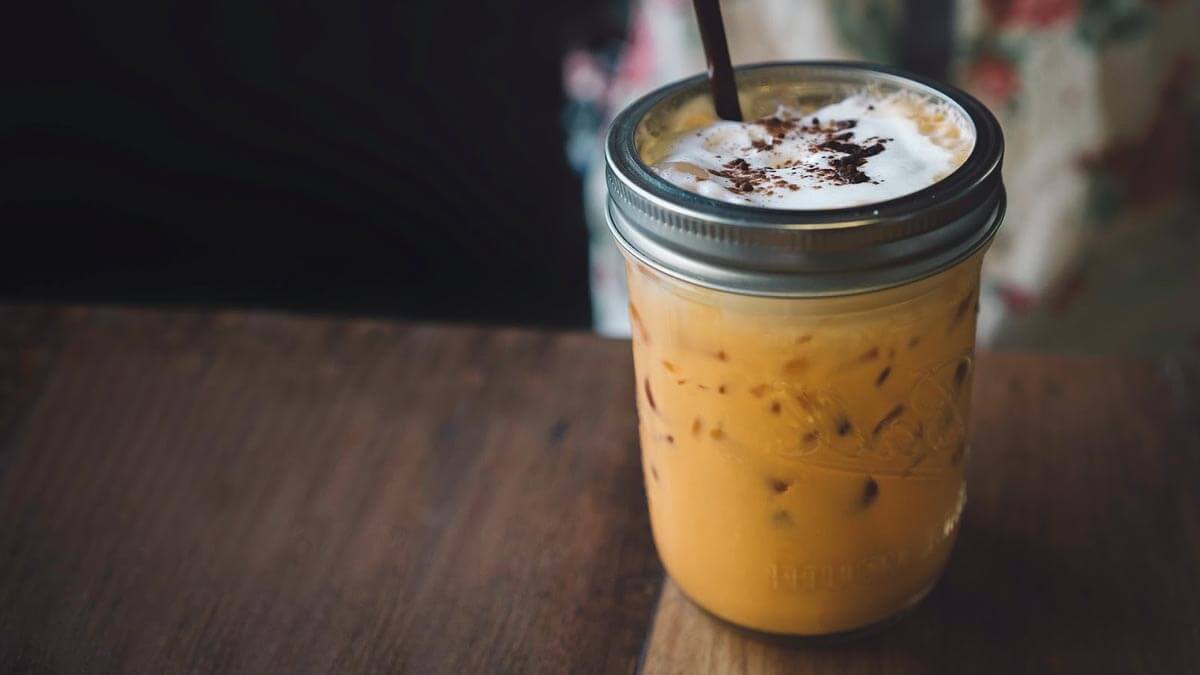 Photo courtesy of Tomas Jasovsky via Unsplash
What you'll need:
Same tools and ingredients as with the pour-over iced americano recipe
A standard french press
Warm milk
Sweetener of choice
Procedure:
Produce your coffee shot by following the same steps for the Japanese-style pour-over iced americano.
Grab your warm milk and pour about 100 ml into your french press.
Take the lid with the lid and plunger of your coffee press and cover your pitcher. Make sure the plunger is raised.
Repetitively pump the plunger upwards and downwards into the warm milk to introduce air and create foam.
Serve your coffee and milk foam into a glass filled with ice and garnish the top of the foam with some cocoa, cinnamon, or other powdered flavoring.
Summer spent in lockdown can be made tremendously better with a cold drink you made yourself. After all, nothing feels more rewarding than enjoying creations of your own making, and with these recipes, you'll be sure to beat both boredom and the heat!
If you're done mastering these iced coffee drink recipes, go ahead and try other food recipes and hacks found on the DMCI Communities blog. Share your experiences in making them over on Facebook and tag the DMCI Homes Facebook page!